Breakdowns: Portrait of the Artist as a Young %@&*! (Pantheon Graphic Library) (Paperback)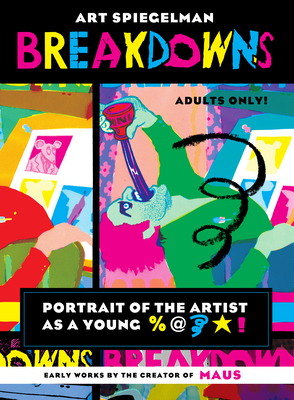 $25.00

NOT on our shelves - Usually Ships in 1-5 Days
Description
---
This legendary 1978 collection of comics by Art Spiegelman, Pulitzer Prize-winning author of the best-selling Maus, presents the seminal early works that changed how comics are made and appreciated today—now with a new Afterword by the author.

"Some of the smartest criticism of the comics genre ever rendered." —NPR

Innovative, serious, funny, and many decades ahead of its time, Breakdowns is offered here in its entirety: the long-sought-after collection of the artist's comics of the 1970s, along with an introduction almost as long as the book it introduces—and just as autobiographically intimate and experimentally daring.
 
At once the story of an artist and of his medium, Breakdowns alters the terms of what can be accomplished in a memoir.
About the Author
---
ART SPIEGELMAN is one of the world's most admired and beloved comic artists, best known for his Pulitzer Prize-winning Holocaust narrative, Maus. Born in Stockholm in 1948, Spiegelman began studying cartooning in high school and drawing professionally at age sixteen. He studied art and philosophy at Harpur College before joining the underground comics movement in the 1960s. Spiegelman taught history and the aesthetics of comics at the School of Visual Arts in New York from 1979 to 1986, and in 1980 he founded RAW, the acclaimed avant-garde comics magazine, with his wife, Françoise Mouly. Honors Spiegelman has received include induction into the Will Eisner Hall of Fame and the Art Director's Club Hall of Fame. In 2005, he was named one of Time magazine's 100 Most Influential People. He was made an Officier de l'Ordre des Arts et des Lettres in 2007, and in 2011 he was awarded the Grand Prix at the Angoulême International Comics Festival. In 2015, he was elected to the American Academy of Arts and Letters, and in 2018 he became the first comic artist to receive the Edward MacDowell Medal. His art has been exhibited at museums throughout the world, including the Pompidou Center in Paris, the Ludwig Museum in Cologne, the Vancouver Art Gallery, the Jewish Museum in New York City, and the Los Angeles Museum of Contemporary Art.
Praise For…
---
PRAISE FOR BREAKDOWNS:

"The collected images ... offer a glimpse of Spiegelman's range as an illustrator and the breadth of his influences ... a sort of Rosetta Stone that offers a master key to his intricate and varied visual idiom, revealing his enormous and often overlooked range as an artist." —The New York Times

"Some of the smartest criticism of the comics genre ever rendered." —NPR

"Intricate ... funny ... truly weird ... Breakdowns really comes into its own." —The Guardian

"Pantheon presents a new printing of this mixed media memoir, told with the same verve and style and eccentricity we expect from Spiegelman. An underground sensation, an exploration of the possibilities of the medium." —Multiversity Comics
 
"Revelatory ... [Breakdowns] traces [Spiegelman′s] development of both a philosophy and an aesthetic that would result in comics being taken more seriously than they had been." —Kirkus Reviews

"This reprint of Spiegelman's 1978 collection of comics is a must-have for any comics aficionado, art-house dude, hipster or anyone who ever thought to himself, "Hmm, comics are kinda cool." Spiegelman gives us the story that led to Maus, and we see how he evolved from an R. Crumb-loving artist with neuroses pertaining to The Dick Van Dyke Show to a tight storyteller of anxious, modern folktales. One of the functions of the artist is to take us to hell and get us out in one piece. Spiegelman's early trips into hallucinatory darkness do this. We come out in one piece; it's not clear he did. —Publisher's Weekly [starred review]

"Forty-five years since its muddled debut, [Breakdowns], with its impossible-to-ignore psychedelic cover, arrives close-up ready. From the hauntingly realistic . . . to the deeply disturbing . . . and even those "naughty bits" that require the "ADULTS ONLY!" warning, Spiegelman's genius as a "young %@&*!" awaits discovery by the newest generation of academics, aficionados, devotees, and groupies." —Booklist [starred review]