Search for Books
ABA Mobile Menu
Who's Irish?: Stories (Vintage Contemporaries) (Paperback)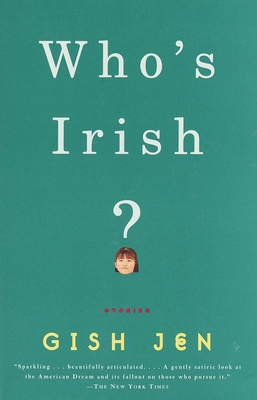 $15.00
Special Order from the publisher
Description
---
The stories in Who's Irish? show us the children of immigrants looking wonderingly at their parents' efforts to assimilate, while the older generation asks how so much selfless hard work on their part can have yielded them offspring who'd sooner drop out of life than succeed at it. 

With dazzling wit and compassion, Gish Jen—author of the acclaimed novels Typical American and Mona in the Promised Land—looks at ambition and compromise at century's end and finds that much of the action is as familiar—and as strange—as the things we know to be most deeply true about ourselves.
About the Author
---
Gish Jen is the author of four novels, a book of stories, and two books of nonfiction, The Girl at the Baggage Claim and Tiger Writing. Her honors include the Lannan Literary Award for fiction and the Mildred and Harold Strauss Living Award from the American Academy of Arts & Sciences. She teaches from time to time in China and otherwise lives with her husband and two children in Cambridge, Massachusetts.
Praise For…
---
"Jen's gift is for comedy that resonates, and sadnesses that arise with perfect timing from absurdities.  Her subject matter is so appealing, it almost obscures the power and suppleness of her language." —The New York Times Book Review

"Gish Jen's fiction is always engaging, always necessary." —Newsday

"Nobody's having more fun with American diversity than Gish Jen. . . . One of the greatest charms of her fiction is her position as a bemused chronicler . . . of the hugely comic potential in human nature." —The Boston Globe

"Sparkling—a gently satiric look at the American Dream and its fallout on those who pursue it." —The New York Times

"Tender and funny . . . vibrant and courageous." —San Francisco Chronicle