Plainsong (Vintage Contemporaries) (Paperback)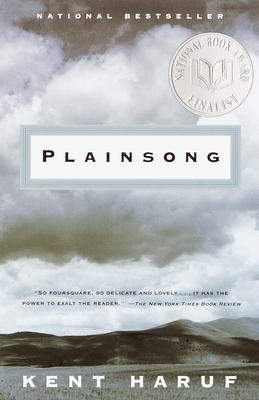 List Price: $18.00
Our Price: $9.00
(Save: $9.00 50%)
Description
---
National Book Award Finalist

A heartstrong story of family and romance, tribulation and tenacity, set on the High Plains east of Denver.

In the small town of Holt, Colorado, a high school teacher is confronted with raising his two boys alone after their mother retreats first to the bedroom, then altogether. A teenage girl—her father long since disappeared, her mother unwilling to have her in the house—is pregnant, alone herself, with nowhere to go. And out in the country, two brothers, elderly bachelors, work the family homestead, the only world they've ever known. From these unsettled lives emerges a vision of life, and of the town and landscape that bind them together—their fates somehow overcoming the powerful circumstances of place and station, their confusion, curiosity, dignity and humor intact and resonant. As the milieu widens to embrace fully four generations, Kent Haruf displays an emotional and aesthetic authority to rival the past masters of a classic American tradition.
About the Author
---
KENT HARUF is the author of five previous novels (and, with the photographer Peter Brown, West of Last Chance). His honors include a Whiting Foundation Writers' Award, the Mountains & Plains Booksellers Award, the Wallace Stegner Award, and a special citation from the PEN/Hemingway Foundation; he was also a finalist for the National Book Award, the Los Angeles Times Book Prize, and the New Yorker Book Award. He died in November 2014, at the age of seventy-one.
Praise For…
---
"A novel so foursquare, so delicate and lovely . . . it has the power to exalt the reader." --The New York Times Book Review

"Resonant and meaningful . . . . A song of praise in honor of the lives it chronicles [and] a story about people's ability to adapt and redeem themselves, to heal the wounds of isolation by moving, gropingly and imperfectly, toward community." --Richard Tillinghast, The Washington Post Book World

"A compelling and compassionate novel. . . . [With] his sheer assurance as a storyteller, [Mr. Haruf] has conjured up an entire community, and ineluctably immersed the reader in its dramas." --Michiko Kakutani, The New York Times

"A work as flawlessly unified as a short story by Poe or Chekhov." --Jon Hassler, Chicago Tribune

"Haunting, virtuosic, inimitable." --Sarah Saffian, San Francisco Chronicle

"If the novelist invents a world, then Mr. Haruf has shaped a place of enormous goodness... The story itself--spare, unsentimental, rooted in action--honors the values of the community it describes." --Lisa Michaels,

"A moving look at our capacity for both pointless cruelty and simple decency, our ability to walk out of the wreckage of one family and build a stronger one where that one used to stand." --Jeff Giles, Newsweek

"A work as flawlessly unified as a short story by Poe or Chekhov." --Jon Hassler, Chicago Tribune
Coverage from NPR