Lost and Found in Johannesburg: A Memoir (Paperback)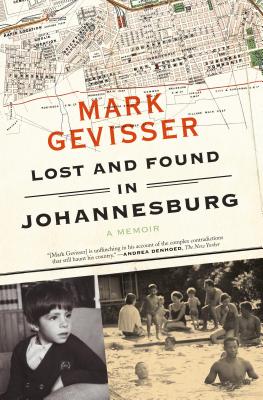 $18.00

NOT on our shelves - Usually Ships in 1-5 Days
Description
---
An inner life of Johannesburg that turns on the author's fascination with maps, boundaries, and transgressions

Lost and Found in Johannesburg begins with a transgression—the armed invasion of a private home in the South African city of Mark Gevisser's birth. But far more than the riveting account of a break-in, this is a daring exploration of place and the boundaries upon which identities are mapped.
As a child growing up in apartheid South Africa, Gevisser becomes obsessed with a street guide called Holmden's Register of Johannesburg, which literally erases entire black townships. Johannesburg, he realizes, is full of divisions between black and white, rich and poor, gay and straight; a place that "draws its energy precisely from its atomization and its edge, its stacking of boundaries against one another." Here, Gevisser embarks on a quest to understand the inner life of his city.
Gevisser uses maps, family photographs, shards of memory, newspaper clippings, and courtroom testimony to chart his intimate history of Johannesburg. He begins by tracing his family's journey from the Orthodox world of a Lithuanian shtetl to the white suburban neighborhoods where separate servants' quarters were legally required at every house. Gevisser, who eventually marries a black man, tells stories of others who have learned to define themselves "within, and across, and against," the city's boundaries. He recalls the double lives of gay men like Phil and Edgar, the ever-present housekeepers and gardeners, and the private swimming pools where blacks and whites could be discreetly intimate, even though the laws of apartheid strictly prohibited sex between people of different races. And he explores physical barriers like The Wilds, a large park that divides Johannesburg's affluent Northern Suburbs from two of its poorest neighborhoods. It is this park that the three men who held Gevisser at gunpoint crossed the night of their crime.
An ode to both the marked and unmarked landscape of Gevisser's past, Lost and Found in Johannesburg is an existential guide to one of the most complex cities on earth. As Gevisser writes, "Maps would have no purchase on us, no currency at all, if we were not in danger of running aground, of getting lost, of dislocation and even death without them. All maps awaken in me a desire to be lost and to be found . . . [They force] me to remember something I must never allow myself to forget: Johannesburg, my hometown, is not the city I think I know."
About the Author
---
Mark Gevisser is the author of the prizewinning A Legacy of Liberation: Thabo Mbeki and the Future of the South African Dream and Portraits of Power: Profiles in a Changing South Africa. He is the coeditor of Defiant Desire: Gay and Lesbian Lives in South Africa. His journalism has appeared in The Guardian, The New York Times, Granta, and other publications. He is the writer of the documentary film The Man Who Drove with Mandela, which won the Teddy Documentary Prize at the Berlin Film Festival. Born in Johannesburg in 1964, he now lives in France.
Praise For…
---
"[Mark Gevisser] is unflinching in his account of the complex contradictions that still haunt his country." —Andrea Denhoed, The New Yorker

"Gevisser . . . is acutely aware of the historical ironies in his story. . . . Part memoir, part psychogeography, his book is concerned with life as it's lived in these liminal spaces, which, in Gevisser's fine handling, take on both physical and symbolic dimensions." —Emma Brockes, The Guardian (UK)

"Mark Gevisser asks profound questions--about race, sexuality, faith, and politics--while examining both his own history and that of his beloved Johannesburg. The result, Lost and Found in Johannesburg, is unlike any other book I know. It is illuminating, unsettling, engrossing, often funny, and, in a word, brilliant." —Claire Messud, author of The Woman Upstairs

"Outstanding. A genuinely strange, marvelous, and complex account of a self and a city. Mark Gevisser does for Johannesburg what Orhan Pamuk did for Istanbul. Gevisser is as intimate and sophisticated a guide as one would wish for to this great, troubled metropolis." —Teju Cole, author of Open City

"Mark Gevisser brilliantly maps out multiple worlds fractured by race, class, and history in a story as complex and beautiful as any memoir I've ever read." —Dinaw Mengestu, author of All Our Names

"Apartheid is a phenomenal teacher, and Mark Gevisser has converted its untold lessons about geography and gender into a fascinating memoir about the making of a cosmopolitan." —Diane McWhorter, Pulitzer Prize-winning author of Carry Me Home: Birmingham, Alabama: The Climactic Battle of the Civil Rights Revolution