Agatha of Little Neon: A Novel (Hardcover)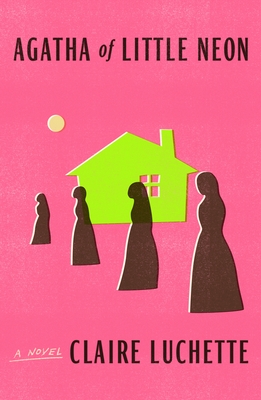 $26.00

On Our Shelves Now. Click on the title to see details.
Staff Reviews
---
Agatha joins a convent to gain a community. For 7 years everything is the same, which is comforting, until the church transfers Agatha and her sisters to a halfway house called Little Neon. There, Agatha begins to question how to belong somewhere while still being her own person. With a wry and quirky voice and chapters that are mainly 2 or 3 pages long, this is a fun and fast-paced read.
— From
Kate's Recommendations
Description
---
A National Book Foundation "5 Under 35" Honoree

"An enchanting, sparkling book about the many meanings of sisterhood." —Kristin Iversen, Refinery29

Claire Luchette's debut, Agatha of Little Neon, is a novel about yearning and sisterhood, figuring out how you fit in (or don't), and the unexpected friends who help you find your truest self

Agatha has lived every day of the last nine years with her sisters: they work together, laugh together, pray together. Their world is contained within the little house they share. The four of them are devoted to Mother Roberta and to their quiet, purposeful life.

But when the parish goes broke, the sisters are forced to move. They land in Woonsocket, a former mill town now dotted with wind turbines. They take over the care of a halfway house, where they live alongside their charges, such as the jawless Tim Gary and the headstrong Lawnmower Jill. Agatha is forced to venture out into the world alone to teach math at a local all-girls high school, where for the first time in years she has to reckon all on her own with what she sees and feels. Who will she be if she isn't with her sisters? These women, the church, have been her home. Or has she just been hiding?

Disarming, delightfully deadpan, and full of searching, Claire Luchette's Agatha of Little Neon offers a view into the lives of women and the choices they make.
About the Author
---
Claire Luchette has published work in the Virginia Quarterly Review, the Kenyon Review, Ploughshares, and Granta. A 2020 National Endowment for the Arts Fellow, Luchette graduated from the University of Oregon MFA program and has received grants and scholarships from MacDowell, Yaddo, the Millay Colony for the Arts, Lighthouse Works, the Elizabeth George Foundation, and the James Merrill House. Agatha of Little Neon is Luchette's first novel.
Praise For…
---
A National Book Foundation "5 Under 35" Honoree, selected by Elizabeth McCracken
Longlisted for the VCU Cabell First Novelist Award
A Best Book of the Year: Vogue, AV Club
A Summer Reading Pick: O Magazine, Vogue, Nylon, Glamour, Refinery29, Bustle, Lit Hub, The Millions, Lambda Literary, The Christian Science Monitor
A Most Anticipated Book of the Year: Lit Hub, The Millions
A Publishers Weekly Writer to Watch

"[A] subtle, resonant debut novel . . . The power and pleasure of this novel lie in the slow blooming of desire from tiny seeds of doubt."
—Domenica Ruta, The New York Times Book Review

"Claire Luchette's madcap and melancholic debut is a stunner."
—Rien Fertel, AV Club

"Sharp, and by turns, melancholy and wry . . . You don't have to be Catholic to connect with Luchette's nuanced and vivid story of a lonely young woman yearning for community and also yearning for everything she's had to give up to be part of that community. The nuns don't fly or sing or torment the helpless in Agatha of Little Neon, but they do make an indelible impression."
—Maureen Corrigan, NPR's Fresh Air

"A wry, insightful, and remarkable debut novel . . . with such great heart . . . [Agatha of Little Neon has] stunning vignettes of everyday life that most of us let escape without notice."
—Scott Simon, NPR

"Livel[y], funn[y] . . . moving . . . Agatha of Little Neon is a novel of self-discovery and of faith—or, more specifically, the unmoored feeling of suffering a crisis of faith."
—Stephanie Zacharek, TIME

"[A] brilliant debut . . . There is a dark humor in Luchette's work . . . [and] stunning, haunting prose."
—Jackie Thomas-Kennedy, Star Tribune

"More meditation than story, prayer than novel, [Agatha of Little Neon] is the sort that in crystalline minimalist prose with nary a comma out of order, evokes midcentury existentialist classics . . . This is the most moving book about grace and what it means to whisper a silent prayer to nobody that I read this year."
—Ed Simon, The Millions

"When the titular heroine of this sublime, idiosyncratic debut lands a post at a nearby girls' school, she is forced to come out from behind her habit and embrace her own divinity. A literary version of Sister Act by way of Wes Anderson."
—O Magazine

"An enchanting, sparkling book about the many meanings of sisterhood, Claire Luchette's Agatha of Little Neon is an effervescent treat of a novel, a reminder that there are many different ways in which we protect ourselves from the world without actually confronting what it is that makes us vulnerable."
—Kristin Iversen, Refinery29

"Startlingly funny . . . This is the rare novel that is heartwarming without ever being saccharine . . . A person from any walk of life would enjoy reading Agatha of Little Neon."
—Jenny Singer, Glamour

"Written in a bracing, acerbic, and darkly comic tenor, [Agatha of Little Neon] is a surprisingly buoyant and fast-paced read, a modern and sly spin on the meaning of devotion."
—Chloe Schama, Vogue

"[A] deadpan novel about self-actualization, loss of faith, and the meanings of sisterhood."
—Sophia June, Nylon

"Compelling . . . Agatha of Little Neon reaches that goal which all novels fundamentally pursue—saying something authentic and essential about the human experience—and does so with verisimilitude and the grace that comes with living simply."
—D.W. White, Chicago Review of Books

"Vibrant . . . A charming and incisive debut."
—Kirkus Reviews

"[A] dynamic and resonant debut . . . Employing . . . shimmering prose, Luchette [creates] a lovely story of how cross-cultural exchange can foster hope and fruitful advancements. This is charming and remarkably thoughtful."
—Publishers Weekly

"Well-paced and convincing. Readers will appreciate Luchette's finely observed characters."
—Joan Curbow, Booklist

"I never knew I needed a book about four Catholic sisters reassigned to a neon-painted halfway house in a former mill town, but reader, I did . . . Luchette's writing is both wry and earnest, which might be my favorite combination."
—Eliza Smith, Lit Hub

"A smoldering, graceful debut . . . Luchette writes with clarity, restraint and gentle humor."
—Jenny Shank, America Magazine

"A completely weird and compassionate delight."
—Bethanne Patrick, on Twitter

"Agatha of Little Neon is the rare kind of book that reads like a transmission from a person you don't know, but who is already nestled close to your heart. Full of small devotions, pith and vigor, and a bounty of tender feeling for a world that is not quite as full of grace as it could be, this bold debut shines with a light all its own and announces Claire Luchette as a true original and a voice to follow closely."
—Alexandra Kleeman, author of You Too Can Have a Body Like Mine

"There's not a false step in this novel of sisterhood, belonging, and what it means to choose a life for yourself. Agatha of Little Neon is a brilliant testament to Claire Luchette's skill and original voice."
—Lisa Ko, author of The Leavers

"Claire Luchette is so wildly talented that I would follow them anywhere. Here, it's to Woonsocket along with four women who are searching for meaning and a sense of belonging from each other and the world beyond. The result is a novel that's blazingly original, wry, and perfectly attuned to the oddness—and the profundity—of life."
—Cristina Henríquez, author of The Book of Unknown Americans

"Claire Luchette is a dazzlingly gifted new voice, a master at balancing a sneaky deadpan wit with deep and genuine pathos. Agatha of Little Neon brilliantly mixes the sacred and the transgressive, the solemn and the absurd, and the profound, contradictory longings for belonging and independence. This book is a moving meditation on how to be a woman in the world—and how to be a human."
—Karen Thompson Walker, author of The Dreamers