Television Sports Production (Paperback)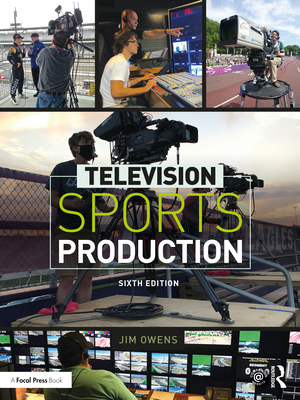 $106.33

If not in stock, we can Special Order from the publisher
Description
---
In this sixth edition of Television Sports Production, regional Emmy Award-winning producer Jim Owens walks readers through the planning, setup, directing, announcing, shooting, and editing involved in covering a sports event.
Originally written as a training guide for entry-level broadcast staff at the Olympics, this manual gives readers the tools they need to effectively cover sports from ice skating to motorcycle racing. Throughout, Owens breaks down all aspects of the production process, revealing the techniques that producers and directors use to bring sports to a worldwide audience. Chapters further include tips and advice on using the latest technologies and tools such as production trucks, REMIs, smart phones, mobile units, cameras, audio equipment, and lighting rigs. Featuring new instructive illustrations and sample forms, as well as testimonials from experienced professionals in the business, this new edition gives readers an inside look at how the experts produce live or recorded television and sports coverage.
This comprehensive book is essential reading for intermediate and advanced students looking to learn how to successfully produce sports broadcasting.
About the Author
---
Jim Owens has worked and taught in the video and television industry for over 30 years. As a regional Emmy Award-winning producer, he has worked on local and national productions. His international television work has included 18 Olympic broadcasts and has taken him to over 40 countries. He is the author of the Video Production Handbook, Television Production and Television Sports Production, and has had over 30 articles published in television and broadcast magazines in the United States and Europe. He served as the curator of the History of Olympic Broadcasting exhibition at the Olympic Museum in Lausanne, Switzerland and is the Dean of the School of Communication Arts at Asbury University in Wilmore, Kentucky, where he has taught since 1981.