Dr. Disaster's Guide To Surviving Everything: Essential Advice for Any Situation Life Throws Your Way (Hardcover)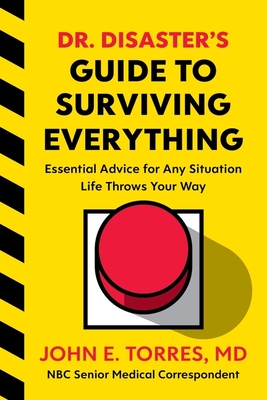 Description
---
A practical, all-encompassing guide to disaster preparedness, from avalanches and blackouts to pandemics and wildfires.
An emergency room physician and U.S. Air Force veteran, Dr. Torres, aka "Dr. Disaster," has spent his career on the front lines, saving lives in all sorts of disasters. He's seen it all, from late nights treating patients in the ER to early mornings covering the country's latest crisis on NBC/MSNBC as senior medical correspondent. His entire job is to think about the best practices in an emergency—and now he's sharing this hard-won knowledge with you.
In Dr. Disaster's Guide to Surviving Everything, Dr. Torres shares the essential advice you need to survive any worst-case scenario, from natural disasters like lightning strikes, hurricanes, and wildlife encounters, to human-made ones like terrorist attacks and active-shooter situations. As fun to read as it is informative, this book is full of hacks that could save your life, such as:
How to prep your home for any emergency
Why you should never use a landline during a thunderstorm
The safest place to sit on an airplane
How to start a fire with common household items
The first thing you should do every time you enter a shopping mall
With this book in your pocket, you will be ready for whatever the future holds.
About the Author
---
John E. Torres, MD, is the NBC News/MSNBC senior medical correspondent and an emergency room physician. A US Air Force veteran and retired colonel who completed a tour of duty in Iraq in 2004, Torres has contributed to rescue efforts out of the South Pole and in the wake of hurricanes Katrina and Rita. Torres also continues to teach NATO Special Forces. He splits his time between Colorado and New York City.