The Ivory Key (The Ivory Key Duology) (Hardcover)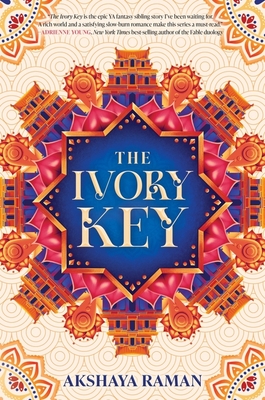 $18.99

NOT on our shelves - Usually Ships in 1-5 Days
Description
---
In this epic YA fantasy debut, magic, a prized resource, is the only thing between peace and war. When magic runs out, four estranged royal siblings must find a new source before their country is swallowed by invading forces. The first in an Indian-inspired duology that's perfect for fans of There Will Come a Darkness, The Gilded Wolves, and We Hunt the Flame.
Vira, Ronak, Kaleb, and Riya may be siblings, but they've never been close or even liked each other that much. Torn apart by the different paths their lives have taken, only one thing can bring them back together: the search for the Ivory Key, a thing of legend that will lead the way to a new source of magic.
Magic is Ashoka's biggest export and the only thing standing between them and war with the neighboring kingdoms—as long as their enemies don't find out that the magic mines are nearly depleted.
The siblings all have something to gain from finding the Ivory Key, and even more to lose if they don't. For Vira, the Ivory Key is the only way to live up to the legacy of her mother, the beloved former maharani. Ronak plans to get out of his impending political marriage by selling the Ivory Key to the highest bidder. Kaleb has been falsely accused of assassinating the former maharani, and this is the only way to clear his name. And Riya needs to prove her loyalty to the Ravens, the group of rebels that wants to take control away from the maharani and give it to the people.
With each sibling harboring secrets and conflicting agendas, figuring out a way to work together may be the most difficult task of all. And in a quest this dangerous, working together is the only way to survive.
About the Author
---
Akshaya Raman is a Tamil American writer born in Chennai and raised in the Bay Area. She fell in love with writing when she wrote her first story at the age of ten. Though she graduated from UC Davis with a degree in biology, she gave up pursuing a career in science to write books. She lives in California with an actual scaredy cat, and in her free time, she enjoys baking, traveling, and watching too much reality TV. You can find her on Instagram @akshraman.
Praise For…
---
"Raman's Indian-inspired fantasy debut is a dream for seekers of character-driven stories...Slow-burning romance, BIPOC and queer representation, family drama, and a country under threat of war—the first in Raman's duology does not disappoint." — Booklist (starred review)
"A complexly layered and vivid story, traversing themes of family, trust, duty, hope, and the price of both safety and progress, this coming-of-age adventure quest is a must for the fantasy shelf." — School Library Journal (starred review)
"Skillfully weaves together political intrigue, complex sibling relationships, and magic." — Kirkus Reviews