Interpreter Of Maladies: A Pulitzer Prize Winner (Paperback)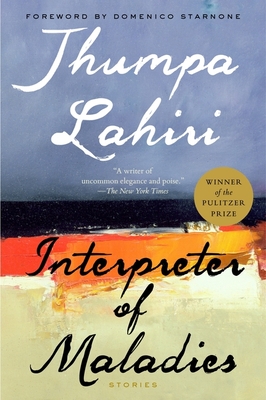 Description
---
INTERNATIONAL BESTSELLER • WINNER OF THE PULITZER PRIZE • PEN/HEMINGWAY AWARD WINNER.
With a new foreword by Domenico Starnone, this stunning debut collection flawlessly charts the emotional journeys of characters seeking love beyond the barriers of nations and generations.
With accomplished precision and gentle eloquence, Jhumpa Lahiri traces the crosscurrents set in motion when immigrants, expatriates, and their children arrive, quite literally, at a cultural divide. 
A blackout forces a young Indian American couple to make confessions that unravel their tattered domestic peace. An Indian American girl recognizes her cultural identity during a Halloween celebration while the Pakastani civil war rages on television in the background. A latchkey kid with a single working mother finds affinity with a woman from Calcutta. In the title story, an interpreter guides an American family through the India of their ancestors and hears an astonishing confession.
Imbued with the sensual details of Indian culture, these stories speak with passion and wisdom to everyone who has ever felt like a foreigner. Like the interpreter of the title story, Lahiri translates between the strict traditions of her ancestors and a baffling new world.
About the Author
---
JHUMPA LAHIRI is the author of four works of fiction: Interpreter of Maladies, The Namesake, Unaccustomed Earth, and The Lowland; and a work of nonfiction, In Other Words. She has received numerous awards, including the Pulitzer Prize; the PEN/Hemingway Award; the PEN/Malamud Award; the Frank O'Connor International Short Story Award; the Premio Gregor von Rezzori; the DSC Prize for South Asian Literature; a 2014 National Humanities Medal, awarded by President Barack Obama; and the Premio Internazionale Viareggio-Versilia, for In altre parole.
Praise For…
---
"A writer of uncommon sensitivity and restraint."—Wall Street Journal "Lahiri breathers unpredictable life into the page, and the reader finished each story reseduced, wishing he could spend a whole novel with its characters."—The New York Times Book Review "Lahiri's touch is delicate yet assured, leaving no room for flubbed notes or forced epiphanies."—The Los Angeles Times "A writer of uncommon elegance and poise."—New York times "Dazzling writing, an easy-to-carry paperback format and a budget-respecting price tag of $12: Jhumpa Lahiri's Interpreter of Maladies possesses these three qualities, making it my book of choice this summer every time someone asks for a recommendation...Simply put, Lahiri displays a remarkable maturity and ability to imagine other lives...[E]ach story offers something special. Jhumpa Lahiri's Interpreter of Maladies will reward readers."—USA Today "[S]torytelling of surpassing kindness and skill."—The San Francisco Chronicle "Jhumpa Lahiri is the kind of writer who makes you want to grab the next person you see and say, 'Read this!'"—Amy Tan   —