A Game of Birds and Wolves: The Ingenious Young Women Whose Secret Board Game Helped Win World War II (Hardcover)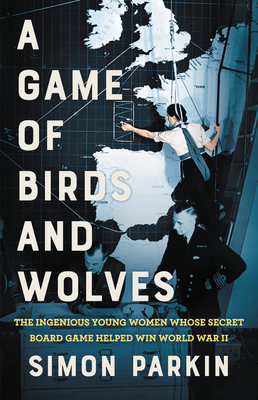 List Price: $29.00
Our Price: $15.00
(Save: $14.00 48%)
On Our Shelves Now. Click on the title to see details.
Description
---
As heard on the New Yorker Radio Hour: The triumphant and "engaging history" (The New Yorker) of the young women who devised a winning strategy that defeated Nazi U-boats and delivered a decisive victory in the Battle of the Atlantic.

By 1941, Winston Churchill had come to believe that the outcome of World War II rested on the battle for the Atlantic. A grand strategy game was devised by Captain Gilbert Roberts and a group of ten Wrens (members of the Women's Royal Naval Service) assigned to his team in an attempt to reveal the tactics behind the vicious success of the German U-boats. Played on a linoleum floor divided into painted squares, it required model ships to be moved across a make-believe ocean in a manner reminiscent of the childhood game, Battleship. Through play, the designers developed "Operation Raspberry," a counter-maneuver that helped turn the tide of World War II.

Combining vibrant novelistic storytelling with extensive research, interviews, and previously unpublished accounts, Simon Parkin describes for the first time the role that women played in developing the Allied strategy that, in the words of one admiral, "contributed in no small measure to the final defeat of Germany." Rich with unforgettable cinematic detail and larger-than-life characters, A Game of Birds and Wolves is a heart-wrenching tale of ingenuity, dedication, perseverance, and love, bringing to life the imagination and sacrifice required to defeat the Nazis at sea.
About the Author
---
Simon Parkin is an award-winning British writer and journalist. He is a contributing writer for the New Yorker, game critic for the Observer newspaper, and a regular contributor to the Guardian's Long Read. He is the recipient of two awards from the Society of Professional Journalists, and his work has been featured in The Best American Nonrequired Reading. He lives on the south coast of England.
Praise For…
---
"[A Game of Birds and Wolves] brings to life one of the most elusive aspects of war...compelling."—New York Times Book Review

"In this engaging history...Parkin paints a vivid picture of training sessions in which seasoned sailors chafed at being tutored by 'an inexperienced girl,' and captures each maneuver in the ensuing sea battles with zeal."—The New Yorker

"A thoroughly
absorbing book, drawing upon archives and oral histories. It reads like a
thriller, with its accounts of nerve-wracking battles, extreme weather,
icebergs, and ships sunk in a matter of minutes."—The Wall Street Journal

"This stirring history...redresses a
balance: none in this doughty sisterhood has ever been publicly honoured."—Nature

"Through assiduous research and well-paced narrative, Simon Parkin has given us an extraordinary, little-known story from World War II. . . . A Game of Birds and Wolves is a work of nonfiction that reads in part like a thriller."—Pittsburgh-Post Gazette

"Parkin's book is
extensively researched, well written, and tells an engrossing story of a
little-known topic."—Science

"History writing at its best."—Booklist, starred review

"Parkin does a
masterful job of evoking the sweep of this vital piece of naval history in both
broad strokes and the telling detail. Every war buff will want to read this
book. And anyone interested in strategy would be wise to read it as well."—New York Journal of Books

"Simon Parkin's book rips along at full sail and is full of personality and personalities. Above all, it brings a barely known aspect of the sea war out into the light. Which isa triumph in itself."—Sunday Express (U.K.)

"Like a well-designed game, A Game of Birds and Wolves is fun, informative and intense."—BookPage

"A vivid glimpse of a little-known World War II
effort...Parkin weaves this history together like a novel, switching back
and forth among various characters and storylines to reveal a fascinating fight
for freedom; both for Britain and the young women who defied contemporary norms
to serve their country."—Library Journal

"With novelistic
flair, Parkin transforms material gathered from research, interviews, and
unpublished accounts into a highly readable book that celebrates the ingenuity
of a British naval "reject" and the accomplishments of the formerly
faceless women never officially rewarded for their contribution to the Allied
defeat of Germany. A lively, sharp WWII history."—Kirkus Reviews

"A magnificent look at a war game that mattered most: how to out fox the Nazi's dreaded U-boats. Told with poetic mastery, Simon Parkin's A Game of Birds and Wolves unveils the story of Operation Raspberry, how eight young women and a retired naval captain found the key to winning the Battle of the Atlantic on a giant board game played on a linoleum floor."—Annie Jacobsen, author of the Pulitzer Prize finalist The Pentagon's Brain

"A hugely enjoyable and
exciting book. It is fascinating to read about this little-known aspect of
the war which made such a massive difference to the outcome. A compelling and important new story, lucidly
and humanely told."—Roland Philipps, author of ASpy Named Orphan: The Enigma of Donald Maclean

"In a riveting,
intricately researched book, Simon Parkin tells the previously unknown story
behind the Allied victory in the Atlantic during World War II. It's an
underdog's tale-not only of British supply fleets trying to outrun German
U-boats, but also of the women game designers who made that victory possible."—Ian Bogost, IvanAllen College Distinguished Chair in Media Studies at the Georgia Institute ofTechnology; Contributing writer at The Atlantic, and author of PlayAnything

"This is the riveting true story of war, amazing
women, and one of the most important games in history. Read it here
before some film producer makes a mess of it."—Tom MouatMBE, Simulation and Modelling Technology School, Defence Academy ofthe United Kingdom

"A fascinating story, wonderfully well-told on a little known but hugely
important aspect of naval warfare. The characters of the main players, notably
the Wrens are beautifully and colourfully put across."—Admiral Sir Michael Layard KCB, CBE, former Second Sea Lord

"A stunning book of an unknown part of the largely forgotten Battle of
the Atlantic, which is a must to read."—Niall Kilgour, CB, former Rear Admiral, Submarines and President of theSubmariners Association