Original Gangstas: Tupac Shakur, Dr. Dre, Eazy-E, Ice Cube, and the Birth of West Coast Rap (Paperback)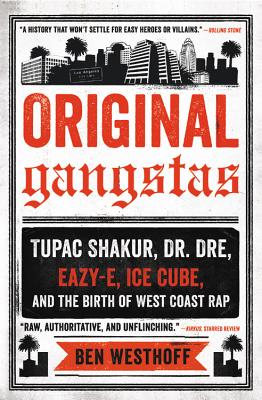 List Price: $18.99
Our Price: $17.99
(Save: $1.00 5%)
On Our Shelves Now. Click on the title to see details.
Description
---
"Raw, authoritative, and unflinching ... An elaborately detailed, darkly surprising, definitive history of the LA gangsta rap era." -- Kirkus, starred review

A monumental, revealing narrative history about the legendary group of artists at the forefront of West Coast hip-hop: Eazy-E, Dr. Dre, Ice Cube, Snoop Dogg, and Tupac Shakur.

Amid rising gang violence, the crack epidemic, and police brutality, a group of unlikely voices cut through the chaos of late 1980s Los Angeles: N.W.A. Led by a drug dealer, a glammed-up producer, and a high school kid, N.W.A gave voice to disenfranchised African Americans across the country. And they quickly redefined pop culture across the world. Their names remain as popular as ever -- Eazy-E, Dr. Dre, and Ice Cube. Dre soon joined forces with Suge Knight to create the combustible Death Row Records, which in turn transformed Snoop Dogg and Tupac Shakur into superstars.

Ben Westhoff explores how this group of artists shifted the balance of hip-hop from New York to Los Angeles. He shows how N.W.A.'s shocking success lead to rivalries between members, record labels, and eventually a war between East Coast and West Coast factions. In the process, hip-hop burst into mainstream America at a time of immense social change, and became the most dominant musical movement of the last thirty years. At gangsta rap's peak, two of its biggest names -- Tupac and Biggie Smalls -- were murdered, leaving the surviving artists to forge peace before the genre annihilated itself.

Featuring extensive investigative reporting, interviews with the principal players, and dozens of never-before-told stories, Original Gangstas is a groundbreaking addition to the history of popular music.
About the Author
---
Ben Westhoff is an award-winning journalist whose work has appeared in the Guardian, Rolling Stone, Vice, Pitchfork, and the Wall Street Journal. He spent three years as the Music Editor at L.A. Weekly, and is the author of Dirty South: Outkast, Lil Wayne, Soulja Boy, and the Southern Rappers Who Reinvented Hip-Hop (Chicago Review Press), which Rolling Stone called "packed with lively reporting and colorful social history."
Praise For…
---
"I trust Ben Westhoff. I trust him to report a story and I trust him to tell a story, and that's exactly what he's done here in
Original Gangstas
. He's taken what's always felt like an almost impossibly knotted string of storylines and plot points in gangsta rap, the most turbulent version of the most popular music on the planet, and turned them into an airtight and unflinching book.
Original Gangstas
is as resolute as the people and ideas it sets out to profile, and that is no small feat."—
Shea Serrano, New York Times bestselling author of The Rap Year Book
"Scrupulously
researched with many incisive revelations, this may be the best book ever
written about the hip hop world."
—
S. Leigh Savidge,Academy Award nominee and co-writer of Straight Outta Compton
"A provocative, multifaceted portrait of essential rap pioneers who ushered the hip-hop music scene to greatness.... As raw, authoritative, and unflinching as the music his narrative chronicles, Westhoff comprehensively uncovers the factual roots of the gangsta rap movement and admirably credits those whose footprints paved the way for the younger rappers emerging today.... An elaborately detailed, darkly surprising, definitive history of the LA gangsta rap era."—
Kirkus Reviews (starred review)
"[Adds]
fresh detail to the oft-told stories ...[A] history that won't settle for easy
heroes or villains."
—
Rolling Stone
"
Original Gangstas
is as real as it gets if you want to know the so-called 'gangsta rap' scene. Ben Westhoff refrains from using rumors and innuendos, and instead reports the facts, and he tells all sides of this music movement. The book goes into depth about many stories I'd only previously heard via the streets. As the first DJ to play almost everyone mentioned in the book, I found
Original Gangstas
compelling reading. Thank you, Ben Westhoff, for this great book!"—
Greg Mack, "The Godfather of Hip Hop Radio," former KDAY DJ, current host of the nationally syndicated "The Greg Mack Show"
"Invaluable... [Westhoff's] book will stand as a comprehensive guide to an inner-city movement that conquered the world
.
"—
Publishers Weekly
"Original Gangstas
takes readers to the source, the battered communities and difficult lives that spawned an unlikely musical revolution. Eazy and Dre, Tupac and Snoop-Westhoff admires his subjects' music talent but isn't afraid to expose their darkest secrets. His research is exhaustive, while his prose is concise, and the result is an unforgettable history of the last time music was ever really
dangerous
."—
Stephen Witt, author of How Music Got Free
"
Original Gangstas
shows how the rap West was won. A social and cultural study to read along with a head nodding-soundtrack 'fo sho.'"—
Chuck D, Public Enemy
"Insightful... Westhoff's history is especially relevant amid the ongoing Black Lives Matter movement."
—
Booklist
"[A] captivating chronicle... Central to Westhoff's research are original interviews with key figures balanced with the author's efforts to frame the music as a piece with the surrounding social and political upheaval... He doesn't flinch in providing a rounded picture of the history of the genre, in which the danger wasn't confined to the music."—
Library Journal
"Westhoff manages to knit together all the group's outsized personalities, feuds, fist fights and drama into a stunning and entertaining read.... [His] detailed recounting of the long history of Death Row is required reading even for those who may think they know the story."—
New York Daily News
"This is
the
hip-hop book of the season, and it gives readers a thorough and engaging history of the West coast rap scene."—
Bookish
"As eloquently written as it is immensely raw in content. To borrow one from Ice Cube, it's a 'no vaseline' sort of affair....
Original Gangstas
reads like classic investigative magazine journalism and stands alongside
Check the Technique
,
Can't Stop Won't Stop
by Jeff Chang, and
The Big Payback
by Dan Charnas as a standard-bearer sure to age like a Dre track.... A seriously compelling page-turner."—
Chris Faraone, DigBoston
"
Original Gangstas
goes beneath the surface of West Coast rap's origin story."—
Noisey, Vice.com
"Westhoff could have even trimmed his prose down to bullet points and the story still would have leapt off the page. The standard of the reporting is that high on its own.... The facts ... are messy but Westhoff arranges them with a humility and expertise uncommon in music writing.... If you are interested to know what actually happened during the rise of West Coast rap music,
Original Gangstas
is as close to the facts as you're going to get."—
Alex Dwyer, Passionof the Weiss
"Meticulously researched and superbly written."
—
HipHopDX
"[
Original Gangstas
] delves deeply into the history of hip-hop on the West Coast, meticulously unearthing layer after layer of the true story not covered in other books or movies... An informative page-turner that sheds an unbiased light on the founding figures who created the gangsta rap genre."—
Riverfront Times
"An incisive, rigorously reported history...
Original Gangstas
... shines a light into every nook and cranny of the N.W.A story... Westhoff has a gumshoe's eye, a deadline writer's efficiency, and a novelist's sense of place and time."—
Chicago Reader
"The book offers plenty of pleasures and surprises, giving an authoritative investigation of the familiar rivalries and controversies of gangsta rap, but also intimate scenes of intensely bright, sharp-witted young artists figuring out their form.... Westhoff constructs a political backdrop that highlights the importance of rap as an American art form... [A] highly readable and important history."—
St. LouisPost-Dispatch
"Westhoff ... was never content to sit at his desk .... [His] kind of shoe-leather reporting ... is once again on glorious display in
Original Gangstas
, the culmination of five years of reporting."—
Village Voice