Tender: A Novel (Paperback)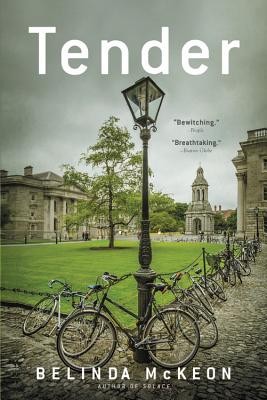 $15.99

If not in stock, we can Special Order from the publisher
Description
---
A searing novel about longing, intimacy, and obsession from the award-winning author of Solace.

When they meet in Dublin in the late nineties, Catherine and James become close as two friends can be. She is a sheltered college student, he an adventurous, charismatic young artist. In a city brimming with possibilities, he spurs her to take life on with gusto. But as Catherine opens herself to new experiences, James's life becomes a prison; as changed as the new Ireland may be, it is still not a place in which he feels able to truly be himself. Catherine, grateful to James and worried for him, desperately wants to help -- but as time moves on, and as life begins to take the friends in difference directions, she discovers that there is a perilously fine line between helping someone and hurting him further. When crisis hits, Catherine finds herself at the mercy of feelings she cannot control, leading her to jeopardize all she holds dear.

By turns exhilarating and devastating, Tender is a dazzling exploration of human relationships, of the lies we tell ourselves and the lies we are taught to tell. It is the story of first love and lost innocence, of discovery and betrayal. A tense high-wire act with keen psychological insights, this daring novel confirms Belinda McKeon as a major voice in contemporary fiction, joining the ranks of the masterful Edna O'Brien and Anne Enright.
About the Author
---
Belinda McKeon's debut novel, Solace, won the 2012 Faber Prize, was voted Irish Book of the Year, and was shortlisted for the James Tait Black Memorial Prize. Her essays and journalism have been published in the Paris Review, the New York Times, the Guardian, and elsewhere. Her plays have been produced in Dublin and New York, and she has been under commission to the Abbey Theatre. McKeon was also a nominee for the inaugural Laureate for Irish Fiction post. She lives in Brooklyn and teaches at Rutgers University.
Praise For…
---
"
Tender
combines the urge to escape the ordinary of
Brideshead Revisited
with the tormented devotion of McEwan's
Enduring Love
. It is chilling, gorgeous, and profoundly insightful about the very human urge to wreck oneself on the shoals of a great ambition."--Matthew Thomas, New York Times bestselling author of
We Are Not Ourselves
"
Tender
rises above every other book on the shelf for its language alone; the beauty of each sentence will break your heart. But the story, full of the pleasures and terrors and betrayals of youth, will do that anyway. There is no way around it: you will weep. Spectacular."
—
Andrew Sean Greer, author of The Impossible Lives of Greta Wells
"Utterly exquisite, unflinchingly observed,
Tender
is the story of a specific obsessive love, but also the story of youth itself, the blinding needs of heart and body, the illusion that one can change reality to suit one's desires--just by wanting to enough. McKeon's intelligence and insight shine through every page, and the words themselves perform miracles of revelation as they dance from one sentence to the next."
—
Robin Black, author of Life Drawing
"
Tender
is compelling and deeply affecting: McKeon's prose describes the calibrations of emotions wonderfully, and the novel is great on friendship, on art, on being young and in love... I read it in a day."
—
Nick Laird, author of To a Fault
"A perceptive, unexpectedly moving novel about friendship and love and all the heart-stopping moments in between."
—
Jenny Offill, bestselling author of Dept. of Speculation
"Richly nuanced and utterly absorbing."
—
The Guardian
"
Tender
is the best Irish novel I've read since
The Spinning Heart,
a work rich with wisdom, truth and beauty. There are no gimmicks, no deliberately eccentric characters and no wildly overblown prose masquerading as poetry. Reading it, the novelist that came to mind time and again was Anne Tyler, one of the greatest storytellers alive, whose characters arrive on the page like human beings, things happen to them, they react to these things, and then life continues. I can scarcely think of higher praise than to say that Belinda McKeon could be our Anne Tyler. There is simply not a false note anywhere in
Tender.
"
—
John Boyne, The Irish Times
"McKeon is a superb and sophisticated writer, who captures the barely articulable feelings between young people on the brink of adulthood."
—
Fiona Wilson, The Times (UK)
"Belinda McKeon writes like a dream, and
Tender
proves that she belongs among the most revered novelists working today."
—
Heidi Julavits, author of The Folded Clock
"McKeon...captures something essential about friendship, vulnerability, love, and longing. As it explores the push-pull of this achingly intimate, increasingly obsessive relationship-the way James and Catherine attract and repel each other as if they were two strong magnets turned this way and that-the story throbs with the tension between them.... McKeon regards the characters in her keenly wrought love story-for all their flaws and fragility-with insight, sensitivity, and a compassion that proves contagious."
—
Kirkus, Starred Review
"You'll feel immersed in the textured, nuanced exploration of the fraught emotional territory of relationships and the stress that time puts on them-and just might be able to relate."
—
Elle
"This insanely beautiful novel digs deep uncovering so much truth below the surface, however... and if you do cry, don't say I didn't warn you."
—
Bustle
"McKeon's description of human obsession is raw, her literary references to Sylvia Plath and Ted Hughes are relevant, and her introspective magnifying glass into one woman's psyche will stay with you long after putting the book down."
—
Glamour
"This carefully constructed tale of loss and betrayal thrums with sadness, danger, and the dizzying desire to possess."
—
Financial Times
"McKeon follows her much praised debut with a fever dream of friendship, love, and obsession that is as emotionally raw as it is artfully crafted."
—
Booklist, starred review
"A dreamy and absorbing story ...McKeon's novel is rife with psychological insights and truths large and small about the betrayals and passion between friends."
—
Travel and Leisure
"...this novel will have you fully immersed in one pair's riveting emotional rollercoaster."
—
Harper's Bazaar
"An invigorating and lifelike novel that earns its title..."
—
Flavorwire
"1990s Dublin was still a very conservative place, McKeon's pitch-perfect second novel reminds us, and her story of a passionate, defining friendship between an aspiring poet and the charismatic photographer's assistant that turns savagely proprietary has the ring of painful truth about it."
—
Vogue
"Dark spirits inform the frantic heart at the center of
Tender,
Belinda McKeon's second novel and a dead-on account of youthful obsession...in her [Catherine], McKeon has a fully-realized character--a contradictory, willful, thoughtless, self-destructive, manipulative, obsessive, and finally, sympathetic young woman...such youthful sensations as the longing to be known wholly and exclusively by another McKeon remembers and tenderly records."—
New York Times Book Review
"Belinda McKeon's new novel takes the prize for having one of the most exquisite endings I've read in some time...Well before you reach the well-earned, absolutely perfect ending, McKeon lets you know unequivocally that this is a book about a rare connection...moving."
—
NPR
"Belinda McKeon's second novel,
Tender
, concerns a type of contemporary relationship pop culture loves to depict but can never seem to resist catastrophically oversimplifying: a close friendship between a gay man and a straight woman.... What McKeon does in
Tender
is something far more refreshing, though....
Tender
preserves the emotionally (and physically) heightened experience of young love and first heartbreak.... The book becomes a time bomb as soon as Catherine's love for James and the impossibility of him feeling the same way about her are both apparent, but it's the care with which McKeon manages that explosive, the details of how and when and why it finally detonates, that give the story its devastating force.... But there's so much more going on in the book, too.
Tender
pulls together friendship and love and sex and politics and coming of age and finding one's calling in one messy bundle that resists all easy labels besides, possibly, "youth." Like the title, that word has many meanings, and every single one of them is tied to a sensation."
—
Flavorwire
"Everyone remembers the exquisite torments of first love - and you'll revisit them in McKeon's haunting story of naïve Catherine, brooding James and their college friends in 90's Dublin. These smart, likable people misunderstand, wound and obsess about one another. Their yearnings and screw-ups as they stumble toward adulthood make for a bewitching read."
—
People
"Belinda McKeon's second novel is an honest and, at times, painful account of what its like to be young and crazy in love."
—
US Weekly
"[An] emotionally virtuosic second novel, which fizzes from the start with effervescent comic dialogue... breathtaking."
—
Boston Globe
"With the mastery of Anne Enright...McKeon delivers a tragic and heartfelt second novel. The subtle narrative pacing and deep descriptions of both Dublin and the characters and their distinctive habits believably convey the often heartbreaking initiations of young adulthood."
—
Library Journal
"[McKeon] fills these early pages with cascading phrases that flex with the enthusiasm of young love.... McKeon brings this story to a close with such tenderness and honesty.... Anybody can feel the real life pulsing through this novel about misaligned affections."
—
Ron Charles, Washington Post
"McKeon relates an unpredictable series of events in heart-rending prose, expressing the full force of a young love's potential for disaster."
—
New Yorker
"
Tender
is written in a remarkable, fluid style that mirror's Catherine's changing emotional state as her desire to recapture the closeness she and James once shared consumes her daily life. A sensual and poetic triumph."
—
Lithub