Brideshead Revisited: 75th Anniversary Edition (Paperback)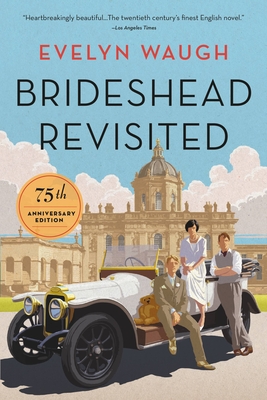 $17.99

On Our Shelves Now. Click on the title to see details.
Description
---
The gorgeous 75th-anniversary edition of Brideshead Revisited, the novel selected by Modern Library as one of the 100 best of the century and called "Evelyn Waugh's finest achievement" by the New York Times. 
The wellsprings of desire and the impediments to love come brilliantly into focus in Evelyn Waugh's masterpiece -- a novel that immerses us in the glittering and seductive world of English aristocracy in the waning days of the empire.
Through the story of Charles Ryder's entanglement with the Flytes, a great Catholic family, Evelyn Waugh charts the passing of the privileged world he knew in his own youth and vividly recalls the sensuous pleasures denied him by wartime austerities. At once romantic, sensuous, comic, and somber, Brideshead Revisited transcends Waugh's early satiric explorations and reveals him to be an elegiac, lyrical novelist of the utmost feeling and lucidity.
"A genuine literary masterpiece." --Time
"Heartbreakingly beautiful...The twentieth century's finest English novel." --Los Angeles Times
About the Author
---
Evelyn Waugh (1903-1966), whom Time called "one of the century's great masters of English prose," wrote several widely acclaimed novels as well as volumes of biography, memoir, travel writing, and journalism. Three of his novels, A Handful of Dust, Scoop, and Brideshead Revisited, were selected by the Modern Library as among the 100 best novels of the twentieth century.
Praise For…
---
"Heartbreakingly beautiful....The 20th century's finest English novel."
—Los Angeles Times
"A genuine literary masterpiece....
Brideshead Revisited
is actually a wildly entertaining, swooningly funny-sad story about an iumpressionable young man, Charles Ryder, who goes to Oxford in the 1930s and falls in love with a family: the wealthy, eccentric, aristocratic Flytes, owners of a grand old country house called Brideshead....Told in flashbacks from the dark days of World War II, the novel is aglimmer with the guttering candle glow of an elegant age that was already passing away."
—Lev Grossman, TIME
"Waugh's most carefully written and deeply felt novel...Brideshead Revisited reveals his richly endowed talent at its peak...Waugh is very definitely an artist, with something like a genius for precision and clarity not surpassed by any novelist writing in English in his time."
—John K. Hutchens, New York Times
"The book is a masterpiece: rereading it you can only gaze in admiration at the brilliant and hilarious details."
—The Guardian
"A many-faceted book....beautifully told by one of the most exhilarating stylists of our time."
—Newsweek