Born to Be Posthumous: The Eccentric Life and Mysterious Genius of Edward Gorey (Hardcover)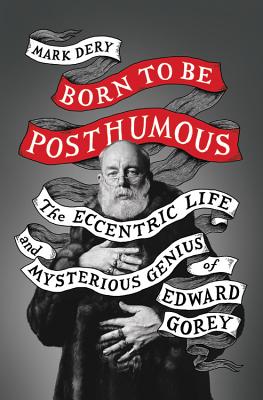 $35.00

NOT on our shelves - Usually Ships in 1-5 Days
Description
---
The definitive biography of Edward Gorey, the eccentric master of macabre nonsense.

From The Gashlycrumb Tinies to The Doubtful Guest, Edward Gorey's wickedly funny and deliciously sinister little books have influenced our culture in innumerable ways, from the works of Tim Burton and Neil Gaiman to Lemony Snicket. Some even call him the Grandfather of Goth.

But who was this man, who lived with over twenty thousand books and six cats, who roomed with Frank O'Hara at Harvard, and was known -- in the late 1940s, no less -- to traipse around in full-length fur coats, clanking bracelets, and an Edwardian beard? An eccentric, a gregarious recluse, an enigmatic auteur of whimsically morbid masterpieces, yes -- but who was the real Edward Gorey behind the Oscar Wildean pose?

He published over a hundred books and illustrated works by Samuel Beckett, T.S. Eliot, Edward Lear, John Updike, Charles Dickens, Hilaire Belloc, Muriel Spark, Bram Stoker, Gilbert & Sullivan, and others. At the same time, he was a deeply complicated and conflicted individual, a man whose art reflected his obsessions with the disquieting and the darkly hilarious.

Based on newly uncovered correspondence and interviews with personalities as diverse as John Ashbery, Donald Hall, Lemony Snicket, Neil Gaiman, and Anna Sui, Born to Be Posthumous draws back the curtain on the eccentric genius and mysterious life of Edward Gorey.
About the Author
---
Mark Dery is a cultural critic. He coined the term "Afrofuturism," popularized the concept of "culture jamming," taught at Yale and NYU, and has published widely on pop culture, the media, and on the mythologies (and pathologies) of American life.

His books include Flame Wars, a seminal anthology of writings on digital culture; Escape Velocity: Cyberculture at the end of the century, The Pyrotechnic Insanitarium: American Culture on the Brink, and the essay collection, I Must Not Think Bad Thoughts: Drive-by Essays on American Dread, American Dreams. Like Gorey, his mission in life "is to make everybody as uneasy as possible."
Praise For…
---
One of the Best Books of the Year:NPR, The Guardian, Boston Globe, Paste, Mental Floss, San Francisco Chronicle

"As a perfervid Goreyphile, I was a bit leery of a biography undertaking to spell out the details of his life. Did I really want to have the mystery solved? But Mark Dery drags the pond to revelatory result, contextualizing and analyzing Gorey, plunging into his obsessions, dissecting his sexuality, and even examining the philosophical import of nonsense while somehow managing to leave the central enigma radiantly intact. This is an absolutely riveting book about an utterly sui generis subject."—Alison Bechdel, author of Fun Home

"The best biographies are the result of a perfect match between author and subject, and it's relatively rare when the two align perfectly. But that's the case with Born to Be Posthumous--Dery shares Gorey's arch sense of humor, and shows real sympathy for his sui generis outlook and aesthetics. Dery's book is smart, exhaustive, and an absolute joy to read... the biography [Gorey] has long deserved."—NPR

"A detailed, devoted, and highly readable biography of the illustrator who--from The Doubtful Guest to The Curious Sofa--defined and embodied a world of camp, gothic hilarity."—Ben Schott, The Guardian

"Smart and entertaining... brings us closer than ever to understanding a man devoted to enigmas."—Washington Post

"Edward Gorey has been granted the most remarkable biography, one I believe he could have lived with. What was the likelihood that this singular genius could be restored, with such compassion and grace, within his whole context: Balanchine, surrealism, Frank O'Hara, Lady Murasaki, et al? This is a Dery Gorey book."—Jonathan Lethem

"Provocative... Dery makes a convincing case that Gorey was the true godfather of Goth, inspiring a generation of pop culture memento mori, from the IMAX-scale nightmares of Tim Burton... to the travails of Lemony Snicket... Dery has set the standard for a comprehensive appraisal of his legacy."—San Francisco Chronicle

"An entertaining account of an artist who liked to be coy with anybody who dared to write about him."—New York Times

"Gorey has found a superb biographer in Mark Dery... Some enigmas aren't meant to be solved--but they can be usefully illuminated. That's just what Dery does in this excellent book."—Seattle Times

"Ravishing...Dery portrays the man behind those odd little books that delighted in showing children in danger, blending Victorian and Surrealistic sensibilities; Gorey was a Harvard man, a balletomane, and ultimately, an enigma."—The Boston Globe

"Edward Gorey's ardent admirers have long known there is something about his work one can't quite pin down. Past all reason, Mark Dery has pinned it down. A genius book about a bookish genius."—Daniel Handler, author of A Series of Unfortunate Events

"Will delight the most devoted bibliophile... deeply-researched."—Globe and Mail

"That sense of our ultimate aloneness in the world makes Gorey's books as haunting as they are odd. Dery's affectionate tribute to an artist who was 'incomparably, unimprovably himself' also shows Gorey evoking in his work feelings of alienation, longing, and dread that are perhaps more common than we like to admit."—Boston Globe

"Mark Dery's deep, clear-eyed biography of Gorey is so welcome. He pulls at the disparate threads running through Gorey's art... and unearths the artist's gay identity."—NPR

"Writer and illustrator Gorey is more myth than man. But Mark Dery fleshes out the Grandfather of Goth in this new biography, and by doing so, he paints a picture of a fascinating man... Dery fills in the rest of the pieces with affection, admiration, and humor."—Paste

"Knowing Gorey's full story, done sparkling justice by Mark Dery, will only make you adore him more."—Caitlin Doughty, author of Smoke Gets in Your Eyes

"Well-considered... Cultural critic Dery constructs a nimble framework to fully appreciate the gothic artist and designer's contributions to high art and queer culture... The reclusive author and designer of such ghoulish gems as The Doubtful Guest and the animated introduction to the PBS series Mystery! comes fully alive, fur-coated and bejeweled, as an unlikely icon of the counterculture."—Kirkus

"Peculiar to a T, Gorey and his work are eccentric in the most congenial and appealing way, and cultural critic Dery gives them a book that matches them in ingratiation, fascination, and artfulness."—Booklist (starred review)

"Fascinating... Dery brings an analytical eye to the creations of the avant-garde illustrator and writer."—The National Book Review

"An inviting cabinet of curiosities...Every chapter is a revelation... fans will absolutely revel in this book... Mark Dery pulls back the grand drape in a way that does not dispel the magic but simply sanctifies Gorey's contribution."—Lambda Literary

"In his provocative biography of Gorey, Dery shows that the artist, instead of being a fusty old Edwardian misanthrope, was a flamboyant dandy and an early avatar of asexuality."—San Francisco Chronicle