Red Comet: The Short Life and Blazing Art of Sylvia Plath (Paperback)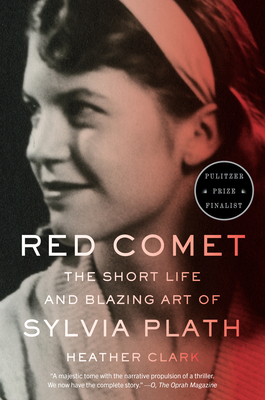 List Price: $20.00
Our Price: $10.00
(Save: $10.00 50%)
On Our Shelves Now. Click on the title to see details.
Staff Reviews
---
Don't be put off by this book's heft– this is an engrossing biography. Sylvia Plath is too-often reduced to her tragic final act. Red Comet doesn't reduce her life and achievements in the face of her suicide, treating her like the gifted writer she was. If you love her work as I do, or if you just want to read an excellent biography, this is worth reading. (And it offers a fascinating look at women's lives in the 1950s, too.)
— From
Julia's Recommendations
Description
---
PULITZER PRIZE FINALIST • The highly anticipated biography of Sylvia Plath that focuses on her remarkable literary and intellectual achievements, while restoring the woman behind the long-held myths about her life and art.

"One of the most beautiful biographies I've ever read." —Glennon Doyle, author of #1 New York Times Bestseller, Untamed

With a wealth of never-before-accessed materials, Heather Clark brings to life the brilliant Sylvia Plath, who had precocious poetic ambition and was an accomplished published writer even before she became a star at Smith College. Refusing to read Plath's work as if her every act was a harbinger of her tragic fate, Clark considers the sociopolitical context as she thoroughly explores Plath's world: her early relationships and determination not to become a conventional woman and wife; her troubles with an unenlightened mental health industry; her Cambridge years and thunderclap meeting with Ted Hughes; and much more.

Clark's clear-eyed portraits of Hughes, his lover Assia Wevill, and other demonized players in the arena of Plath's suicide promote a deeper understanding of her final days. Along with illuminating readings of the poems themselves, Clark's meticulous, compassionate research brings us closer than ever to the spirited woman and visionary artist who blazed a trail that still lights the way for women poets the world over.
About the Author
---
HEATHER CLARK earned her bachelor's degree in English literature from Harvard University and her doctorate in English from Oxford University. Her awards include a National Endowment for the Humanities Public Scholar Fellowship, a Leon Levy Biography Fellowship at the City University of New York, and a Visiting US Fellowship at the Eccles Centre for American Studies, British Library. A former visiting scholar at the Oxford Centre for Life-Writing, she is the author of The Grief of Influence: Sylvia Plath and Ted Hughes and The Ulster Renaissance: Poetry in Belfast 1962-1972. Her work has appeared in publications including Harvard Review, Times Literary Supplement, Time, AirMail, and LitHub, and she recently served as the scholarly consultant for the BBC documentary Sylvia Plath: Life Inside the Bell Jar. She divides her time between Chappaqua, New York, and Yorkshire, England, where she is a professor of contemporary poetry at the University of Huddersfield.
Praise For…
---
A New York Times Top 10 Book of the Year • Finalist for the Pulitzer Prize, the National  Book Critics Circle Award, and the LA Times Book Prize • A New York Times Notable Book • Named a Book of the Year: O, the Oprah Magazine, Entertainment Weekly, Boston Globe, Literary Hub, The Times (London), The Guardian, The Daily Telegraph, and The Times of India • Winner of the Biographers' Club Slightly Foxed Prize for Best First Biography

"Mesmerizing . . . Comprehensive . . . Stuffed with heretofore untold anecdotes that illuminate or extend our understanding of Plath's life . . . Clark is a felicitous writer and a discerning critic of Plath's poetry . . . There is no denying the book's intellectual power and, just as important, its sheer readability."
—The New York Times

"A majestic tome with the narrative propulsion of a thriller. We now have the complete story." 
—O, The Oprah Magazine

"An exhaustively researched, frequently brilliant masterwork. . . . It is an impressive achievement representing a prizeworthy contribution to literary scholarship and biographical journalism."
—The Washington Post

"One of the most beautiful biographies I've ever read."
—Glennon Doyle, author of #1 New York Times Bestseller, Untamed

"Clark masterfully analyzes the poetry with intelligent incorporation of the biography. . . . Red Comet shows that the achievement of Sylvia Plath was miraculous—but it wasn't spasmodic, or rare. It was hard-won, every single day."
—Los Angeles Times
 
"Massive, insightful . . . Red Comet is a critical examination of what it means to be a female artist, to suffer from depression, and to be alone, as it is revelatory about this one particular life and the art that came from it. The red comet (an image from her poem 'Stings') is an apt metaphor for Plath."
—Boston Globe
 
"Revelatory. . . . Plath's struggles with depression and her marriage to Ted Hughes emerge in complex detail, but Clark does not let Plath's suicide define her artistic achievement, arguing with refreshing rigor for her significance to modern letters. The result is a new understanding and appreciation of an innovative, uncompromising poetic voice."
—The New Yorker
 
"A definitive biography. . . . What ultimately bursts off the page is Plath's short, vibrant life, which is too often most remembered for the way it ended: 'That's the irony, isn't it?' says Clark. 'She's so incredibly alive.'"
—Entertainment Weekly
 
"Red Comet is absolutely necessary. . . . In Clark's attentive hands, Plath's life is laid out in its full complexity."
—Lit Hub

"Aiming to shake the public perception of Sylvia Plath as 'the Marilyn Monroe of the literati,' Clark delivers a meticulous, unflinching and fresh view of the brilliant, troubled poet." 
—People
 
"Surely the final, the definitive, biography of Sylvia Plath . . . Takes its time in desensationalizing the life and the art; this lets Clark place both firmly in the literary and politically engaged contexts that formed them and simultaneously demonstrate how Plath's work, in return, gifted the writing life unimaginable new sinew."
—The Guardian ("The Best Books of 2020")

"Red Comet is a mighty achievement. Clark is compassionate, clear-eyed, sceptical. Each chapter reads with the ease of a novel. . . . Plath's resilience, genius and insight blaze through the book."
—The Times (UK)
 
"Clark entices us with the impossible: an 'unbiased,' authorised biography of Sylvia Plath. . . . Red Comet is the kind of serious literary biography Plath has long deserved but, until now, not received."
—New Statesman (UK)
 
"Unlike other biographies of Plath (1932-63), Clark's traces her subject's literary and intellectual development rather than concentrating on her undoing through suicide. . . . A masterful biography, that will especially interest literary scholars."
—Library Journal
 
"[A] page-turning, meticulously researched biography of Sylvia Plath. . . . Clark's in-depth scholarship and fine writing result in a superb work that will deliver fresh revelations to Plath's many devoted fans."
—Publishers Weekly (starred review)
 
"A sober and detailed critical biography of one of the 20th century's greatest and most misunderstood poets. . . . Redeems Plath from the condescension of easy interpretation."
—Kirkus Reviews (starred review)

"Once I started reading this book, I couldn't stop; I read it upon waking and late at night, at the dinner table and during the workday. I thought I knew Plath, but this wonderful book shows me I did not. Like the lyric speakers of her late poetry, she emerges from these pages transformed. Red Comet presents Sylvia Plath as she ought to be: as an innovative, ambitious, driven artist, at a time when women weren't supposed to be any of these things. In the end, I was awestruck by Plath's courage and strength in the face of so many obstacles; I was awed, too, by the work Clark has done to bring this writer to life."
—Maggie Doherty, author of The Equivalents