Slipstream: A Novel (Paperback)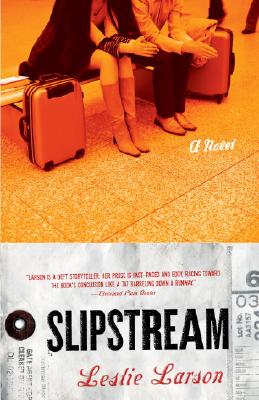 Description
---
In Slipstream, Leslie Larson traces the intertwining paths of five characters as each struggles to stay afloat in the face of major setbacks, minor failures, and a reckless pursuit of elusive second chances. When Rudy loses his job cleaning jets at the airport, his sanity and his marriage threaten to follow. While his wife, Inez, secretly saves her pennies and plots an escape, his coworker Wylie, a bartender at LAX, is about to receive the surprise of his life. Meanwhile, Wylie's brother, Logan, freshly released from jail, tries desperately to stay out of trouble while traipsing through a minefield of temptation. And Logan's daughter Jewell is nursing a heart broken once by an unfaithful girlfriend and again by a father who can't seem to stick around. Though they don't know it, these five people are headed toward an explosive event that will have consequences for them all.

Deftly weaving suspense, humor, and revelation, Slipstream is a rich human drama with the breathless pace of a thriller and the soul of classic noir.


Also available as a Books on Tape AudioBook and as an eBook


From the Hardcover edition.
About the Author
---
Leslie Larson was born in San Diego, California. Her work has appeared in Faultline, the East Bay Express, and the Women's Review of Books, among other publications. She lives in Berkeley, California.


From the Hardcover edition.
Praise For…
---
"Hilarious and heartbreaking all at once—no easy feat, but the mark of great storytelling." —Sandra Cisneros

"This exceptional first novel is pitch-perfect in its authentic, insightful portrayals of fatefully intersecting lives. . . . The writing is pure pleasure—as clean and clear as glass." —Katherine V. Forrest, author of Hancock Park

"Slipstream is a genuinely startling novel that caught me up in the lives of people being looked past, over, or beyond. Larson's people are alive on the page, and they pulled me along with them as things got scarier and scarier until. . . . Well, you have to read the book to learn that—and trust me, it will be worth it." —Dorothy Allison, author of Bastard Out of Carolina

"Leslie Larson has an unshakable confidence in her capacity fully to inhabit her characters, each brought vividly into wriggling, yammering life by her unerring talent. Slipstream demands to be read from start to finish, if at all possible in one long, shivering gulp." —Peter Straub, author of In the Night Room

"In Leslie Larson's novel Slipstream, the question is not why we leave but that we leave again and again, each time set against the incredible drama of our surreal lives. She inhabits her sharp, incisive, smart novel with lives we know and know of, sometimes too closely, lives that begin and begin again and seem to end and end again, departures and arrivals amidst the terror of our daily chaos." —Lois-Ann Yamanaka, author of Behold the Many

"For all its deft plotting and effective suspense, Slipstream is most memorable for its portraits of characters negotiating the difference between just getting by and moving forward. Larson renders beautifully a lower-middle-class California that's being squeezed out of a place to live, and provides an intricate and moving sense of the way in which such characters' lives go wrong and the persistence of their resolve to turn them around." —Jim Shepard, author of Love and Hydrogen

"As Leslie Larson reminds us in this brilliant novel, everyone in L.A. is just three degrees of separation from the next small apocalypse." —Mike Davis, author of City of Quartz


From the Hardcover edition.