A Natural History of the Piano: The Instrument, the Music, the Musicians: From Mozart to Modern Jazz and Everything in Between (Paperback)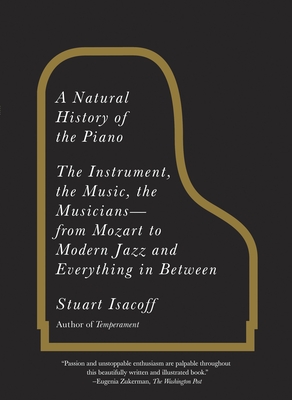 $17.95
Usually Ships in 1-5 Days
Description
---
A fascinating celebration of the piano, including tales of its masters from Mozart and Beethoven to Oscar Peterson and Jerry Lee Lewis, told with the expertise of composer and author of Temperament, Stuart Isacoff.
This history takes us back to the piano's humble genesis as a simple keyboard, and shows how everyone from Ferdinando de' Medici to Herbie Hancock affected its evolution of sound and influence in popular music. Presenting the instrument that has been at the core of musical development over the centuries in all its beauty and complexity, this explores the piano's capabilities and the range of emotional expression it conveys in different artists' hands.
A Natural History of the Piano
is fast-paced and intriguing, with beautiful illustrations and photos, a must-read for music lovers and pianists of every level.
About the Author
---
Stuart Isacoff is a pianist, composer, and critic; he was the founding editor of Piano Today magazine. A winner of the ASCAP Deems Taylor Award for excellence in writing about music, he is a regular contributor to The Wall Street Journal and other publications. Isacoff gives lectures and performances at numerous venues, which have included the Chamber Music Society of Lincoln Center and the Metropolitan Museum of Art. He currently teaches at the SUNY at Purchase.
Praise For…
---
Praise for Stuart Isacoff's A Natural History of the Piano:

"Isacoff's heartfelt history of the piano will make you want to Stop! Read! and then go Listen! . . . Like listening to a fascinating raconteur who informs and entertains and really knows his stuff . . . Passion and unstoppable enthusiasm are palpable throughout this beautifully written and illustrated book."
—Eugenia Zukerman, The Washington Post
 
"A generous, welcoming book, full of oddities and insights. . . . A history written by a pianist and historian with a lively touch and a reach that spans octaves of science, culture and politics."
—The Dallas Morning News
 
"Anybody who cares about the piano—past, present and future—will find this book irresistible reading."
—Tim Page
 
"Wonderful. . . . The perfect gift book . . . So layered with anecdote that it reads like a novel or a good biography."
—Hudson Valley News
 
"Isacoff follows the piano into the honkytonk, the drawing room, the middle-class home and the jazz club, tracking the evolution of the physical instrument itself as well as the composers and performers who made the piano an emblem of cultural variety and a laboratory for musical form."
—The Wall Street Journal
 
"That rarest of treats: a substantial book about music that's actually easy to read. . . . As a primer on the piano and music history . . . it executes the job with distinction."
—The Plain Dealer
 
"A big slice of heaven for piano lovers."
—Booklist
 
"An exhaustive and entertaining cultural history of the piano . . . 'Sparkling discourse' is his aim, and he succeeds . . . An enjoyable read."
—The Star-Ledger
 
"Fascinating. . . . A rare journey of discovery and delight. . . . Every detail is conveyed with a vivid sense of 'you are there,' and on every page we sense Mr. Isacoff's enthusiasm and lifelong dedication to the art of the piano. . . . This is no obvious retelling of the piano's development. . . . It contains a wealth of information, lavish illustrations, thought-provoking comments, and, most of all, it is a pleasure to read."
—Clavier Companion
 
"Deft . . . In A Natural History of the Piano, Isacoff proves as fleet-fingered as any virtuoso."
—The Chronicle of Higher Education
 
"It's almost like listening to the music as you read Isacoff's relaxed, compelling prose."
—Huffington Post 

"[A] historical tribute to the piano."
—NPR
 
"A lively, virtually all-inclusive survey of all things pianistic . . . Isacoff's ability to convey his formidable erudition in the most engaging terms, coupled with his infectious enthusiasm for music of all kinds, make this a charming and highly readable potpourri. Informative fun for every variety of music lover."
—Kirkus Reviews
 
"Engrossing . . . Witty . . . Pianists at all levels, music history buffs, and academics will appreciate Isacoff's insights and clever way with words; this is an enjoyable and informative book."
—Library Journal
 
"An encyclopedic and argumentative overview of all things piano. . . . Readers will be impressed . . . by the depth and diversity of Isacoff's research and references."
—Publishers Weekly
 
"Entertaining . . . Crammed with great anecdotes and mini-essays."
—The Seattle Times
 
"Informative, comprehensive, and conversational . . . Refreshing . . . A deft rendering."
—Choice
 
"Never before have I learned and enjoyed so much about the instrument and its most distinctive practitioners—transcending so many categories of music. Whether the subject is jazz or classical music, the writing is unfailingly engaging and revealing."
—Nat Hentoff
 
"A dazzling structural juxtaposition from Mozart, Liszt and Horowitz to Joplin, Tatum and Jerry Lee Lewis, written with verve and sensitivity. Piano lovers will eat it up!"
—David Dubal, author of The Art of the Piano
 
"Every page of this book is filled with the poetry of Isacoff's writing as he outlines the fascinating development of the piano and its effect on music tradition throughout the centuries. The research is of great depth: how Isacoff weaves what he has discovered into a gripping and entertaining narrative is sheer magic. Essential reading for anyone who embraces not only the piano, but music, history, and culture. Bravo, Maestro Isacoff!"
—Frank Brady, author of Endgame
 
"I loved this book. Isacoff tells the story of the piano through every conceivable device and viewpoint. . . . And he never forgets that piano lore includes the highest of high culture as well as the pop-est of pop. It's a terrifically enjoyable read."
—Sara Fishko, Producer/Host, WNYC
 
"Supremely informative as well as fascinating and entertaining—highly recommended."
—Vladimir Ashkenazy
 
"A delight, both informative and entertaining. To borrow the author's categories, I find the writing both melodic and combustible."
—Dick Hyman
 
"Irresistible! Stuart Isacoff charts the three-century evolution of the world's most popular instrument with insight, love, and wit, garnished with the wisdom of today's foremost masters of classical and jazz."
—Sedgwick Clark, editor, Musical America International Directory of the Performing Arts 

"The title only serves as a mere hint at the breadth of information covered in the book; the work bears a distinct parallel to Isacoff's own considerable and multifaceted career as a pianist, critic, teacher, award-winning writer, and editor. . . . The book is a great read. . . . Any reader will part with A Natural History of the Piano having a renewed appreciation for the complexity and magic of the piano, its music and development, as well as an array of musically sophisticated dinner party anecdotes."
—Music Reference Services Quarterly

"This beautifully presented survey of all things keyboard . . . is accurately and articulately mapped out by a writer who is hugely knowledgeable and, vitally, passionate about his subject."
—International Piano (UK), CHOICE selection

"Stuart Isacoff's new book can make you fall in love with the three-legged marvel all over again. Wise, warm, witty, and always erudite, Isacoff's engaging style brings out a lifetime of love for the instrument and those who make music with it. . . . Humour and anecdote pepper the discourse, alongside vital information and an eclectic range of extra-musical references. . . . This is a treat for all pianists and pianophiles alike, one that leaves behind a rare glow of warmth."
—BBC Music Magazine

"So appealing. . . . A remarkable book that captures the interactions between craftsmen, composers, performers and the public in a style that is informative and entertaining. . . . Stuart Isacoff has achieved something significant in presenting a rich history of the piano in such an engaging form."
—Literary Review (UK)

"Stuart Isacoff, pianist, critic and academic, leads readers on a journey of discovery in A Natural History of the Piano . . . the music, the musicians and 'the wondrous box' itself: a volume to inspire and delight."
—The Independent (UK), An Independent Best Book of 2012