Search for Books
ABA Mobile Menu
After Dark (Vintage International) (Paperback)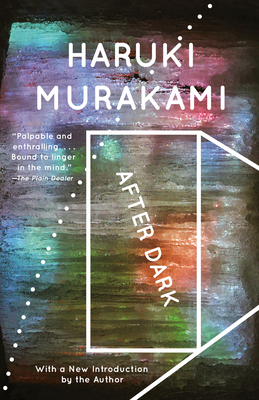 $16.00
On Our Shelves Now. Click on the title to see details.
Staff Reviews
---
This is one of Murakami's more accessible works, but make no mistake: it has all the mystical and dreamlike powers of his other works, but tuned to a more melancholy, elegiac vibe than usual. The novel follows multiple characters across the course of one night in Tokyo (each chapter title being labeled with the current time) and this dynamic combines with the dreamlike interaction between bereft characters to pull the reader in so seamlessly that it truly does feel like one captured, immortalized night that you can live inside of - all by picking up the book and reading it. Definitely recommended for readers who are interested in Murakami and in surrealism, but perhaps don't know where to start.
— From
Chandler's Recommendations
Description
---
In After Dark—a gripping novel of late night encounters—Murakami's trademark humor and psychological insight are distilled with an extraordinary, harmonious mastery.

Nineteen-year-old Mari is waiting out the night in an anonymous Denny's when she meets a young man who insists he knows her older sister, thus setting her on an odyssey through the sleeping city. In the space of a single night, the lives of a diverse cast of Tokyo residents—models, prostitutes, mobsters, and musicians—collide in a world suspended between fantasy and reality. Utterly enchanting and infused with surrealism, After Dark is a thrilling account of the magical hours separating midnight from dawn.
About the Author
---
Haruki Murakami was born in Kyoto in 1949 and now lives near Tokyo. His work has been translated into more than fifty languages, and the most recent of his many honors is the Yomiuri Literary Prize, whose previous recipients include Yukio Mishima, Kenzaburo Oe, and Kobo Abe.
Praise For…
---
"After Dark [is] hypnotically eerie, sometimes even funny, but most of all, it's [a book] that keeps ratcheting up the suspense." —The Washington Post Book World
"After Dark is a streamlined, hushed ensemble piece. . . . Standing above the common gloom, Murakami detects phosphorescence everywhere, but chiefly in the auras around people, which glow brightest at night and when combined." —The New York Times Book Review
"Murakami is masterful with symbolism. . . . Night . . . can't blacken the ever-shifting shutter speeds of Murakami's cockeyed Kodak. . . . It is straight-ahead jazz with a quiet grace." —The Los Angeles Times Book Review
"A bittersweet novel that will satisfy the most demanding literary taste. . . . Murakami's fiction reminds us that the world is broad, that myths are universal-and that while we sleep, the world out there is moving in mysterious and unpredictable ways." —The San Francisco Chronicle
"Hypnotically eerie, sometimes even funny, but most of all, it's [a book] that keeps ratcheting up the suspense." —The Washington Post Book World
"After Dark is a gripping dream. . . . In Murakami's hands, hope is nothing more nor less than a deep, cleansing breath." —The Boston Globe
"What you'll love: The book's spare yet eerily atmospheric scenes will fester under your skin, poking at your equilibrium long after you've finished reading." —The Washington Post
"There's a dreamlike quality to Haruki Murakami's mesmerizing new novel, [where] amid the alienation are flickers of hopefulness springing from seemingly random, serendipitous human interactions and connections. . . . Like a latter-day Walker Percy or Albert Camus, Murakami raises questions about perception and existence [and] captures the palpable loneliness and essential unfathomability at the heart of modern life." —The Christian Science Monitor
"This strange, mesmerizing, spell-binding, voyeuristic novel is impossible to put down." —The Providence Journal
"A metaphysical mystery. . . . After Dark deftly explores existentialist notions of purpose, control, and identity." —Elle
"Gripping. . . . Creepy!" —Wired
"In After Dark, night seems to be where Murakami was headed all along. . . . He has a natural curiosity about people, a belief that they contain wonders, perhaps none so great as the capacity for human connection." —Newsday