Search for Books
ABA Mobile Menu
Disappearing Destinations: 37 Places in Peril and What Can Be Done to Help Save Them (Vintage Departures) (Paperback)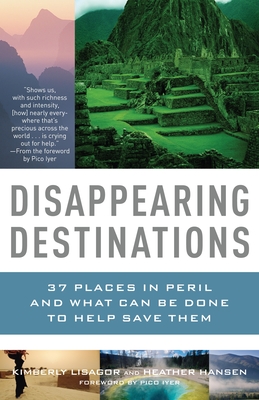 $15.95
Special Order from the publisher
Description
---
A beautiful and memorable look at some of the most gorgeous endangered places on the planet.

Machu Picchu is a mesmerizing, ancient Incan city tucked away in the mountains of Peru, but it is rapidly being worn down by the thousands of feet treading across its stones. Glacier National Park is a destination long known for the stunning beauty of its ice floes, but in our lifetimes it will have no glaciers due to global warming. In the biobays of Puerto Rico swimmers can float in a sea shimmering with bioluminescent life, but sediment being churned up by development is killing the dinoflagellates that produce the eerie and beautiful glow. And in the Congo Basin of Africa, where great apes roam freely in lush, verdant rainforests, logging is quickly destroying the vast life-giving canopies. These places-along with many others across the globe-are changing as we speak due to global warming, environmental degradation, overuse, and natural causes.

From the Boreal Forests in Finland to the Yangtze River Valley in China, 37 Places to See Before They Disappear is a treasure trove of geographic wonder, and a guide to these threatened destinations and what is being done to save them.
About the Author
---
Heather Hansen has worked on staff at Boston magazine, the Sunday Independent (Johannesburg, South Africa) and the Provincetown Banner, where she wrote extensively on people and the environment. She won the Harper's magazine award for Distinguished Magazine Writing in 1999, and has contributed to two books by Gail Sheehy: Middletown, America and Hillary's Choice. Heather has political science and English degrees from Mount Holyoke College and a masters in journalism from UC Berkeley. She lives in Boulder, Colorado.

Kimberly Lisagor is a freelance journalist who has written about travel and the environment for Outside, Mother Jones, Men's Journal, National
Geographic Adventure, USA Weekend, The New York Times, Los Angeles Times and others. She is the author of Outside's Wilderness Lodge Vacations
(W.W. Norton & Co., 2004), which won the Lowell Thomas Award for best guidebook and an Award of Excellence from the North American Travel Journalists Association. She lives in San Luis Obispo, California.