Sarah: The Life of Sarah Bernhardt (Jewish Lives) (Hardcover)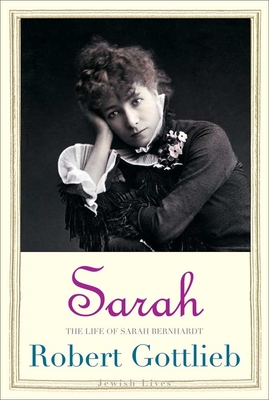 $26.00

If not in stock, we can Special Order from the publisher
Description
---
From the prizewinning Jewish Lives series, a riveting portrait of the great Sarah Bernhardt from acclaimed writer Robert Gottlieb

Everything about Sarah Bernhardt is fascinating, from her obscure birth to her glorious career—redefining the very nature of her art—to her amazing (and highly public) romantic life to her indomitable spirit. Well into her seventies, after the amputation of her leg, she was performing under bombardment for soldiers during World War I, as well as crisscrossing America on her ninth American tour.
Her family was also a source of curiosity: the mother she adored and who scorned her; her two half-sisters, who died young after lives of dissipation; and most of all, her son, Maurice, whom she worshiped and raised as an aristocrat, in the style appropriate to his presumed father, the Belgian Prince de Ligne. Only once did they quarrel—over the Dreyfus Affair. Maurice was a right-wing snob; Sarah, always proud of her Jewish heritage, was a passionate Dreyfusard and Zolaist.
Though the Bernhardt literature is vast, Gottlieb's Sarah is the first English-language biography to appear in decades. Brilliantly, it tracks the trajectory through which an illegitimate—and scandalous—daughter of a courtesan transformed herself into the most famous actress who ever lived, and into a national icon, a symbol of France.

About Jewish Lives: 

Jewish Lives is a prizewinning series of interpretative biography designed to explore the many facets of Jewish identity. Individual volumes illuminate the imprint of Jewish figures upon literature, religion, philosophy, politics, cultural and economic life, and the arts and sciences. Subjects are paired with authors to elicit lively, deeply informed books that explore the range and depth of the Jewish experience from antiquity to the present.

In 2014, the Jewish Book Council named Jewish Lives the winner of its Jewish Book of the Year Award, the first series ever to receive this award.

More praise for Jewish Lives:

"Excellent." –New York Times

"Exemplary." –Wall Street Journal

"Distinguished." –New Yorker

"Superb." –The Guardian
About the Author
---
Robert Gottlieb is the author of Lives and Letters, George Balanchine, and Great Expectations: The Sons and Daughters of Charles Dickens. His career in publishing—as editor-in-chief of Simon and Schuster, Alfred A. Knopf, and The New Yorker—is legendary.
Praise For…
---
"A fascinating look at Bernhardt's mythology and the stagecraft behind it. . . . What Sarah understood--as Gottlieb, a storied editor and publisher, makes clear--was how the heightened drama of performance might be extended to her own life."--Vogue

— Vogue

"Mr. Gottlieb's fluid style and lightly worn authority offer a lucid and essential modern guide to the making of celebrity, in an era before the noun existed."--Norman Lebrecht, Wall Street Journal

— Norman Lebrecht

"Robert Gottlieb is true to the mystery of his subject's self-invented life. He also does what few biographers of famous women seem able or willing to do: He focuses on her work. . . . Vintage Gottleib, full of humor and refreshingly free of hagiography."--Susan Salter Reynolds, Los Angeles Times

— Susan Salter Reynolds

"Immensely entertaining."--Jeremy McCarter, Newsweek


— Jeremy McCarter

"A delectable, witty short biography of legendary French actress Sarah Bernhardt, and a decidedly unstuffy debut for Yale's Jewish Lives series."--Shelf Awareness

— Shelf Awareness

"Gottlieb's Sarah is a fine introduction to a fascinating woman, giving the reader a lively sense of why, so many decades after her death, the name of Sarah Bernhardt, above all others, still stands for actress."--Julius Novick, The Forward

— Julius Novick

"There's an amazing amount of information here, about an amazing woman. . . . This is the first English-language biography of Sarah Bernhardt, and it is wonderfully informative as well as entertaining. I'm glad I've been given the opportunity to experience it, and will never again think of her as just that woman who was famous for playing Hamlet."--Shakespeare Geek

— Shakespeare Geek

"An elegant and engaging portrait worthy of Bernhardt. . . a terrific book."--Glenn C. Altschuler, NPR Books We Like

— Glenn C. Altschuler

"Comprehensive and illuminating about many things besides Bernhardt--French anti-Semitism, sexual mores amongst the intellectual aristocracy, etc.--without being exhausting. I can't imagine Bernhardt's story being told better."--Scott Eyman, Palm Beach Post

— Scott Eyman

"Appropriately lively. . . Gottlieb's affable, anecdotal style suits the subject well."--Graham Robb, New York Review of Books

— Graham Robb

"Sarah Bernhardt is a gift to the raconteur. Mr. Gottlieb takes full advantage. Where he can, he stages her life as a performance, with knowing asides and a certain kind of old-fashioned fun." — Economist

— Economist

"[A] sharp, efficient biography."--Emma Brockes, New York Times Book Review

— Emma Brockes

"A fascinating look at Bernhardt's mythology and the stagecraft behind it. . . . What Sarah understood--as Gottlieb, a storied editor and publisher makes clear--was how the heightened drama of performance might be extended to her own life."--Vogue

— Vogue

"Robert Gottlieb's book is appropriately small, beautiful and packed with drama. . . . Mr. Gottlieb is a meticulous reader, researcher and distiller of information. . . . Although he claims we can know little about her actual performances, he manages to make them come alive. I see her and hear her, declamatory to our modern sensibilities, alarmingly natural and passionate to audiences of the late 19th century."--Kathleen George, Pittsburgh Post-Gazette

— Kathleen George

"One ends this breathlessly readable and deeply intelligent book in as much awe of Sarah as people and audiences were in her own lifetime; it is that rarest of books, a serious biography that reads not only like a novel, but like a big, romantic, sprawling, over-the-top novel. Gottlieb has made of her story a wonderful book--one, which, to pay it its highest due, any editor, including himself (and me), would give his or her eye-teeth to have published!"--Michael Korda, Daily Beast

— Michael Korda

"In 'Sarah: The Life of Sarah Berndhardt', Robert Gottlieb presents (his subject) appreciatively, in full color, in all her exuberance, extravagance, beauty, passion and talent. This is the first English-language biography in decades of the first internationally known stage star."--Sandee Brawarsky, New York Jewish Week
— Sandee Brawarsky

"Gottlieb shows in this fine, sympathetic biography [that Sarah Bernhardt] put the world on a leash and added it to her own private menagerie."—Betty Smartt Carter, Books & Culture
— Betty Smartt Carter

"Very readable. . . . Gottlieb holds the reader's interest throughout. . . . [An] excellent biography. . . . Recommended very highly for casual reader as well as for specialists."—Richard Weigel, Pages
— Richard Weigel

"Robert Gottlieb's biography of Bernhardt is very readable and covers the actress' fascinating life qutie well."—Richard Weigel, Bowling Green Daily News
— Richard Weigel

"Gottlieb writes about Bernhardt with convincing respect and sympathy, tempered with quiet amusement at her oddities and excesses. His lucid, conversational, urbane prose is accompanied by numerous illustrations. . . . Gottlieb's Sarah is a fine introduction to a fascinating woman."—Julius Novick, Forward
— Julius Novick

Received Honorable Mention in the Biography/Autobiography category of the 2010 New England Book Festival
— Biography Honorable Mention

"it's an ambitious book, a real doorstopper. . . . You'll learn all manner of facts."—David Wood, Book Report
— David Wood

"[Robert Gottlieb] does what few biographers of famous women do: He focuses on her work."—Susan Salter Reynolds, Newsday
— Susan Salter Reynolds

"Robert Gottlieb presents her appreciatively, in full color, in all her exuberance, extravagance, beauty, passion and talent."—Sandee Brawarsky,
— Sandee Brawarsky

"With panache worthy of his subject, Gottlieb lays out the players as if Bernhardt's life were a stage drama. His charismatic prose captures the spell of the consummate mythmaker."—Carol Ockman, coauthor of Sarah Bernhardt: The Art of High Drama
— Carol Ockman

"Robert Gottlieb sifts through the fiction in this hugely entertaining biography of the theatrical legend, and often casts doubt on the competing accounts of her life with little more than a raised eyebrow."—Victoria Segal, The Guardian
— Victoria Segal