Search for Books
ABA Mobile Menu
Understanding and Teaching U.S. Lesbian, Gay, Bisexual, and Transgender History (Paperback)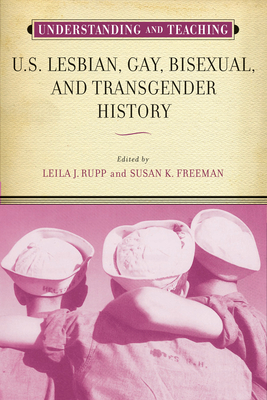 Description
---
Though largely neglected in classrooms, LGBT history can provide both a fuller understanding of U.S. history and contextualization for the modern world. This is the first book designed for university and high school teachers who want to integrate queer history into the standard curriculum. With its inspiring stories, classroom-tested advice, and rich information, it is a valuable resource for anyone who thinks history should be an all-inclusive story.
Understanding and Teaching U.S. Lesbian, Gay, Bisexual, and Transgender History offers a wealth of insight for teachers. Introductory essays by Leila J. Rupp and Susan K. Freeman make clear why queer history is important and provide global historical context, showing that same-sex sexual desire and gender change are not new, modern phenomena. Teachers in diverse educational settings provide narratives of their experiences teaching queer history. A topical section offers seventeen essays on such themes as sexual diversity in early America, industrial capitalism and emergent sexual cultures, and gay men and lesbians in World War II. Contributors include detailed suggestions for integrating these topics into a standard U.S. history curriculum, including creative and effective assignments. A final section addresses sources and interpretive strategies well-suited to the history classroom.
Taken as a whole, Understanding and Teaching U.S. Lesbian, Gay, Bisexual, and Transgender History will help teachers at all levels navigate through cultural touchstones and political debates and provide a fuller knowledge of significant events in history.
"A terrific book for anyone teaching U.S. history to high school or college students. It is designed to explain why, and especially how, educators can integrate LGBT history into their existing courses. The volume contains superb essays by scholars and teachers that speak to pedagogy, sources, and methods, and includes seventeen topical essays that span the breadth of U.S. history, from colonial same-sex experiences to contemporary same-sex marriage."--The American Historian
"Designed for teachers of U.S. history, but] the chapters are so varied that anyone can enjoy reading them."--Out Smart
"This book's value lies in being read from cover to cover. Do not dip in and read only what looks up your alley--the complexity and the utility emerge from the whole. . . . Each piece is worth a read, the whole is even more so."--Journal of American History
Winner, Lambda Literary Award for LGBT Anthology
A Choice Outstanding Academic Book
Best Special Interest Books, selected by the Public Library Reviewers
Best Special Interest Books, selected by the American Association of School Librarians.
About the Author
---
Leila J. Rupp is the author of many books, including A Desired Past: A Short History of Same-Sex Love in America and Sapphistries: A Global History of Love Between Women. She is a professor of feminist studies at the University of California, Santa Barbara. Susan K. Freeman is an associate professor and chair of the Department of Gender and Women's Studies at Western Michigan University. She is the author of Sex Goes to School: Girls and Sex Education before the 1960s.