Romaine Brooks: A Life (Hardcover)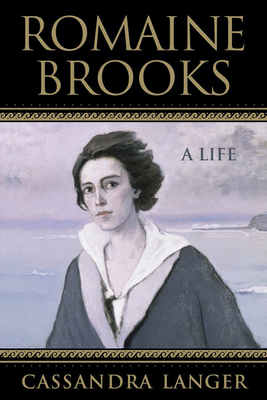 $28.84

NOT on our shelves - Usually Ships in 1-5 Days
Description
---
The artistic achievements of Romaine Brooks (1874–1970), both as a major expatriate American painter and as a formative innovator in the decorative arts, have long been overshadowed by her fifty-year relationship with writer Natalie Barney and a reputation as a fiercely independent, aloof heiress who associated with fascists in the 1930s. In Romaine Brooks: A Life, art historian Cassandra Langer provides a richer, deeper portrait of Brooks's aesthetics and experimentation as an artist—and of her entire life, from her chaotic, traumatic childhood to the enigmatic decades after World War II, when she produced very little art. This provocative, lively biography takes aim at many myths about Brooks and her friends, lovers, and the subjects of her portraits, revealing a woman of wit and passion who overcame enormous personal and societal challenges to become an extraordinary artist and create a life on her own terms.

Romaine Brooks: A Life introduces much fresh information from Langer's decades of research on Brooks and establishes this groundbreaking artist's centrality to feminism and contemporary sexual politics as well as to visual culture.
About the Author
---
Cassandra Langer is an art historian, critic, and appraiser. She is the author and editor of several books, including New Feminist Criticisms: Art, Identity, Action. She lives in New York and blogs at cassandralanger.com.
Praise For…
---
"Langer makes clear that Romaine Brooks was an artist of unusual courage and originality, tracing her development not only as an artist, but as a woman artist and a boldly lesbian artist. This biography includes fascinating material on the many talented, independent, and liberated women in Paris in the 1920s, with Natalie Barney and Romaine Brooks at the center of that milieu." —Jerry Rosco, author of Glenway Wescott Personally: A Biography

"Cassandra Langer insightfully recounts the life of Romaine Brooks, including the sources of her creativity and blocks to that creativity in later life, her bigotry, and her contributions to twentieth-century British, merican, and French culture. This readable, vivid biography provides social and general historical context for Brooks's life, art, and writings, as well as incisive psychological analysis of her motives."—Betsy Draine, author of Substance under Pressure: Artistic Coherence and Evolving Form in the Novels of Doris Lessing

"Art historian Langer is zealous and exacting as she seeks to fully portray her heretofore too-little-known subject, . . .  addressing the complexities and contradictions of Brooks's life and celebrating the courage and power of her meticulously composed paintings. . . . Langer sensitively grapples with Brooks's elitism, bigotry, and fascist tendencies while avidly reclaiming this 'fascinating and controversial' artist's elegant and evocative, haunted and defiant art in praise of audacious women."—Booklist, *starred review


"Romaine Brooks has long glimmered in the constellation of lesbian and queer culture; now, through the prism of Langer's tireless research and intelligent yet conversational style, the brilliance of Brooks's life and career is both magnified and refracted.  By turns anecdotal and analytical, journalistic and theoretical, Langer colorfully repaints the historical portrait of Brooks, revealing her as both more radical and more conservative than we thought."—James M. Saslow, author of Pictures and Passions: A History of Homosexuality in the Visual Arts


"A biography of the American painter and heiress (1874-1970), whose work in art and decor has been overshadowed by her romantic relationship with the writer Natalie Barney and what were seen as flirtations with Italian Fascism."—Chronicle of Higher Education


"An excellent, well-researched biography that recreates the tumultuous life of an artist who refused compromise on her convictions, both personal and political, as naïve as some of her views may have been. Romaine Brooks is decidedly an important addition to lesbian history."—Lambda Literary

"Adds new material to the life and career of Romaine Brooks, offers fresh insight into her life and art, and defies the characterizations given her by previous biographers. . . . In years to come, when Romaine Brooks is mentioned, Cassandra Langer's book will be given as the quintessential authority on the subject."—Bookwatch