A Horse Named Sorrow (Hardcover)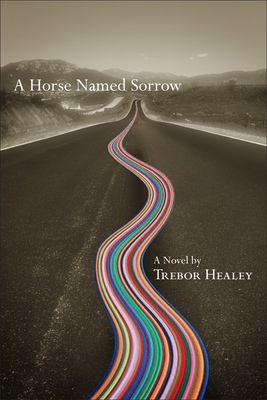 $26.95

NOT on our shelves - Usually Ships in 1-5 Days
Description
---
Selection, Over the Rainbow Project, GLBT Round Table of the American Library Association Finalist, General Fiction, Lambda Literary Awards Winner, Ferro-Grumley Award for LGBT Fiction, Publishing Triangle Winner, Duggins outstanding Mid-Career novelist Award, Lambda Literary Foundation
Award-winning novelist Trebor Healey depicts San Francisco in the 1980s and '90s in poetic prose that is both ribald and poignant, and a crossing into the American West that is dreamy, mythic, and visionary.
    When troubled twenty-one-year-old Seamus Blake meets the strong and self-possessed Jimmy (just arrived in San Francisco by bicycle from his hometown in Buffalo, New York), he feels his life may finally be taking a turn for the better. But the ensuing romance proves short-lived as Jimmy dies of an AIDS-related illness. The grieving Seamus is obliged to keep a promise to Jimmy: "Take me back the way I came."
    And so Seamus sets out by bicycle on a picaresque journey with the ashes, hoping to bring them back to Buffalo. He meets truck drivers, waitresses, college kids, farmers, ranchers, Marines, and other travelers—each one giving him a new perspective on his own life and on Jimmy's death. When he meets and becomes involved with a young Native American man whose mother has recently died, Seamus's grief and his story become universal and redemptive.

About the Author
---
Trebor Healey is author of the novel Through It Came Bright Colors, a selection of the InsightOut Book Club and the winner of both the Violet Quill Award and the Publishing Triangle's Ferro-Grumley Award for Fiction. His other books include the novel Faun, the short-story collection A Perfect Scar, and a volume of poetry, Sweet Son of Pan.
Praise For…
---
"A Horse Named Sorrow is simply, inexorably beautiful. It is sexy, cinematic, the prose itself an absolute joy to read, and often funny as holy hell. It is, at the same time, one of the saddest works I have ever read: piercing, poignant, and memorable."—Maureen Seaton, author of Sex Talks to Girls: A Memoir

"A Horse Named Sorrow is a great love story, one with political vibrations, the tragic tenderness of Leonard Cohen's early LPs andnovels, and the manic queer energy of William Burroughs' The Wild Boys."—Kevin Killian, author of Impossible Princess

"The novel is unforgettable. . . . Powerful is an understatement. What Healey has created here is a new classic in literary fiction, along the lines of On the Road and Giovanni's Room, which will echo in the heart of his readers like the fading encore of the perfect song."—Lambda Literary


"Healey's sexy, heartbreaking novel is further testament that this talented queer author only seems to be getting better at mastering the fine art of storytelling."—Bay Area Reporter


A painfully beautiful book. It's also gloriously sexy and . . . among the finest depictions of queer life in 1990s San Francisco.  Poetic, tragic, and often euphoric, it's the kind of story that I found myself wanting to live inside of."—The Gay and Lesbian Review


"[Seamus's] sojourn is reminiscent of other literary journeys portrayed by Steinbeck and Kerouac. In that sense, this is a very American novel; it conveys authentically the bustling life of San Francisco with its small, crowded apartments as well as slow motions of innumerable American towns, motels, cafes, and churches."—dot429


"Lyrical and sad, Healey's prose uplifts rather than depresses. If you have ever had grief in your life, this will speak to you."—Out in Print: Queer Book Reviews