The AIDS Crisis Is Ridiculous and Other Writings, 1986-2003 (Writing Art) (Paperback)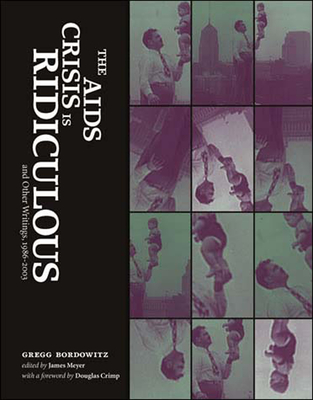 $33.25

NOT on our shelves - Usually Ships in 1-5 Days
Description
---
The first collection of writings by a noted artist and activist whose work has focused on the AIDS epidemic.
The HIV epidemic animates this collection of essays by a noted artist, writer, and activist. So total was the burden of illness--mine and others'--that the only viable response, other than to cease making art entirely, was to adjust to the gravity of the predicament by using the crisis as a lens, writes Gregg Bordowitz, a film- and video-maker whose best-known works, Fast Trip Long Drop (1993) and Habit (2001), address AIDS globally and personally. In The AIDS Crisis Is Ridiculous--the title essay is inspired by Charles Ludlam, founder of the Ridiculous Theater Company--Bordowitz follows in the tradition of artist-writers Robert Smithson and Yvonne Rainer by making writing an integral part of an artistic practice.
Bordowitz has left his earliest writings for the most part unchanged--to preserve, he says, both the youthful exuberance and the palpable sense of fear created by the early days of the AIDS crisis. After these early essays, the writing becomes more experimental, sometimes mixing fiction and fact; included here is a selection of Bordowitz's columns from the journal Documents, New York Was Yesterday. Finally, in his newest essays he reformulates early themes, and, in My Postmodernism (written for Artforum's fortieth anniversary issue) and More Operative Assumptions (written especially for this book), he reexamines the underlying ideas of his practice and sums up his theoretical concerns.
In his mature work, Bordowitz seeks to join the subjective--the experience of having a disease--and the objective--the fact of the disease as a global problem. He believes that this conjunction is necessary for understanding and fighting the crisis. If it can be written, he says, then it can be realized.
About the Author
---
Gregg Bordowitz is an artist, writer, and Director of the Low Residency MFA Program at the School of the Art Institute of Chicago. Recipient of the 2006 Frank Jewitt Mather Award from the College Art Association, he is the author of The AIDS Crisis Is Ridiculous and Other Writings (1986-2003) (MIT Press) and General Idea: Imagevirus (Afterall Books/MIT Press). James Meyer is Associate Professor of Art History at Emory University. He is the author of Minimalism: Art and Polemics in the Sixties and the editor of The AIDS Crisis is Ridiculous and Other Writings 1986-2003 by Gregg Bordowitz (MIT Press, 2004). Douglas Crimp is Fanny Knapp Allen Professor of Art History at the University of Rochester. He is the author of On the Museum's Ruins and Melancholia and Moralism: Essays on AIDS and Queer Politics, both published by the MIT Press.