Sexting Panic: Rethinking Criminalization, Privacy, and Consent (Feminist Media Studies) (Paperback)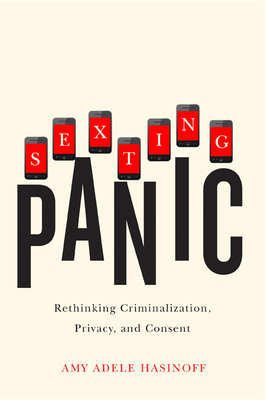 Description
---
Sexting Panic illustrates that anxieties about technology and teen girls' sexuality distract from critical questions about how to adapt norms of privacy and consent for new media. Though mobile phones can be used to cause harm, Amy Adele Hasinoff notes that the criminalization and abstinence policies meant to curb sexting often fail to account for distinctions between consensual sharing and malicious distribution. Challenging the idea that sexting inevitably victimizes young women, Hasinoff argues for recognizing young people's capacity for choice and encourages rethinking the assumption that everything digital is public.
 
Timely and engaging, Sexting Panic analyzes the debates about sexting while recommending realistic and nuanced responses.
About the Author
---
Amy Adele Hasinoff is an assistant professor of communications at the University of Colorado Denver.
Praise For…
---
"Compelling. . . . Academic-activist orientation brings together interdisciplinary scholarly rigor and insightful feminist analysis about sexting while opening the conversation to include educators and policymakers, and of course young women themselves."--
New Media & Society
"In an age of heightened concern over rape culture and sexualization in the media, Amy Adele Hasinoff's (2015)
Sexting Panic
is one of the most insightful, concise, and necessary works to emerge in recent feminist media studies."--
Journal of Communication
"The author's aim is to propose alternative ways to deal with gender and sexual victimization, to think about youth's rights for self-expression, and to respect their consent and privacy. Hasinoff also provides practical recommendations for concerned readers, legislators and prosecutors, and teachers and educators. Highly recommended."--Choice

"In Sexting Panic Hasinoff convincingly argues that academics and the general population alike must begin to complicate normative perceptions of teens sexting and sexuality… Sexting Panic is engaging and thought-provoking, and it puts forth a reconceptualization of the relationship between technology and sexuality that is unique, timely, and necessary." --Feminist Media Studies
 
"In Sexting Panic Hasinoff convincingly argues that academics and the general population alike must begin to complicate normative perceptions of teens sexting and sexuality… Sexting Panic is engaging and thought-provoking, and it puts forth a reconceptualization of the relationship between technology and sexuality that is unique, timely, and necessary." --Feminist Media Studies

"Hasinoff's alternative narrative pushes back against the dominant narrative of sexting as some type of technological, legal, sexual, and moral crisis… She has carefully and skillfully articulated a comprehensive analysis of sexting and has provided a mediating antidote to the media-driven moral panic."--Critical Criminology