Cuban Zarzuela: Performing Race and Gender on Havana's Lyric Stage (Hardcover)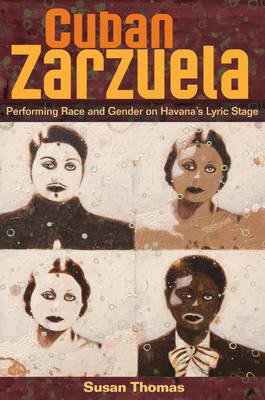 $58.52

If not in stock, we can Special Order from the publisher
Description
---
On September 29, 1927, Cuban soprano Rita Montaner walked onto the stage of Havana's Teatro Regina. The cross-dressed actress sang the premiere of Eliseo Grenet's tango-congo, "Ay Mamá Inés" and cemented the song as a classic in the Cuban repertoire. More importantly, her performance heralded the birth of the Cuban zarzuela, a Spanish-language light opera with spoken dialogue that originated in Spain but transformed popular entertainment in Cuba.
Susan Thomas's award-winning book offers the first comprehensive study of the Cuban zarzuela. Created by musicians and managers to meet a demand for family entertainment, the zarzuela revealed the emerging economic and cultural power of Cuba's white female bourgeoisie within the entertainment industry. Thomas explores zarzuela's function as a pedagogical tool that composers, librettists, and business managers hoped would control their troupes and audiences by presenting desirable and problematic images of both feminine and masculine identities. Focusing on character types such as the mulata, the negrito, and the ingénue, Thomas uncovers the zarzuela's richly textured relationship to social constructs of race, class, and especially gender.
About the Author
---
Susan Thomas is a professor of musicology and Director of the American Music Research Center at the University of Colorado Boulder.
Praise For…
---
Received the Robert M. Stevenson Award from the American Musicological Society (AMS), 2011. Received the Pauline Alderman Award for Outstanding Scholarship on Women in Music in the category of best book from the International Alliance for Women in Music, 2009.

"A fascinating interpretation and tightly focused look at the vernacular zarzuela ... as created in Cuba in the 1920s and 1930s."--The Bulletin of the Society for American Music

"Thomas provides both an informative treatment of this allegoric play and a well-written sociocultural discourse on the relationship between gender, race, music and dance in 19th-century Havana. . . . A useful volume for students of Cuban history (particularly as it pertains to women) as well as musicology and ethnomusicology."--Choice

"No other author addresses the Cuban zarzuela in such a distinctive manner. Susan Thomas offers revelatory musical and cultural analyses in a captivating narrative replete with unexpected twists and illuminating conclusions. Her interviews with performers are invaluable to the historical record and her methodology provides a model for others to follow. What a powerful contribution to the fields of musicology, ethnomusicology, gender studies, theater studies, and Latin American studies!"--Janet Sturman, author of Zarzuela: Spanish Operetta, American Stage

"A commendable job of fusing analytical techniques from historical musicology with broader issues from women's studies, cultural studies, and other disciplines. No other work focuses on this material with such a critical eye, and no other draws such interesting parallels between distinct zarzuelas as Thomas."--Robin D. Moore, author of Music and Revolution: Cultural Change in Socialist Cuba