110 Nature Hot Spots in Ontario: The Best Parks, Conservation Areas and Wild Places (Paperback)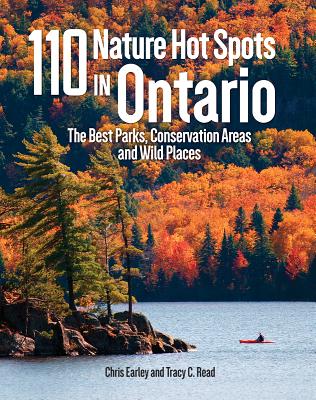 $29.95
Email or call for price.
Description
---
An expanded guide to the best places in Ontario to connect with the natural world.
The best-selling 100 Nature Hot Spots in Ontario now features 10 additional destinations. This reader-friendly guide explores the remarkable splendor and diversity of the province, from its soaring clifftops, subterranean caves and thundering cataracts to the province's tallest white pine, the oldest rocks on Earth and the warbler capital of North America.
The guide is organized by region, and each destination includes a descriptive profile illustrated with color photographs and at-a-glance information about special features and contact details. Regional maps showcase locations. Some of these hot spots are surprisingly close to towns and cities, some are hidden urban treasures, and many are ideal for a day trip.
All new in this edition -- a how-to guide with tips on finding and experiencing nature in your own backyard.
The ten new hot spots include:
Central Ontario South -- The York Region Forest, 2,300 hectares of protected land with 120 kilometers of nature-rich trails.
Eastern Ontario -- Mattawa River Provincial Park, with gorgeous waterfalls, granite cliffs, forests and wetlands; Meisel Woods Conservation Area, offering five kilometers of trails that provide stunning views of Crow Lake and a forest rich with animals and plants; Perth Wildlife Reserve Conservation Area, a 275-hectare reserve, home to diverse plant and wildlife species; and Thousand Islands National Park, a dramatic granite landscape largely accessible only by boat.
Other destinations include:
Southwestern Ontario -- Rock Glen Conservation's fossil beds, trails and Carolinian forest; Luther Marsh Wildlife Management Area's northern flying squirrels, Butler's garter snakes, and spotted turtles; Pelee Island's breeding marsh birds and world-renowned annual songbird migration.
Niagara Region -- The dramatic lower and upper waterfalls at Ball's Fall's Conservation Area; passerine bird watching in the Woodend Conservation Area; the Niagara Glen Nature Reserve's unique microclimate and plants.
Central Ontario South -- The Scarborough Bluffs' rock formations; the Minesing Wetlands' network of sensitive flora and fauna; Toronto's unusual lakeside reserve, Tommy Thompson park.
Central Ontario North -- The towering cedars and cliffs of Bruce Peninsula Park; Flowerpot Island's orchids; Huckleberry Rock, some of the oldest rock in the world; the peaceful idyll that is Silent Lake Provincial Park; three unforgettable trails in Algonquin Park.
Eastern Ontario -- Wintertime sightings of snowy owls, hawks and coyotes on Amherst Island; geological eras collide in Frontenac Provincial Park; spectacular views of lakes and forests from Foley Mountain and Rock Dunder.
Northwestern Ontario -- The iconic Sleeping Giant in Sleeping Giant Provincial Park; windswept Pukaskwa National Park; Ouimet Canyon with rare arctic plants growing at its base; spectacular 130 feet (40 m) plummet of Kakabeka Falls.
These family-friendly destinations will appeal to naturalists, budding botanists and biologists, photographers, hikers, campers and paddlers.
About the Author
---
Chris Earley is the interpretive biologist at the University of Guelph Arboretum. His kids' books that encourage youngsters to find and identify your own have been very popular. Tracy C. Read is a writer and editor in Kingston, Ontario, and the author of Firefly's children's natural history series, Exploring the World of Cougars, Foxes, Owls and many others.