Search for Books
ABA Mobile Menu
The Art of the Bird: The History of Ornithological Art through Forty Artists (Hardcover)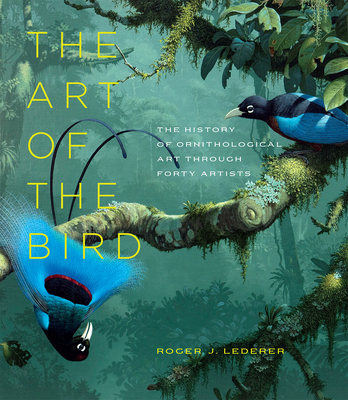 $35.00
On Our Shelves Now. Click on the title to see details.
Description
---
The human history of depicting birds dates to as many as 40,000 years ago, when Paleolithic artists took to cave walls to capture winged and other beasts. But the art form has reached its peak in the last four hundred years. In The Art of the Bird, devout birder and ornithologist Roger J. Lederer celebrates this heyday of avian illustration in forty artists' profiles, beginning with the work of Flemish painter Frans Snyders in the early 1600s and continuing through to contemporary artists like Elizabeth Butterworth, famed for her portraits of macaws. Stretching its wings across time, taxa, geography, and artistic style—from the celebrated realism of American conservation icon John James Audubon, to Elizabeth Gould's nineteenth-century renderings of museum specimens from the Himalayas, to Swedish artist and ornithologist Lars Jonsson's ethereal watercolors—this book is feathered with art and artists as diverse and beautiful as their subjects. A soaring exploration of our fascination with the avian form, The Art of the Bird is a testament to the ways in which the intense observation inherent in both art and science reveals the mysteries of the natural world.
About the Author
---
Roger J. Lederer is professor emeritus of biological sciences at California State University, Chico, where he taught courses on ornithology and ecology. He is the author of Beaks, Bones, and Bird Songs: How the Struggle for Survival Has Shaped Birds and Their Behavior; coauthor of Latin for Bird Lovers; and creator of Ornithology.com.
Praise For…
---
"The Art of the Bird makes any bird painting aficionado yearn for more."
— Wall Street Journal
"Art history and the history of science intertwine in this beautiful tribute to the scientific illustration of birds."
— American Scientist
"Exquisite. . . . Ornithological gems such as Joseph Wolf's gorgeous Crimson-bellied Tragopan, Roger Tory Peterson's flock of flamingos in the Andes, and James Fenwick Lansdowne's rainbow-plumed Chinese pheasant reveal not only the sophistication of avian art, but the extravagant global variety of avian species."
— Laurence A. Marschall
"People have been trying to depict birds for 40,000 years, but Lederer suggests that their efforts really took flight some four-hundred years ago, in the work of Flemish artists such as Frans Snyders (Concert of Birds) and Carel Fabritius (The Goldfinch)."
— Apollo
"[There is] a growing subgenre of books about birds and art. This a rather catchall category of how-to's, art/gift books, and scholarly titles such as the recently published The Art of the Bird. . . . But, it is an important one, since birding could not exist without art. It allows us to identify birds, appreciate finer details of their beauty and anatomical construction that we might otherwise overlook, respect their specific and adaptive habitats, and communicate their beauty and value to others."
— 10,000 Birds
"Beginning in the seventeenth century with the Flemish baroque period and continuing to the present, this book is a treasure trove of beautiful artwork and beautiful birds. . . . Full-color reproductions (many full page), mostly of paintings, lead readers through a history of art and artwork and of how the Western world has viewed birds since the 1600s. The artists are grouped mostly by time period but also by theme, as exploration and the scientific age changed the nature of illustration and spurred public interest in the environment and bird watching. Most of the artists are British or American, with a handful of Continental Europeans and artists working in the colonial realms of the time. Several women artists are included, from Lady Elizabeth Symonds Gwillim (1763–1807) to Elizabeth Butterworth (1949–). . . . Recommended."
— Choice