Search for Books
ABA Mobile Menu
The Lost Autobiography of Samuel Steward: Recollections of an Extraordinary Twentieth-Century Gay Life (Paperback)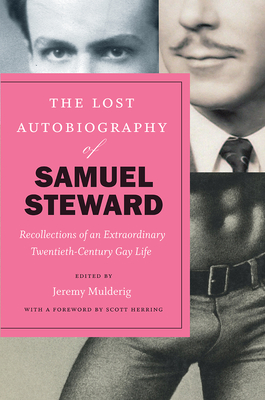 $39.90
Special Order from the publisher
Description
---
On August 21, 1978, a year before his seventieth birthday, Samuel Steward (1909–93) sat down at his typewriter in Berkeley, California, and began to compose a remarkable autobiography. No one but his closest friends knew the many different identities he had performed during his life: as Samuel Steward, he had been a popular university professor of English; as Phil Sparrow, an accomplished tattoo artist; as Ward Stames, John McAndrews, and Donald Bishop, a prolific essayist in the first European gay magazines; as Phil Andros, the author of a series of popular pornographic gay novels during the 1960s and 1970s. Steward had also moved in the circles of Gertrude Stein, Thornton Wilder, and Alfred Kinsey, among many other notable figures of the twentieth century. And, as a compulsive record keeper, he had maintained a meticulous card-file index throughout his life that documented his 4,500 sexual encounters with more than 800 men.

The story of this life would undoubtedly have been a sensation if it had reached publication. But after finishing a 110,000-word draft in 1979, Steward lost interest in the project and subsequently published only a slim volume of selections from his manuscript.

In The Lost Autobiography of Samuel Steward, Jeremy Mulderig has integrated Steward's truncated published text with the text of the original manuscript to create the first extended version of Steward's autobiography to appear in print—the first sensational, fascinating, and ultimately enlightening story of his many lives told in his own words. The product of a rigorous line-by-line comparison of these two sources and a thoughtful editing of their contents, Mulderig's thoroughly annotated text is more complete and coherent than either source alone while also remaining faithful to Steward's style and voice, to his engaging self-deprecation and his droll sense of humor. Compellingly readable and often unexpectedly funny, this newly discovered story of a gay life full of wildly improbable—but nonetheless true—events is destined to become a landmark queer autobiography from the twentieth century.
About the Author
---
Samuel Steward (1909–93) was a poet, novelist, and for nearly twenty years a professor at Loyola and DePaul universities in Chicago. In 1956, he left academia and became a tattoo artist in Chicago and later in Oakland, California, and thereafter the author of a popular series of pornographic gay novels. Jeremy Mulderig is professor emeritus in the Department of English at DePaul University in Chicago. He is the editor of Philip Sparrow Tells All: Lost Essays by Samuel Steward, also published by the University of Chicago Press. 
Praise For…
---
"The material is intrinsically interesting; Steward is an engaging prose stylist; and Mulderig is a meticulous and reliable editor who lays out sound editorial principles and accompanies each chapter with judicious notes, glossing the various personae and cultural references with which some contemporary readers may need assistance. Certainly the book will be taught in college classrooms, but it will find an extensive audience outside the university too because it is compulsively readable. A remarkable work."
— Tim Dean, University of Illinois, Urbana-Champaign
"Mulderig has set himself the task of reconstructing Steward's autobiography from a vastly truncated earlier work (Chapters from an Autobiography) and from his unpublished, 110,000-word, shapeless manuscript. . .The result is a reconstructed and expanded version of 85,000 words that has never been published in this form before. It is a thoroughly engaging work . . .One of the most remarkably daring and unusual accounts by an unapologetically renegade gay man of the 20th century."
— The Gay and Lesbian Review
"An absorbing, funny, and astonishing memoir of a man with many talents and many identities: Samuel Steward, university professor; Phil Sparrow, tattoo artist; Ward Stames, John McAndrews, and Donald Bishop, writing ground-breaking essays in the first European gay magazines; Phil Andros, explicit novelist; and a man who lived life to its fullest."
— 2019 Over the Rainbow Recommended Book List
"Exceedingly enjoyable, well-paced, and fascinating.  The English major in Steward gives him a sly but delectable way with words that surfaces in delicious turns of phrase every now and then, adding literary quality to what is, hands down, already a fascinating life story.  The sheer number of important literary figures that Steward, in his young life, seeks out and befriends and (more often than not) beds makes this a page-turner."
— Joseph Allen Boone, University of Southern California
"[Steward] didn't seem to want writing about himself to lead to self-knowledge and he didn't want it to recover lost time. That, he realised, was the true purpose of the Stud File. Full of cards and names and 'snippets of crinkly hair taken from my favourite persons', it provided the 'tangibles to which the imagination and memory could be tied, devices to stimulate nostalgia and the remembrance of things past'."
— Kevin Brazil