And Bid Him Sing: A Biography of Countée Cullen (Hardcover)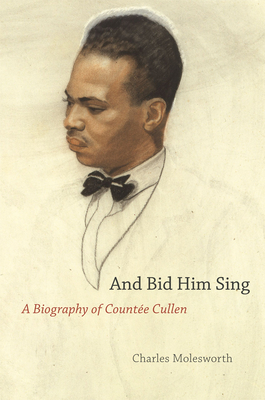 $30.00

If not in stock, we can Special Order from the publisher
Description
---
While competing with Langston Hughes for the title of "Poet Laureate of Harlem," Countée Cullen (1903–46) crafted poems that became touchstones for American readers, both black and white. Inspired by classic themes and working within traditional forms, Cullen shaped his poetry to address universal questions like love, death, longing, and loss while also dealing with the issues of race and idealism that permeated the national conversation. Drawing on the poet's unpublished correspondence with contemporaries and friends like Hughes, Claude McKay, Carl Van Vechten, Dorothy West, Charles S. Johnson and Alain Locke, and presenting a unique interpretation of his poetic gifts, And Bid Him Sing is the first full-length critical biography of this famous American writer. Despite his untimely death at the age of forty-two, Cullen left behind an extensive body of work. In addition to five books of poetry, he authored two much-loved children's books and translated Euripides' Medea, the first translation by an African American of a Greek tragedy. In these pages, Charles Molesworth explores the many ways that race, religion, and Cullen's sexuality informed the work of one of the unquestioned stars of the Harlem Renaissance.  An authoritative work of biography that brings to life one of the chief voices of his generation, And Bid Him Sing returns to us one of America's finest lyric poets in all of his complexity and musicality.
About the Author
---
Charles Molesworth
is coauthor of 
Alain L. Locke: The Biography of a Philosopher
and the editor of
The Works of Alain Locke
. He writes a regular art column for the quarterly,
Salmagundi
.
Praise For…
---
"At last! One can only be grateful to Charles Molesworth for this concise yet comprehensive biography of Countée Cullen, the shooting star of the Harlem Renaissance. This book sets the facts straight about a man whose childhood and inner life have been obscure despite his fame. More importantly, Molesworth reveals the complex intersections of racial loyalty and aestheticism, spirituality and sexuality, representativeness and individuality in the life and work of Harlem's black prodigy, one of America's most admired poets of the 1920s."

— George B. Hutchinson

"Countée Cullen was a commanding literary figure whose accomplishments have often been diminished in studies of the Harlem Renaissance that emphasize his role as an antitype to Langston Hughes. Charles Molesworth rights this wrong in his fine biography whose subject is not only the struggles and triumphs of a singular American poet, but also the exciting social and literary world that produced him."

— Emily Bernard

"Meticulously researched and engagingly written, Charles Molesworth's And Bid Him Sing is a carefully, sympathetically, and thoughtfully drawn biography of Countée Cullen. This book is an original, compelling, and important contribution to the scholarship on the Harlem Renaissance. I strongly recommend it."

— James A. Miller

"As the first full-length critical biography of Countée Cullen, And Bid Him Sing is Charles Molesworth's scrupulous and authoritative account of a masterful poet's family background, higher education, literary proclivities, public prominence, racial anxieties, and controversial legacy. Cullen's life and literature, we learn, serve as a fascinating window to a generation of African Americans, including the Harlem Renaissance, trying not only to search for a usable cultural past but also to forge a modern identity in the first half of the twentieth century." 

— Gene Andrew Jarrett

"This fine new biography may help restore this queer genius to his proper place as an American original. Cullen was a man of enormous talent and courage who unfailingly devoted his life to his art and his people while retaining the individualism that made him a unique figure in our literary history."
— Doug Ireland

"Charles Molesworth's book is an important addition to the scholarship on Countée Cullen."
— Martha E. Stone

"Countée Cullen was a quiet literary giant of the Harlem Renaissance whose proper measure is finally taken within these pages. As a poet, Cullen reveled in rhythm and sound. As a man, he grappled with inner conflicts and concealment. And Bid Him Sing is an elegant biography that attends both to the man and to his magnificent work. Charles Molesworth has written Cullen back to life for our times."
— Adam Bradley