Search for Books
ABA Mobile Menu
A Very Queer Family Indeed: Sex, Religion, and the Bensons in Victorian Britain (Hardcover)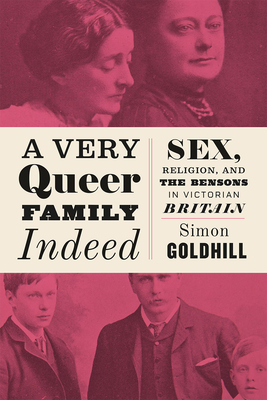 $46.55
If not in stock, we can Special Order from the publisher
Description
---
"We can begin with a kiss, though this will not turn out to be a love story, at least not a love story of anything like the usual kind."

So begins A Very Queer Family Indeed, which introduces us to the extraordinary Benson family. Edward White Benson became Archbishop of Canterbury at the height of Queen Victoria's reign, while his wife, Mary, was renowned for her wit and charm—the prime minister once wondered whether she was "the cleverest woman in England or in Europe." The couple's six precocious children included E. F. Benson, celebrated creator of the Mapp and Lucia novels, and Margaret Benson, the first published female Egyptologist.

What interests Simon Goldhill most, however, is what went on behind the scenes, which was even more unusual than anyone could imagine. Inveterate writers, the Benson family spun out novels, essays, and thousands of letters that open stunning new perspectives—including what it might mean for an adult to kiss and propose marriage to a twelve-year-old girl, how religion in a family could support or destroy relationships, or how the death of a child could be celebrated. No other family has left such detailed records about their most intimate moments, and in these remarkable accounts, we see how family life and a family's understanding of itself took shape during a time when psychoanalysis, scientific and historical challenges to religion, and new ways of thinking about society were developing. This is the story of the Bensons, but it is also more than that—it is the story of how society transitioned from the high Victorian period into modernity.
 
About the Author
---
Simon Goldhill is professor of Greek and the director of the Centre for Research in Arts, Social Sciences and Humanities at the University of Cambridge. A fellow of the American Academy of Arts and Sciences, he is the author of many books, including Freud's Couch, Scott's Buttocks, Brontë's Grave; How to Stage Greek Tragedy Today; and Love, Sex & Tragedy: How the Ancient World Shapes Our Lives, all also published by the University of Chicago Press.
 
Praise For…
---
"Goldhill is . . . especially good on the linguistic side of the story. Until the invention of psychiatry and sexology, there simply was not a language to discuss this sort of thing. . . . This book makes you realize how much has changed."
— Times Literary Supplement
"What makes this family so queer is not just their unconventional sexuality, but 'how that sexuality is accommodated, denied, negotiated within the tramlines of a very conventional life.' . . . The Bensons turn out to be paradoxically both exemplary and unique in their queerness: therein lies the significance of Goldhill's thoughtful and engaging book."
— Times Higher Education
"Goldhill showcases the emotional landscape and complex processes of the written self-fashionings of a prominent family that was, at once, quintessentially Victorian and highly unconventional. . . .Goldhill's beautifully written book represents a major accomplishment chock full of wonderful insights about the transition to modernity."
— Victorian Studies
"This brilliant book is recommended Christmas reading for scholars, educated general readers, and, above all, bishops."
— Church Times
"Rather than writing the Bensons' lives as linear biographies, Goldhill has structured his book in four parts that offer a range of surprising and often quite contradictory views of his subjects through the lens of their own writings. . . . As a result, Goldhill's book turns out to be a relentlessly intimate portrait. Informed by the latest research in life writing, queer theory and Victorian culture, Goldhill has managed to write the rare book that appeals to scholarly readers as well as a wider audience."
— Anglistik
"This bold, erudite, and highly original book takes as its principal subject the vast literary output of an extraordinary Victorian family—that of Archbishop Edward W. Benson and his wife and children, almost all of whom published extensively. Goldhill makes a series of brilliant forays into Victorian discussions of sex and sexuality, of religious belief and doubt, and of topics as engaging and complexly shaded as 'discretion' and 'indiscretion.' A Very Queer Family Indeed is, all told, a remarkable achievement—one that is both beautifully written and compulsively readable."
— Christopher Lane, author of The Age of Doubt: Tracing the Roots of Our Religious Uncertainty
"Child brides, cousin marriage, generational antagonisms, polyamory, lesbianism, homosexuality, all served with heavy dollops of graphomania and religious fervor—what could be more Victorian? As this magnificent account of the Benson family in the years between 1850 and 1940 shows, for the Victorians, nothing was more normal—or more agonizing—than queerness. Sensitive to historical context and literary form, Goldhill combines empathy with self-awareness to tell a beautifully researched story that will instruct and delight any reader interested in the history of sexuality."
— Sharon Marcus, author of Between Women: Friendship, Desire, and Marriage in Victorian England
"Reveling in late Victorian life writing, Goldhill reveals a family of graphomaniacs that wrote and rewrote itself, across generations, genders, and genres. In dramatic detail, he probes the 'biographical urges' of the Bensons as well as our own desires for narrative and narratives of desire. A wonderfully queer book indeed!"
— Yopie Prins, author of Victorian Sappho
"It is not often that page turner accurately describes academic histories of Victorian grandees. But, unlike most monographs, Simon Goldhill's A Very Queer Family Indeed begins with a kiss between Minnie Sidgwick and  Edward White Benson after Benson had proposed marriage. The subsequent marriage laid the foundation of what Goldhill calls 'a very queer family indeed.' Despite achieving high positions in late-Victorian and Edwardian institutional life, the Bensons remained in, but not of, conventional life. This liminal position enables Goldhill to trace developments in writing, understandings of sexuality, and religion between 1840 and 1940."
 
— Anglican and Episcopal History