Search for Books
ABA Mobile Menu
Oscar Wilde Prefigured: Queer Fashioning and British Caricature, 1750-1900 (Hardcover)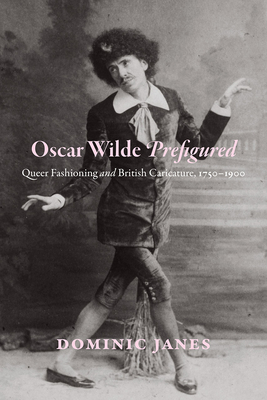 $53.20
NOT on our shelves - Usually Ships in 1-5 Days
Description
---
"I do not say you are it, but you look it, and you pose at it, which is just as bad," Lord Queensbury challenged Oscar Wilde in the courtroom—which erupted in laughter—accusing Wilde of posing as a sodomite. What was so terrible about posing as a sodomite, and why was Queensbury's horror greeted with such amusement? In Oscar Wilde Prefigured, Dominic Janes suggests that what divided the two sides in this case was not so much the question of whether Wilde was or was not a sodomite, but whether or not it mattered that people could appear to be sodomites. For many, intimations of sodomy were simply a part of the amusing spectacle of sophisticated life.

Oscar Wilde Prefigured is a study of the prehistory of this "queer moment" in 1895. Janes explores the complex ways in which men who desired sex with men in Britain had expressed such interests through clothing, style, and deportment since the mid-eighteenth century. He supplements the well-established narrative of the inscription of sodomitical acts into a homosexual label and identity at the end of the nineteenth century by teasing out the means by which same-sex desires could be signaled through visual display in Georgian and Victorian Britain. Wilde, it turns out, is not the starting point for public queer figuration. He is the pivot by which Georgian figures and twentieth-century camp stereotypes meet. Drawing on the mutually reinforcing phenomena of dandyism and caricature of alleged effeminates, Janes examines a wide range of images drawn from theater, fashion, and the popular press to reveal new dimensions of identity politics, gender performance, and queer culture.
About the Author
---
Dominic Janes is professor of modern history at Keele University, United Kingdom. He is the author of several books, including most recently Visions of Queer Martyrdom from John Henry Newman to Derek Jarman, also published by the University of Chicago Press.
Praise For…
---
"Wilde was not quite as exceptional as he was wont to make his public believe. His extravagant self-fashioning emerged out of a culture in which anxieties regarding effeminate performance and queer desires had been building up for over a century. At the same time, he was one of many iconoclastic writers at the fin de siècle, albeit one of the most out­rageous. Oscar Wilde Prefigured by Dominic Janes and Theodore Wratislaw by D. J. Sheppard decentre Wilde in order to examine the culture that created him and the almost forgotten literary scene of 1890s writers who wanted to be him. Oscar Wilde Prefigured is—to quote its author elsewhere—a 'power romp' through the image of the queer man between 1750 and 1895, when Wilde was imprisoned. Would that more academic studies romped so beautifully."
— Times Literary Supplement
"In researching this fascinating book, Janes has certainly done his homework. He has uncovered, and convincingly explicated, a vast array of British cartoons and caricatures from the two centuries he surveys. He also seems to have read and mastered all the available scholarship on the queer history of this era. It's an impressive performance, and one that largely, though not entirely, eschews the thick impasto of post-modernist jargon that often belabors similar studies."
 
— Gay and Lesbian Review
"Drawing on the genre of caricature, Oscar Wilde Prefigured discovers a continuous but varied tradition of representations of sodomy and effeminacy. In so doing, it convincingly refutes the argument—prevalent among post-Foucauldian critics—that male homosexuality only gained public visibility in the late nineteenth century. There has been a lot of scholarly work on Wilde as the 'first' publicly gay man, in that he set the standard for literary and iconographic representations of homosexual men in the twentieth century. But here, Wilde is convincingly presented as the end point of a tradition. Janes is particularly good at navigating the intricate and overlapping fields of effeminacy, homoeroticism, and sodomy, and rethinking the relationship between them. Engagingly written, scholarly, and original, the book puts forward an unfamiliar narrative of historical continuity between eighteenth- and nineteenth-century histories of male homosexuality, as well as presenting readers with an extensive and exciting archive of images."
— Stefano Evangelista, Trinity College, University of Oxford
"Janes's engrossing book illustrates the ways in which queer self-fashioning prefigured the Wildean moment and indeed provided Wilde himself with codes and modes of behavior. Janes shows how for well over a century before Wilde's birth, crude stereotype and caricature shaped perceptions and modulated behaviors. Deftly navigating cultures of knowledge, secrecy, and selective revelation, Janes significantly enriches our understanding of queer pasts and queer identifications."
— Matt Cook, Birkbeck, University of London
"In this important book, Janes traces a new history of queer self-aesthetics, well before the medicalized definition of homosexuality that emerged in the late nineteenth century. In working backwards from Oscar Wilde—whom Janes convincingly argues made use of the visual repertoire of the Georgian fop, macaroni, and dandy—and forwards to Edwardian stereotypes expressed in sources as diverse as caricatures and the theatre, Janes reveals the double-sided nature of late-Victorian homophobic humour as both destructive force but creative space for queer self-expression. Clothing, body shape, deportment, and personal performance come together to create a new queer archaeology."
— Peter McNeil, University of Technology Sydney