The Dividends of Dissent: How Conflict and Culture Work in Lesbian and Gay Marches on Washington (Paperback)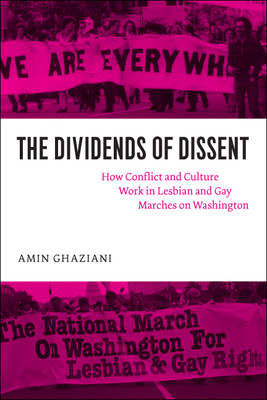 $45.22

If not in stock, we can Special Order from the publisher
Description
---
Marching on Washington is a hallowed tradition of American political protest, and demonstrations led by the women's rights, civil rights, and antiwar movements all endure in popular memory. Between 1979 and 2000 four major lesbian and gay demonstrations took place there, and while these marches were some of the largest of their time, they have been sorely overlooked—until now. Drawing on extensive archival research, historical data, original photographs, interviews with key activists, and more than a thousand news articles, The Dividends of Dissent offers a thorough analysis—descriptive, historical, and sociological—of these marches and their organization.

Amin Ghaziani ably puts these demonstrations into their cultural context, chronicling gay and lesbian life at the time and the political currents that prompted the protests. He then turns to each march in detail, focusing on the role that internal dissent played in its organization. Ultimately, Ghaziani concludes that infighting can contribute positively to the development of social movements, and that the debates over the marches helped define what it means to be gay in the United States.
About the Author
---
Amin Ghaziani is a Cotsen Postdoctoral Fellow in the Society of Fellows and a lecturer in sociology at Princeton University.
Praise For…
---
"A dazzling accomplishment, both conceptually and substantively. Ghaziani's rich and meticulously researched work significantly expands our understanding of the history of gay and lesbian activism during a critical period. Using these four previously unstudied cases of mass protest as a means to tell that history is a brilliant idea. Furthermore, these marches provide excellent data for addressing the ongoing debate over whether conflict within social movements is purely detrimental or can have positive consequences."
— Verta Taylor, University of California, Santa Barbara
"Scholars and the public alike tend to think of social movements as unitary actors, as in
the
civil rights movement,
the
women's movement, etc. The beauty of Ghaziani's book is to remind us that at least as much conflict happens within a movement as without, and that how this conflict gets resolved powerfully shapes the development of the movement over time. Moreover, as with conflict in general, battles within a movement may well prove beneficial to the long-run health and well-being of the struggle. An altogether welcome and groundbreaking addition to the social movement literature."
— Doug McAdam, Stanford University
"This exhaustively researched book contributes never before seen detail to the historical record, while contributing to sociological theory in social movements and culture. Ghaziani vividly demonstrates that infighting, which is often seen as an unfortunate distraction to movements, is, in fact, crucial. It is through infighting that decisions about identity and strategy are made. Ghaziani treats the specifics of the case with careful attention, understanding that historical detail—who did what, when, where, why, and how—is critical to explaining what a movement means and how it succeeds or fails."
— Elizabeth A. Armstrong, Indiana University
"[Ghaziani's study] has much to offer sociologists as well as historians of social movements, cultural history, and queer history. . . . The combination of Ghaziani's attention to identity formation as fashioned from dissent and material expression of political solidarity, as well as the archival record of the GLBT group process, make this a fascinating account."
— Jane Gerhard
"Ghaziani's rich, thorough work would be very valuable for graduate and undergraduate collections in both GLBTQ studies and social movements."
— Choice
"This book's wealth of historical information on national marches in the lesbian and gay movement makes it a valuable contribution to lesbian and gay studies and to the sociology of sexualities. It provides a unique view into the process through which a movement becomes national, connects activists from disparate regions, and produces an event that inspires tens of thousands of supporters."
— Tina Fetner
"Dividends of Dissent is a treasure trove of information about the lesbian and gay movement's four marches on Washington, D.C. It is an interesting and useful case study for students of the lesbian and gay movement, social movements, and culture more generally."
— Jeff A. Larson