The Sexuality of History: Modernity and the Sapphic, 1565-1830 (Paperback)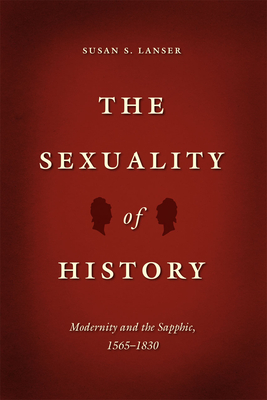 $43.23
Usually Ships in 1-5 Days
Description
---
The period of reform, revolution, and reaction that characterized seventeenth- and eighteenth-century Europe also witnessed an intensified interest in lesbians. In scientific treatises and orientalist travelogues, in French court gossip and Dutch court records, in passionate verse, in the rising novel, and in cross-dressed flirtations on the English and Spanish stage, poets, playwrights, philosophers, and physicians were placing sapphic relations before the public eye.            
 
In The Sexuality of History, Susan S. Lanser shows how intimacies between women became harbingers of the modern, bringing the sapphic into the mainstream of some of the most significant events in Western Europe. Ideas about female same-sex relations became a focal point for intellectual and cultural contests between authority and liberty, power and difference, desire and duty, mobility and change, order and governance. Lanser explores the ways in which a historically specific interest in lesbians intersected with, and stimulated, systemic concerns that would seem to have little to do with sexuality. Departing from the prevailing trend of queer reading whereby scholars ferret out hidden content in "closeted" texts, Lanser situates overtly erotic representations within wider spheres of interest.  The Sexuality of History shows that just as we can understand sexuality by studying the past, so too can we understand the past by studying sexuality.
About the Author
---
Susan S. Lanser is professor of comparative literature, English, and women's and gender studies at Brandeis University. She is the author of Fictions of Authority: Women Writers and Narrative Voice and The Narrative Act: Point of View in Prose Fiction as well as numerous articles on sapphic subjects.
Praise For…
---
"The Sexuality of History is nothing short of astonishing. On the very title page it makes a claim that reverses everything we know about how sexuality has been historicized; and then, not only in its opening pages but also throughout this vast and powerful study, this enormous claim is proved." 

— George Haggerty
"Shifting the focus from studying the history of lesbians to studying history through lesbians, Lanser argues that sapphism provides 'a testing ground for modernity's limit points.' This bold thesis, stunning in its originality and import, would seem exceptionally difficult to prove. Yet, Lanser succeeds brilliantly. The insight, lucidity, and persuasiveness of this multi-angled, non-linear argument derives from the confidence and surety that can come only after many years of reading across genres and languages, of testing hypotheses through conference presentations and essay publication, and of raising a consistent voice in critical exchange with interlocutors across periods and national traditions. A wonderful book."
— Valerie Traub, University of Michigan
"In The Sexuality of History, Susan S. Lanser both interrogates and expands the ways in which the history of sexuality has been conceived. By arguing for the Sapphic--as an explicitly public discourse--as central to the emergence of modernity, Lanser reorients our critical understanding of how sexuality informs the historical, and shows how sapphism was deployed as a means of testing 'modernity's limit points.' Ranging effortlessly between various European traditions, impeccably researched, and theoretically engaging, The Sexuality of History is a tour de force that will influence how scholars approach queer history and the history of sexuality in years to come."
— Christine M. Roulston, University of Western Ontario
"This book is smart, startling, and downright fun. Lanser shows us how European modernity--so seemingly crisp in its capitalism, nationalism, scientism, and democratic revolutions--was soaked in sapphic imaginaries.  Modernity will never be the same. Neither will lesbian and queer studies."
— Judith Bennett, University of Southern California
"This is a brilliant rethinking of European political, cultural and social history over 250 years. Lanser boldly demonstrates how Sapphic love was fundamental to modernization. Sapphism could symbolize treachery to the state or a radical political opportunity; the ruin of the domestic or its opposite; a foreign curiosity or a dangerous local infection. But always it was part of how men and women thought about society. Lanser documents these options with aplomb in her wonderfully readable survey."
— Martha Vicinus, University of Michigan
"This ambitious and impressive exploration of well-known and unknown texts published in multiple languages over several centuries provides a splendid model and framework for the comparative study of representations f same-sex relations between women. Lanser excavates the ways in which sapphism figured both antiquity and modernity in the early modern period and challenges both cultural historians and literary historians to revisit complex questions about texts and their contexts."
— Jeffrey Merrick, University of Wisconsin-Milwaukee
"Whereas traditional studies of gay and lesbian representation seek to unearth closeted identities and usually present same-sex desire as proscribed, Lanser proposes a sexuality of history in which female same-sex relationships could, theoretically, stand beside a historicized 'heteronormativity,' giving lesbians the possibility of living lives of self-worth and dignity. . . . Lanser audaciously proposes that one look at history through lesbian eyes. Recommended."
— Choice
Finalist
— Lambda Literary Awards
"A game-changer in the fields of literary history and queer studies."
— Daily Xtra
"Lanser defends a daring hypothesis. Her argument, which is supported by considerable research, is that 'sapphic' relationships between women, both real and imagined, belong not at the margins but at the center of Western cultural history."
— Gay & Lesbian Review
"Lanser's The Sexuality of History is a magisterial study of representations of sapphism across European society from the mid-sixteenth to the early nineteenth century. From this broad-ranging perspective she argues that the seventeenth and eighteenth centuries witnessed an intensified cultural interest in the sapphic—an interest, indeed, which was disproportionate to the small social threat actually posed by sapphism. . . . A meticulous and impressive work of historical literary criticism, The Sexuality of History will undoubtedly provide queer theorists and historians with much to reflect on."
— H-Histsex