Fuckology: Critical Essays on John Money's Diagnostic Concepts (Paperback)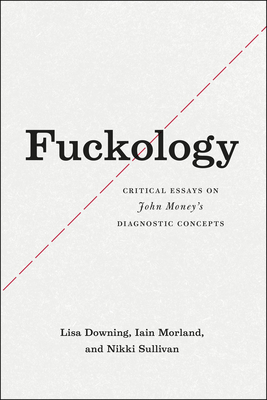 $39.90

If not in stock, we can Special Order from the publisher
Description
---
One of the twentieth century's most controversial sexologists—or "fuckologists," to use his own memorable term—John Money was considered a trailblazing scientist and sexual libertarian by some, but damned by others as a fraud and a pervert.  Money invented the concept of gender in the 1950s, yet fought its uptake by feminists. He backed surgical treatments for transsexuality, but argued that gender roles were set by reproductive capacity. He shaped the treatment of intersex, advocating experimental sex changes for children with ambiguous genitalia. He pioneered drug therapy for sex offenders, yet took an ambivalent stance towards pedophilia. In his most publicized case study, Money oversaw the reassignment of David Reimer as female following a circumcision accident in infancy. Heralded by many as proof that gender is pliable, the case was later discredited when Reimer revealed that he had lived as a male since his early teens.

In Fuckology, the authors contextualize and interrogate Money's writings and practices. The book focuses on his three key diagnostic concepts, "hermaphroditism," "transsexualism," and "paraphilia," but also addresses his lesser-known work on topics ranging from animal behavior to the philosophy of science. The result is a comprehensive collection of new insights for researchers and students within cultural, historical, and gender studies, as well as for practitioners and activists in sexology, psychology, and patient rights.
About the Author
---
Iain Morland has published many scholarly essays on the ethics, psychology, and politics of intersex and edited the GLQ issue Intersex and After. He works in music technology as an audio editor, sound designer, and programmer. 

Nikki Sullivan is an honorary researcher in the Department of Media, Music, Communication, and Cultural Studies, and also teaches in the School of Communication, International Studies, and Languages at the University of South Australia. She is the author of Tattooed Bodies: Subjectivity, Textuality, Ethics and Pleasure and A Critical Introduction to Queer Theory.
Praise For…
---
"We see here critical sexuality studies confronting the work of the most influential of modern sexologists, John Money. The point is not to dismiss sexology – that has been done too often and too quickly in queer studies – but to engage with it in a sustained, scholarly manner. Downing, Morland, and Sullivan do that admirably, identifying the casual contradictions and unpacking the constitutive tensions in Money's thinking."

— Peter Cryle

"John Money's influential and controversial career has never received the careful, critical, and nuanced attention it deserves—until now. Coauthors Downing, Morland, and Sullivan bring three very different forms of expertise to bear on Money's work and its legacy, in a study that should be of interest to scholars of medicine and sexuality alike."
— Susan Stryker

"One of the most prominent and prolific sexologists of the second half of the twentieth century, John Money coined the term "gender" and pioneered the use of surgical procedures to treat intersex and transgender subjects.  In this timely and important critical reassessment of Money's work, Downing, Morland, and Sullivan lay bare the inconsistencies and assumptions embedded in his conceptualisation of sex.  The title of the book derives from Money's own term for his particular brand of sexology while also, as the authors astutely point out, providing the critical tools with which to fuck with sexology itself."
— Elizabeth Stephens

"This book makes a unique and exciting contribution to the field, examining in detail Money's work on the concepts of 'hermaphroditism', 'transsexualism', and 'paraphilia.' It is a well-founded critique that goes to the heart of sexological research methodology and its underpinning assumptions. This work is queer, critical, historically astute, and politically engaged—offering an analysis that many of us have been looking forward to, and that will certainly contribute to our work."
— Katrina Roen

"In Fuckology, Downing and co-authors capture Money's story ably."
— New Scientist

"Downing, Morland, and Sullivan provide a critical exposition of John Money's extensive oeuvre, introducing original, and illuminative debates regarding the historical context and intellectual stimuli behind his work whilst conjointly—in their own words—'fucking with' Money's frequently destructive dogma. . . . The authors competently elucidate the nuances of Money's expansive and controversial career and make use of the 'plasticity' of his arguments to narrativise conflicts which were fundamental to his, and others', conceptualizations of the moral, humanist, and medical implications of coining diagnostic concepts relating to sex, as well as the resulting implementation of behavioral, juridical, and surgical responses. This will be hugely beneficial to scholars of medicine and further afield, medical practitioners, and to academics and postgraduates with interests in gender, sex and sexuality."
— Journal of Gender Studies

"What this collection of critical essays does best is paint a convincing portrait of the contradictions riddling Money's arguments. . . I suspect that few of us would come out smelling entirely of intellectual roses if our lifework were put under the microscope as Money's has been here, but Fuckology unravels something deeper and more worrisome than the average scholarly waffling. Money suffered the pathology of rigid certainty; his ego refused to bend to conflicting data. . . Fuckology is a revealing look at a deliberately complex mind."
— Journal of Sex & Marital Therapy

"In their piercing, sophisticated, and well-researched book Fuckology, coauthors Downing, Morland and Sullivan bring nuance to these interpretations of Money's work in sexology. This long-overdue critical reanalysis of John Money and his contributions embraces, rather than discounts, the tensions, complexities, and contradictions throughout Money's scholarly corpus. . . . An honest reading of Money, whose diffuse body of work is fraught with rifts and contradictions, demands a multi-faceted analysis. Downing, Morland and Sullivan's success in producing such an analysis renders the book pertinent to categories of scholars as disparate and varied as Money's own oeuvre: historians, scholars of gender and sexuality studies, sexologists, ethicists and others will all find relevant insights in this compelling new book."
— Sexualities

"Fuckology is a groundbreaking intervention. The authors not only historicize Money's diagnostic categories but also rethink his impact on contemporary understandings of sex, gender, and sexuality writ large. Moreover, Downing, Morland, and Sullivan develop unique interdisciplinary insights that only a theoretical humanities-based collaborative inquiry into the biopolitics and bioethics of the human sciences can offer. . . . Fuckology provides vital critical tools for rethinking the legacies of sexology as they crystallize and come undone in the present."
— Signs