Rene Blum and the Ballets Russes: In Search of a Lost Life (Hardcover)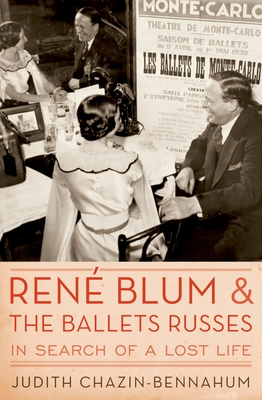 $76.80

NOT on our shelves - Usually Ships in 1-5 Days
Description
---
The biography of a fascinating cultural hero, Ren (c) Blum and the Ballets Russes uncovers the events in the life of the enigmatic and brilliant writer and producer who perished in the Holocaust. Brother of L (c)on Blum, the first socialist prime minister of France, Ren (c) Blum was a passionate and prominent litt (c)rateur. He was the editor of the chic literary journal Gil Blas where he met such celebrated figures as Claude Debussy, Pierre Bonnard, Edouard Vuillard, Andr (c) Gide, and Paul Val (c)ry. As author Judith Chazin-Bennahum's research illustrates, Blum actually arranged for the publication of Proust's Swann's Way. But Blum's accomplishments and legacy do not end there: after enlisting in World War I, he won the Croix de Guerre and became a national hero. And Blum resurrected the Ballets Russes de Monte Carlo after Diaghilev's death. Tragically, he was arrested in 1941 during a roundup of Jewish intellectuals and ultimately sent to Auschwitz.
Based on a treasure trove of previously undiscovered letters and documents, this thoroughly researched narrative not only tells the poignant story of Blum's life but also illustrates Blum's central role in the development of dance in the United States. Indeed, Blum's efforts to save his ballet company eventually helped to bring many of the world's greatest dancers and choreographers--among them Fokine, Balanchine, and Nijinska--to American ballet stages, shaping the path of dance in the United States for years to come.
About the Author
---
Judith Chazin-Bennahum, former ballet dancer, is Distinguished Professor Emerita of Theatre and Dance at the University of New Mexico.