Search for Books
ABA Mobile Menu
The Cheating Culture: Why More Americans Are Doing Wrong to Get Ahead (Paperback)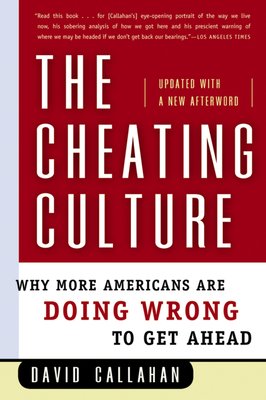 List Price: $16.99
Our Price: $9.00
(Save: $7.99 47%)
Description
---
You're standing at an ATM. It can't access account information but allows unlimited withdrawals. Do you take more than your balance? David Callahan thinks most of us would. While there have always been those who cut corners, he shows that cheating on every level—from the highly publicized corporate scandals to Little League fraud—has risen dramatically in the last two decades. Why all the cheating? Why now?

Callahan pins the blame on the dog-eat-dog economic climate of the past two decades. An unfettered market and unprecedented economic inequality have corroded our values, he argues—and ultimately threaten the level playing field so central to American democracy itself. Through revealing interviews and extensive data, he takes us on a gripping tour of cheating in America and offers a powerful argument for why it matters. Lucidly written, scrupulously argued, The Cheating Culture is an important, original examination of the hidden costs of the boom years.
 
About the Author
---
David Callahan is cofounder and director of research at the public policy center Demos. The author of five books, he has published articles in the New York Times, the Washington Post, and USA Today, and has been a frequent commentator on CNN, MSNBC, and NPR. He received a Ph.D. in politics from Princeton University and lives in New York City.
Praise For…
---
PRAISE FOR KINDRED SPIRITS
"As Americans wrestle with how to fix what has gone wrong in the system of corporate governance, the message that can be taken from Kindred Spirits is that there may be no quick fixes."--The New York Times

"David Callahan gives us an intriguing, incredibly detailed look at the values, work ethic, and creative minds that characterized this group of businessmen."-USA Today

"Dozens of books have examined this phenomenon. None I have yet seen does it with [this] anger, vigor and persuasiveness."

— Baltimore Sun
"The author provides persuasive evidence that our society is riddled with dishonesty."

— Deseret Morning News
"A damning and persuasive critique of America's new economic life."

— Esquire
"A breathtaking book."

— Los Angeles Times
"On-target analysis of how this noxious and, in the true sense, un-American corruption came to infect our culture."

— Los Angeles Times
"This should be required reading for every high school and college student, and anyone who's ever complained about how bad things have gotten."

— Philadelphia Inquirer
"Hair-raising. [P]acked with alarming anecdotes."

— Salon.com
"Highly readable. Callahan has done us a good turn by confronting the question of 'why do Americans do wrong?' "

— Seattle Times
"Callahan's on to something: an ingrained and growing national compulsion to succeed at any cost."

— St. Petersburg Times
"Well-constructed, civic-minded…full of compelling statistics and anecdotes."

— The New York Times Book Review
"Callahan compiles a meticulous mountain of data about our current state of disgrace."

— Village Voice