Bread Givers (Paperback)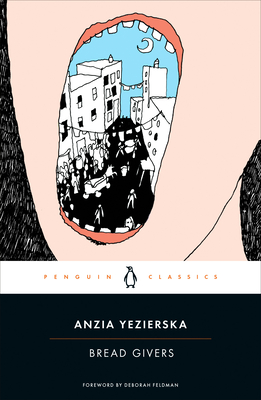 Description
---
A timeless American novel about an immigrant girl growing up on the Lower East Side who dares to challenge her Orthodox Jewish family's narrow conceptions of a woman's place in the world, featuring a new foreword by the author of the New York Times bestseller Unorthodox―the basis for the hit Netflix series―and cover art by New Yorker cartoonist Liana Finck

A Penguin Classic

The youngest of four daughters in a family that left Poland in the 1920s for the crowded tenements of New York City's Lower East Side, Sara Smolinsky has seen her sisters resign themselves, under their rabbi father's iron fist, to loveless marriages and empty futures. They are "bread givers," working to feed the family while their father studies the Torah―according to which, as their father reminds them, a woman without her father or husband is "less than nothing." But Sara hungers for more. In defiance of her father, she breaks free, escaping home to see what the American dream holds for her in this poignant coming-of-age tale and striking portrait of feminist rebellion.

For more than seventy-five years, Penguin has been the leading publisher of classic literature in the English-speaking world. With more than 2,000 titles, Penguin Classics represents a global bookshelf of the best works throughout history and across genres and disciplines. Readers trust the series to provide authoritative texts enhanced by introductions and notes by distinguished scholars and contemporary authors, as well as up-to-date translations by award-winning translators.
About the Author
---
Anzia Yezierska was born in a small town in Russian Poland sometime in the 1880s. When she was about ten, she came to America with her impoverished family, whose plight and prej­udices she described in Bread Givers (1925). For years, she struggled to achieve an education and to write. Her story collection Hungry Hearts (1920) brought her fame, but over the years, Yezierska also suffered criticism and neglect. She died in 1970, and today her works―four novels, two short story collections, autobi­ographical essays, and a memoir, Red Ribbon on a White Horse (1950)―are considered classics of Jewish American writing.

Deborah Feldman (foreword) is the author of the New York Times bestselling memoir Unorthodox, the basis for the Emmy Award–winning Netflix series. She was raised in the Satmar Hasidic community in Williamsburg, Brooklyn, and now lives in Berlin, Germany.
Praise For…
---
"Yezierska captures American hunger with extraordinary intensity." —Vivian Gornick, The New York Times

"Bread Givers enables us to see our life more clearly, to test its values, to reckon up what it is that our aims and achievements may mean. It has a raw, uncontrollable poetry and a powerful, sweeping design." —The New York Times

"A Jewish Little Women . . . with more humor . . . Yezierska's sense of vernacular is wonderful. . . . [A] fine novel." —Kirkus Reviews

"The beauty of Bread Givers is that, even though it was written almost 100 years ago, it still feels fresh and real. . . . I might never have read the novel if Penguin Classics had not offered this new version and commend the publisher for doing so." —Rabbi Rachel Esserman, The Reporter

"[Bread Givers] is no convenient narrative of the American dream. . . . There is a great and uncomfortable truth in Yezierska's masterpiece that may have been willfully or unwittingly overlooked by its earlier readers: that the story of the melting pot is a lie, that the American dream is a fairy tale, which, by its own logic, would require the immigrant to completely dissolve into society. . . . The experience of Americanness for me became one of minute fragmentation, of disharmony and friction resulting from the impossible and cruel demands of 'melting.' Depending on one's perspective, the failure of Sara Smolinsky to melt into America can be seen as a tragedy or a triumph. Even I am on the fence about this." ―Deborah Feldman, from the Foreword