Berlin: A Novel (Paperback)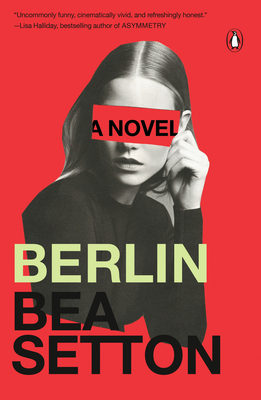 Description
---
A New York Times Editor's Choice

"Cinematic and confessional—electric." —The New York Times

"Written in funny, punchy vignettes perfect for consumption between U-Bahn stops, and a few hours in the presence of Daphne Ferber pay generous spiritual dividends." —The Washington Post

"A compelling, raw, and thrillingly strange outsider tale of loneliness and deception. Setton is a wonderful writer who, with this sharp debut, adds to the great canon of contemporary anti-heroines." —Mona Awad, author of Bunny

A wickedly insightful, darkly funny novel in which a young woman in the grip of an existential malaise moves to a new city for a fresh start but her attempt at reinvention doesn't quite go to plan

When Daphne arrives in Berlin, the last thing she expects is to run into more drama than she left behind. Of course, she knew she'd need to do the usual: make friends, acquire lovers, grapple with German and a whole new way of life. She even expected the long nights gorging alone on family-sized jars of Nutella, and the pitfalls of online dating in another language. The paranoia, the second-guessing of her every choice, the covert behaviors? Probably come with the territory.

But one night, when Daphne is alone in her apartment, something strange, unnerving and entirely unexpected intervenes, and life in bohemian Kreuzberg suddenly doesn't seem so cool. Just how much trouble is Daphne in, and who – or what – is out to get her?

Channelling the modern female experience with razor-sharp observation and a trenchant wit, Berlin announces Bea Setton as an electrifying new voice for her generation.
About the Author
---
Bea Setton was born in France and spent her early years in the Parisian suburbs before moving to the US to study philosophy. Upon graduating, she relocated to Berlin, and the city became the inspiration for this novel. She currently divides her time between London and Cambridge, where she is studying for a PhD and working on her second book.
Praise For…
---
Praise for Berlin:

"Cinematic and confessional. . . Berlin is a Woolfian mirror: Red herrings and cliffhangers stoke interest by conforming to expectations, until the novel undercuts them with digressions and anticlimaxes, reveling in its own formal impunity. . . electric. . . funny and unsettling."
–The New York Times

"Highly entertaining. . . In the course of this witty and unsettling romp, Setton locates the humor and pathos in personal crisis while nimbly sidestepping the perils of the coming-of-age travelogue. Bereft of the earnestness characteristic of many Bildungsromans, Berlin manages to be both light social comedy and dark psychological study. . . Daphne is a fabulous comic creation. . . It's written in funny, punchy vignettes perfect for consumption between U-Bahn stops, and a few hours in the presence of Daphne Ferber pay generous spiritual dividends."
–The Washington Post

"The novel fizzes with insight and excruciatingly funny jokes!"
–Bustle

"A moving and rollicking tale of self-delusion. . . Setton proves herself a masterful and hilarious chronicler of contemporary life. .  . Well-plotted while still capturing the meandering feeling of Daphne's unbound life, and with deliciously handled foreshadowing, Setton's sharp novel of stunted plans is compulsively readable and ultimately devastating. This isn't one to miss."
—Publishers Weekly (starred review)

"In this dark and twisty debut, Setton crafts a clever thriller-cum–expat narrative for fans of Ottessa Moshfegh's My Year of Rest and Relaxation, Antoine Wilson's Mouth to Mouth, and Ben Lerner's Leaving the Atocha Station. . . [Setton] peppers Daphne's speech with sharp observations about modern life, youth, and the burdens of contemporary womanhood. . . Daphne's unreliability—her tendency to double back, correct the record, and manipulate the reader—creates a sense of disorientation that only enhances the slippery plot. Setton expertly portrays the wily, seductive nature of addictions and dysfunctions, and her novel's humorous voice belies horrors both small and large. . . Raw thriller meets darkly funny coming-of-age for an enjoyable, unsettling debut."
—Kirkus Reviews

"With style and light deception, Setton's prose takes readers on a page-turning journey shrouded in mystery and intrigue."
—The Millions

"What a wonderful, keen, bright, hilarious, twisted narrator Bea Setton has created! I loved this novel from its first page to the last."
—Tom Franklin, New York Times bestselling author of Crooked Letter, Crooked Letter

"In Berlin, Bea Setton shines an unsparing light on the murky grey space of a woman's mid-twenties with a narrative voice that's sharp, wry, and unexpectedly tender. Setton skewers glamorous illusions of expat life and digs deeply into the parts that are as fun to read about as they are difficult to live through."
—Isabel Kaplan, bestselling author of NSFW

"Uncommonly funny, cinematically vivid, and refreshingly honest about how we deceive others and ourselves."
—Lisa Halliday, bestselling author of Asymmetry

"On the run from responsibility and lying about her compulsions, the unreliable narrator in this unsettling debut is fascinating company. . . [Setton] writes perceptively about the destabilizing effects of vulnerability and loneliness in an unfamiliar environment. There's also plenty of humor in Daphne's overthinking and her cynical approach to dating. . . Setton builds her growing paranoia and sense of dread to terrific effect in this unsettling, compelling read."
—The Guardian (London)

"Berlin is wonderfully funny, and Daphne's observations about modern life, men and the challenges facing young women always hit the nail."
—Financial Times (London)

"[An] engagingly self-conscious debut. . . our attention is firmly held by the wry wit of Daphne's voice, as well as regular hints that she's something of an unreliable narrator. . .  the book's success lies chiefly in its line by-line charm."
—Daily Mail (London)

"Anyone who's started over in a new city—let alone in a another country—will relate to this debut novel. . . . One for Sally Rooney fans." 
—Sunday Telegraph (London)

"Combining the darkness of a thriller with humor, Bea Setton's debut is a fresh and deeply honest take on the modern female experience." 
—Stylist Magazine (UK)

"A compelling, raw, and thrillingly strange outsider tale of loneliness and deception. Setton is a wonderful writer who, with this sharp debut, adds to the great canon of contemporary anti-heroines."
—Mona Awad, author of Bunny

"Bea Setton's scathing portrait of expat life traps her protagonist in layers of self-deception. Berlin is an enlightening primer for those tempted to relocate, as well as an astute accounting of a young woman's checkered struggle to change her life."
—Nell Zink, author of Avalon

"A raw carnal beauty, Berlin is a brutally honest portrait of the modern millennial bell jar. Brilliant and haunting."
—Liska Jacobs, author of The Pink Hotel

"Berlin has everything you seek in a literary thriller: high-octane prose, pulse-racing observations of human foibles, and twisty jabs of humor. In Daphne, Setton has created an enthralling 'unlikeable' female narrator—one of my favorites!"
—YZ Chin, author of Edge Case

"Bea Setton's narrator Daphne, full of quirky observations, incisive humor, and a winning vulnerability, is a delight to chase through Berlin. Although I couldn't always decide whether I wanted to scold her, shake her, or join her, I know I'll never forget her."
—Beth Ann Fennelly, author of The Tilted World