The Americanization of Benjamin Franklin (Paperback)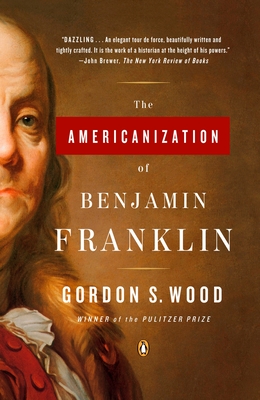 List Price: $18.00
Our Price: $8.00
(Save: $10.00 56%)
Description
---
"I cannot remember ever reading a work of history and biography that is quite so fluent, so perfectly composed and balanced . . ." —The New York Sun

"Exceptionally rich perspective on one of the most accomplished, complex, and unpredictable Americans of his own time or any other." —The Washington Post Book World

From the most respected chronicler of the early days of the Republic—and winner of both the Pulitzer and Bancroft prizes—comes a landmark work that rescues Benjamin Franklin from a mythology that has blinded generations of Americans to the man he really was and makes sense of aspects of his life and career that would have otherwise remained mysterious. In place of the genial polymath, self-improver, and quintessential American, Gordon S. Wood reveals a figure much more ambiguous and complex—and much more interesting. Charting the passage of Franklin's life and reputation from relative popular indifference (his death, while the occasion for mass mourning in France, was widely ignored in America) to posthumous glory, The Americanization of Benjamin Franklin sheds invaluable light on the emergence of our country's idea of itself.
About the Author
---
Gordon S. Wood is the Alva O. Way University Professor and professor of history at Brown University. His 1969 book The Creation of the American Republic 1776-1787 received the Bancroft and John H. Dunning prizes, and was nominated for the National Book Award. His 1992 book The Radicalism of the American Revolution, won the Pulitzer Prize and the Emerson Prize. His 2009 book Empire of Liberty: A History of the Early Republic, 1789-1815, won the 2010 New York Historical Society Prize in American History. Wood's other books include Revolutionary Characters: What Made the Founders Different, The Purpose of the Past: Reflections on the Uses of History, The Americanization of Benjamin Franklin, and most recently, The Idea of America: Reflections on the Birth of the United States, and he contributes regularly to The New Republic and The New York Review of Books.
Praise For…
---
"[Wood] possesses as profound a grasp of the early days of the Republic as anyone now working . . ." —The New York Times Book Review

"I cannot remember ever reading a work of history and biography that is quite so fluent, so perfectly composed and balanced . . ." —The New York Sun

"[Gordon Wood] conveys complex ideas in beguilingly simple prose, and deftly weaves the connections between the different Franklins." —John Brewer, The New York Review of Books

"Exceptionally rich perspective on one of the most accomplished, complex, and unpredictable Americans of his own time or any other." —The Washington Post Book World

"An illuminating, accessible and entertaining contribution to the growing literature about Benjamin Franklin." —San Francisco Chronicle