Human Natures: Genes, Cultures, and the Human Prospect (Paperback)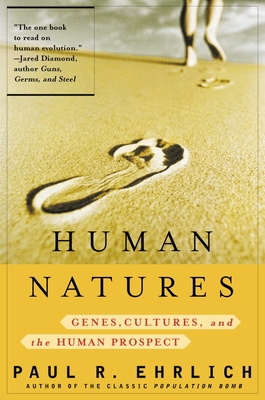 $20.00

If not in stock, we can Special Order from the publisher
Description
---
Why do we behave the way we do? Biologist Paul Ehrlich suggests that although people share a common genetic code, these genes "do not shout commands at us...at the very most, they whisper suggestions." He argues that human nature is not so much result of genetic coding; rather, it is heavily influenced by cultural conditioning and environmental factors. With personal anecdotes, a well-written narrative, and clear examples, Human Natures is a major work of synthesis and scholarship as well as a valuable primer on genetics and evolution that makes complex scientific concepts accessible to lay readers.
About the Author
---
Paul R. Ehrlich is the Bing Professor of Population Studies and Professor of Biological Sciences at Stanford University. His books include the bestselling The Population Bomb, and he is a member of the National Academy of Sciences and a recipient of numerous international honors. Ehrlich lives in Stanford, California.
Praise For…
---
"Well resaecrhed and...elegantly presented."
—Publishers Weekly
(starred review)
"I doubt whether anyone will write as good a book of this sort on [human evolution] for another two or three decades." — Sicence