An Octopus Is Amazing (Let's-Read-and-Find-Out Science 2) (Paperback)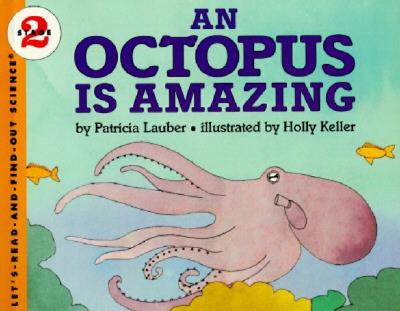 $7.99

If not in stock, we can Special Order from the publisher
Description
---
Read and find out about the amazing octopus in this colorfully illustrated nonfiction picture book.
Where can you find 1,920 suction cups? Under the ocean on a common octopus! That's 240 suction cups on each of its eight arms. And if an octopus loses an arm, it will eventually grow another one. Read and find out about the many other ways an octopus is amazing. 
"A charming introduction to the truly amazing octopus. Lauber's chatty, fact-filled text makes the book a good read-aloud, and Keller's amusing and colorful drawings enhance it—a perfect match of text and illustration." —School Library Journal
This is a clear and appealing science book for early elementary age kids, both at home and in the classroom.
This is a Level 2 Let's-Read-and-Find-Out, which means the book explores more challenging concepts for children in the primary grades. The 100+ titles in this leading nonfiction series are:
hands-on and visual
acclaimed and trusted
great for classrooms
Top 10 reasons to love LRFOs:
Entertain and educate at the same time
Have appealing, child-centered topics
Developmentally appropriate for emerging readers
Focused; answering questions instead of using survey approach
Employ engaging picture book quality illustrations
Use simple charts and graphics to improve visual literacy skills
Feature hands-on activities to engage young scientists
Meet national science education standards
Written/illustrated by award-winning authors/illustrators & vetted by an expert in the field
Over 130 titles in print, meeting a wide range of kids' scientific interests
Books in this series support the Common Core Learning Standards, Next Generation Science Standards, and the Science, Technology, Engineering, and Math (STEM) standards. Let's-Read-and-Find-Out is the winner of the American Association for the Advancement of Science/Subaru Science Books & Films Prize for Outstanding Science Series.
About the Author
---
Patricia Lauber is the author of more than sixty-five books for young readers. Many of them are in the field of science, and their range reflects the diversity of her own interests-bats, dolphins, dogs, volcanoes, earthquakes, the ice ages, the Everglades, the planets, earthworms. Two of her books, SEEDS: POP STICK GLIDE and JOURNEY TO THE PLANETS, were nonfiction nominees for The American Book Awards. She was the 1983 winner of The Washington Post/Children's Book Guild Award for her overall contribution to children's nonfiction literature.
As well as writing books, Ms. Lauber has been editor of Junior Scholastic, editor-in-chief of Science World, and chief editor, science and mathematics, of The New Book of Knowledge
A graduate of Wellesley College, she is married and lives in Connecticut. When not writing, she enjoys hiking, sailing, traveling, cooking, reading, and listening to music.
Holly Keller has illustrated a number of books in the Lets-Read-and-Find-Out Science series, including Be a Friend to Trees. She is also the author and illustrator of many picture books, including Island Baby and Horace.
Ms. Keller lives in West Redding, Connecticut.