Never Leave the Dogs Behind: A Memoir (Hardcover)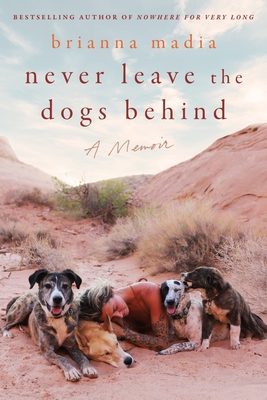 $28.99

Coming Soon - Available for Pre-Order Now
Preorder now to get a signed copy.
Description
---
The author of the New York Times bestseller Nowhere for Very Long continues her story with this deeply honest, moving account of a woman walking the line between independence and isolation when she moves to the Southwest desert with nothing and no one but her four dogs.
In her debut memoir, Nowhere for Very Long, Brianna Madia reflected on her life as a nomad, free to roam some of the most beautiful land in America. Now, in Never Leave the Dogs Behind, the van life adherent faces the unfathomable darkness that comes from a life blown apart, her only solace the support of her dogs.
Moving from her pared-down van into a pared-down trailer, Brianna reckons with her decision to be alone in the desert, living on a nine-acre plot of undeveloped land on the dusty outskirts of a small town in Utah, accompanied only by her four precious dogs: Bucket, Dagwood, Birdie, and Banjo. As she grapples with the anger, despair, and delicious freedom that comes from being wholly on her own, Brianna wonders where, exactly, the road less traveled has led her.
A powerful and poignant portrait of rebuilding and surviving, Never Leave the Dogs Behind is about finding the courage to start over when the dream life you thought you were living collapses around your feet.
About the Author
---
Brianna Madia has lived a life of relentless intention, traveling the deserts of the American West in an old Ford van. She made a name for herself on social media with her inspiring captions-cum-essays about bravery, identity, nature, and subverting expectations. She lives in Utah with her four dogs. Her first book, Nowhere for Very Long, was a New York Times bestseller. Never Leave the Dogs Behind is her second book.