Your Super Life: 100+ Delicious, Plant-Based Recipes Made with Nature's Most Powerful Superfoods (Hardcover)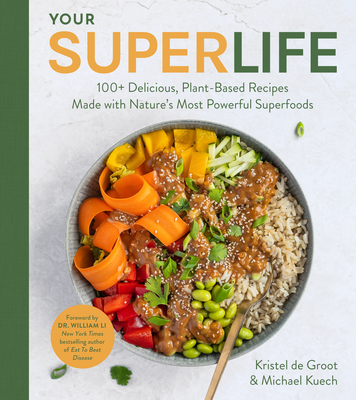 $35.00

NOT on our shelves - Usually Ships in 1-5 Days
Description
---
With a foreword by Dr. William Li, New York Times bestselling author of Eat to Beat Disease
From the founders of the popular superfood brand, Your Super, comes a beautiful cookbook designed to supercharge health and healing with a customizable plant-based diet and 100+ delicious recipes.
After his surprise cancer diagnosis at twenty-four, Michael Kuech radically shifted his diet. Realizing the powerful connection between food and wellness, Michael, together with his college sweetheart and now wife, Kristel de Groot, adopted a plant-based diet infused with natural, rejuvenating superfoods. The experience was life changing. Michael quickly regained his health and rebuilt his immune system. They were both sleeping better, feeling stronger, and had more energy. Inspired by this powerful personal experience, Michael and Kristel have built a thriving business sharing their lifestyle and superfoods with the world. Nine years and 2 million customers later, Your Super sells superfood mixes, immune boosters, and meal plans, harnessing the power of plants to supercharge health and healing.
In their first cookbook, Michael and Kristel will teach readers how to tap into the natural healing power of nature's superfoods, with 100+ recipes featuring an array of potent healing ingredients. Enjoy inspired dishes like Berry Overnight Oats, Sweet Potato Toast, Eggplant Pasta, and Turmeric Bounty Balls while improving your health in meaningful and targeted ways, including:
renewed energy
weight loss
increased immunity
improved sleep
less hunger
fewer cravings
reduced inflammation and bloating
reduced risk of chronic diseases
Your Super Life is ideal for anyone who wants to optimize their health and feel their best, while enjoying delicious and nourishing food. 
Praise For…
---
"In Your Super Life, Michael and Kristel share the fruits of their journey by showing you how to eat in a new way. They describe easy steps for changing daily habits that will help your sense of wellbeing. Just as I believe, the path towards better health should focus on what to add to your diet, and not just elimination."  — from the foreword by William W. Li, MD, New York Times bestselling author of Eat to Beat Disease 
"Food is medicine, and we now know definitively that plant-based nutrition has immense healing potential as it combats inflammation, which causes over 80% of chronic disease. Kristel and Michael's book has so many clean, plant-based, superfood recipes that will help more people benefit from the healing power of plants, and I am excited to see the impact this will have on so many people." — Deepak Chopra, MD, New York Times bestselling author
"Simple, delicious recipes page after page, bursting with superfoods deliberately combined to boost immunity, quell inflammation, elevate mood, and maximize health. Every bite will bring you closer to the super life you deserve to live!" — Kristi Funk, MD, bestselling of author Breasts: The Owner's Manual and Women's Health Warrior at pinklotus.com
"What a great book! Learn how to prepare nutrient rich and healing meals that prevent disease at their root cause. Our cells are literally starving for these foods. My patients will be following the Your Super Life meal plans and my family will, too."  — Joel Kahn, MD, FACC, Professor, Author, The Plant Based Solution
"The one cookbook you need to create the most delicious and healthiest food possible. Your Super Life provides an easy hack to creating the most healthy and appetizing meals possible without investing hours in the kitchen." — Louie Psihoyos, film director, The Game Changers