Heart of the Sun Warrior: A Novel (Celestial Kingdom #2) (Paperback)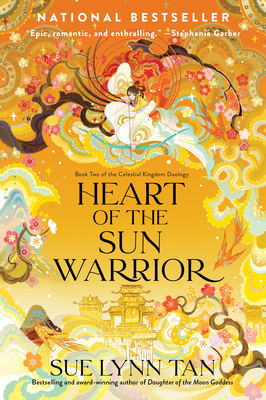 Other Books in Series
This is book number 2 in the Celestial Kingdom series.
December 2022 Indie Next List
---
"This was such a satisfying sequel to Daughter of the Moon Goddess. The pacing is fantastic and the story is unpredictably magical and exciting. I really loved the world building and appreciated the romance."
— Hillary Smith, Black Walnut Books, Hudson Falls, NY
Description
---
The stunning sequel to Daughter of the Moon Goddess delves deeper into beloved Chinese mythology, concluding the epic story of Xingyin—the daughter of Chang'e and the mortal archer, Houyi—as she battles a grave new threat to the realm, in this powerful tale of love, sacrifice, and hope. 
After winning her mother's freedom from the Celestial Emperor, Xingyin thrives in the enchanting tranquility of her home. But her fragile peace is threatened by the discovery of a strange magic on the moon and the unsettling changes in the Celestial Kingdom as the emperor tightens his grip on power. While Xingyin is determined to keep clear of the rising danger, the discovery of a shocking truth spurs her into a perilous confrontation.
Forced to flee her home once more, Xingyin and her companions venture to unexplored lands of the Immortal Realm, encountering legendary creatures and shrewd monarchs, beloved friends and bitter adversaries. With alliances shifting quicker than the tides, Xingyin has to overcome past grudges and enmities to forge a new path forward, seeking aid where she never imagined she would. As an unspeakable terror sweeps across the realm, Xingyin must uncover the truth of her heart and claw her way through devastation—to rise against this evil before it destroys everything she holds dear, and the worlds she has grown to love . . . even if doing so demands the greatest price of all.
About the Author
---
Sue Lynn Tan writes fantasy inspired by the myths and legends she fell in love with as a child. Her books have been nominated for several awards, are USA Today and Sunday Times bestsellers, and will be translated into sixteen languages.
Born in Malaysia, Sue Lynn studied in London and France, before moving to Hong Kong. Her love for stories began with a gift from her father, her first compilation of fairytales from around the world. After devouring every fable she could find, she discovered fantasy books, spending much of her childhood lost in magical worlds. When not writing or reading, she enjoys exploring the hills and lakes around her home.
Praise For…
---
"Tan's melodic prose brings the gods and monsters to life in a book that ebbs and flows through action and dialogue in a way that will surprise readers when they turn the last page...Tan's sequel to Daughter of the Moon Goddess is a beautiful story inspired by Chinese mythology, serving up both exquisite worldbuilding and emotional characters." — Library Journal (starred review)
"Xingyin's whirlwind adventure through the beautifully described Immortal Realm is an intricate dance that encompasses multiple quest lines, thrilling battles, romances, magic, and mythological creatures. Tan raises the stakes significantly, grounding Xingyin's strength in love even when her heart is buffeted by shifting loyalties and tragic sacrifices, and leads the reader to a bittersweet yet hopeful conclusion." — Booklist (starred review)
"Tan absolutely exceeded my already-high expectations with the conclusion to her story. Not only does she give ample time to resolve every plot thread, but left me breathless with her lush prose and enchanting storytelling. The Celestial Kingdom duology is a stunning debut, and I am excited to see what magic Sue Lynn Tan brings to her next project."  — Locus Magazine
"A fast-paced, reckless ride that's not afraid to take big narrative and emotional swings." — Paste Magazine
"This epic fantasy series based on Chinese mythology is one of the year's best fantasies." — Buzzfeed
"Fellow fans of Daughter of the Moon Goddess will want to jump on this conclusion to the action-packed duology. Come for more of the adventure, vivid exploration of Chinese mythology, and the love triangle from the first book. Stay for even more character development, new enemies, excellent pacing, and an overall satisfying conclusion."  — Book Riot
"With magic elixirs, jade bows and cloud transport, Sue Lynn Tan brings to life a new fantasy realm with tight plotting, vivid detail and bright shafts of celestial charm."  — Daily Mail (UK)
"Heart of the Sun Warrior – set my heart ablaze . . . The Celestial Kingdom duology is phenomenal. It has unique characters, intricate storytelling, strong worldbuilding, and a beautiful romance to boot. I am sad to close the book on Xingyin's story, but I will look to the future and be ready to read anything Sue Lynn Tan writes."  — The Quill to Live
"Tan's remarkable debut and duology launch transports readers into a stunning world...The result is a riveting page-turner that will leave fantasy lovers satisfied and eager for more" — Publishers Weekly (starred review) on Daughter of the Moon Goddess
"Filled with intricate world building, heartbreaking romance and mind-bending intrigue. Tan's story is mythic in its scope yet personal in its execution . . . The result is an all-consuming work of literary fantasy that is breathtaking both for its beauty and its suspense." — BookPage (starred review) on Daughter of the Moon Goddess
"This vivid, unputdownable debut effortlessly whisks us into the celestial realms of Chinese high fantasy. Tan magnificently conjures the romantic yet dangerous dazzle of this immortal world, but never loses track of the shining human heart of her tale. A captivating treat for lovers of Chinese fantasy dramas and newcomers alike."
— Shelley Parker-Chan, #1 international bestselling author of She Who Became the Sun, on Daughter of the Moon Goddess
"An exquisitely detailed fantasy with a strong, vulnerable protagonist. The intimate prose makes Tan's wonderful debut an immersive experience; share with fans of Shelley Parker-Chan and Katherine Arden." — Library Journal (starred review), Debut of the Month, on Daughter of the Moon Goddess
"Sue Lynn Tan has written a breathtaking debut novel that will sweep readers away to the moon and back. I can't remember the last time a book surprised and delighted me as much as this one. Epic, romantic, and enthralling from start to finish. I love this book." — Stephanie Garber, #1 NYT bestselling author of the Caraval series, on Daughter of the Moon Goddess
"A lush, dreamy gem of a novel." — Shannon Chakraborty, bestselling author of The City of Brass on Daughter of the Moon Goddess
"A sparkling debut, epic but intimate, about love and sacrifice and hope in the face of despair. At its center is a protagonist who is flawed but full of heart—I dare you not to be entranced by this magical book."  — Ava Reid, author of The Wolf and the Woodsman on Daughter of the Moon Goddess
"With all the beauty and heartbreak of a Chinese fantasy drama, Daughter of the Moon Goddess is an enchanting joy from start to finish."  
— Tasha Suri, author of The Jasmine Throne on Daughter of the Moon Goddess
"A gripping adventure inspired by the legend of Chang'e, Daughter of the Moon Goddess explores how far one woman will go for the sake of family, loyalty, and love. Prepare to be swept off your feet by this absolutely magical tale."
— Genevieve Gornichec, author of The Witch's Heart on Daughter of the Moon Goddess
"Strikingly evocative, tense, and heartfelt, Daughter of the Moon Goddess is a difficult book to put down. It floats you into the Celestial Kingdom, introduces you to monsters both literal and figurative, and leaves you dreaming of dragons."
— Andrea Stewart, author of The Bone Shard Daughter on Daughter of the Moon Goddess
"An absolutely delightful and enchanting read! Daughter of the Moon Goddess takes a beloved Chinese legend and reimagines it into a gorgeously-spun romantic fantasy. I can't wait for the sequel!" — Elizabeth Lim, New York Times bestselling author of Spin the Dawn and So This is Love on Daughter of the Moon Goddess