There Flies the Witch (Hardcover)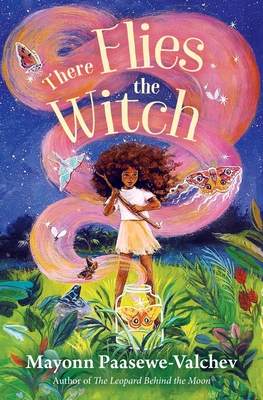 Description
---
Red may not know who her true family is, but she's determined to find out where she belongs, in this story about magic, nature, family, love, and betrayal. There Flies the Witch will enchant fans of Erin Entrada Kelly, Tae Keller, and Grace Lin.
Red doesn't remember who she is or where she came from. In fact, her only memory is a terrifying, repeating dream of a threatening shadow and a foggy field. But after many years, she wonders if that's just something she made up.
Red does know that she now belongs with Yakaka, the witch who rescued Red when she was a little girl. Full of power and magic, Yakaka travels the world, healing the planet when it calls for her help. Yakaka carries Red between the wings on her back during these journeys, teaching her the skills of witchcraft, storytelling, and healing—skills Red can never seem to master.
After a dangerous mission leads to Yakaka and Red's falling from a great height and into the stormy ocean, Red wakes up alone on a seemingly deserted island. Days later, a young boy and his mother find Red and help her recover. For the first time, Red has a friend her own age to play with, and a chance to live a different kind of life. But what happened to Yakaka?
Mayonn Paasewe-Valchev explores themes of family, identity, belonging, and resilience in this truly extraordinary coming-of-age story for readers of Kelly Barnhill's The Girl Who Drank the Moon, Lauren Wolk's Beyond the Bright Sea, and Laurel Snyder's Orphan Island.
About the Author
---
Mayonn Paasewe-Valchev was born in Liberia, where she was exposed to a culture of oral storytelling at a young age. She lived in the Netherlands for several years, where she learned to stuff her klompen (wooden shoes) with carrots and developed a love for reading stories—especially tales written by Roald Dahl and Astrid Lindgren. She is the author of The Leopard Behind the Moon and a junior novel retelling of Marvel's Black Panther. She lives in Washington, DC, with her family.
Praise For…
---
"The cadenced storyteller's voice and short, propulsive sentences render every moment of the deceptively simple plot urgently alive. A wealth of earthy, quotidian detail provides some needed distance from the roiling emotional dynamics; beneath an exquisitely poetic skin, the novel brims with tensions between abandonment and isolation, fault and forgiveness, empowerment and self-realization. . . . This is absolutely not to be missed." — Bulletin of the Center for Children's Books (starred review)
"A girl seeks a sense of belonging and the truth about her identity. . . . The descriptions of the setting evoke a faraway land, both idyllic in its natural beauty and containing lurking dangers and existing outside of time in a way reminiscent of folklore. Red's story expands on themes of family, love, self-identity, forgiveness, and growth in this novel that will appeal to sophisticated readers. A dreamy story that reads like an extended folktale." — Kirkus Reviews
"This is a powerful story about forgiveness and healing. The grand adventure is found not in finding a mystical purpose nor defeating an evil king, but in a girl who learns to write her story. . . . For readers who are fans of quiet adventures and (literal) magical storytelling, this is one to hold near your heart." — Booklist
"[Red] seeks to uncover the origins of her past in this literary read by Paasewe-Valchev. . . . Through Red's mesmeric narration, rendered in lilting prose, Paasewe-Valchev crafts an imaginative story that feels at once otherworldly and inherently grounded in familiar themes of family, forgiveness, and self-discovery." — Publishers Weekly