The Lost Shtetl: A Novel (Paperback)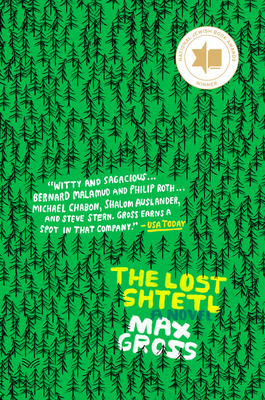 $17.99

On Our Shelves Now. Click on the title to see details.
Staff Reviews
---
Set in Poland, the tiny Jewish village of Kreskol has been isolated from the rest of the world for centuries, remaining unaffected by such phenomena as the Holocaust, the Cold War, and electricity. When the modern world finally takes notice of Kreskol, the villagers are confronted with 21st century technology — and the history they missed out on — for the first time, creating a story that is both funny and painful.
— From
Kate's Recommendations
Description
---
WINNER OF THE NATIONAL JEWISH BOOK AWARD AND THE JEWISH FICTION AWARD FROM THE ASSOCIATION OF JEWISH LIBRARIES
GOOD MORNING AMERICA MUST READ NEW BOOKS * NEW YORK POST BUZZ BOOKS * THE MILLIONS MOST ANTICIPATED
A remarkable debut novel—written with the fearless imagination of Michael Chabon and the piercing humor of Gary Shteyngart—about a small Jewish village in the Polish forest that is so secluded no one knows it exists . . . until now.
What if there was a town that history missed?
For decades, the tiny Jewish shtetl of Kreskol existed in happy isolation, virtually untouched and unchanged. Spared by the Holocaust and the Cold War, its residents enjoyed remarkable peace. It missed out on cars, and electricity, and the internet, and indoor plumbing. But when a marriage dispute spins out of control, the whole town comes crashing into the twenty-first century.
Pesha Lindauer, who has just suffered an ugly, acrimonious divorce, suddenly disappears. A day later, her husband goes after her, setting off a panic among the town elders. They send a woefully unprepared outcast named Yankel Lewinkopf out into the wider world to alert the Polish authorities.
 Venturing beyond the remote safety of Kreskol, Yankel is confronted by the beauty and the ravages of the modern-day outside world – and his reception is met with a confusing mix of disbelief, condescension, and unexpected kindness. When the truth eventually surfaces, his story and the existence of Kreskol make headlines nationwide. 
Returning Yankel to Kreskol, the Polish government plans to reintegrate the town that time forgot. Yet in doing so, the devious origins of its disappearance come to the light. And what has become of the mystery of Pesha and her former husband? Divided between those embracing change and those clinging to its old world ways, the people of Kreskol will have to find a way to come together . . .  or risk their village disappearing for good.
About the Author
---
Max Gross is a former staff writer for the New York Post and the Forward and is currently the Editor in Chief of the Commercial Observer. He lives in New York City with his wife and son.
Praise For…
---
"Witty and sagacious....The persistence of anti-Semitism after the Holocaust has been an enduring theme for American writers, from Bernard Malamud and Philip Roth to more contemporary writers like Michael Chabon, Shalom Auslanderand Steve Stern. Gross earns a spot in that company....People want to know about a place that escaped a slaughter, which frees Gross to write a fine and often funny speculative novel. But he knows people are less eager to confront the roots of that slaughter, which makes "The Lost Shtetl" a potent cautionary tale as well. — USA Today
"A gorgeous debut." — New York Post
"[A] dose of fabulism may be the best cure yet for a psychologically intolerable contemporary moment…[The Lost Shtetl is] a riveting narrative about the costs of living in one's own time as opposed to the benefits and disadvantages of living in a "lost horizon" that has been overlooked by the contemporary world. It's filled with a slew of intriguing characters….If this novel doesn't take your mind off being holed up in a shuttered-down city or trying to escape the reality of the pandemic by socially distancing somewhere in the country, nothing will." — Vogue
"Lively and imaginative.... alternately reminiscent of early Isaac Bashevis Singer and a Catskills comedian. Gross's entertaining, sometimes disquieting tale delivers laugh-out-loud moments and deep insight on human foolishness, resilience, and faith." — Publishers Weekly (starred review)
"[G]reat fun, packed with warmth, humor, and delightful Yiddish expressions....Reaching into the storytelling tradition that stretches from Sholem Aleichem to Isaac Bashevis Singer to Michael Chabon, the author spins an ingenious yarn about the struggle between past and present."  — Kirkus Reviews (starred review)
"I was blown away…. 'The Lost Shtetl' is a Jewish fantasy in the vein of Michael Chabon's 'The Yiddish Policemen's Union' and Steve Stern's Jewish magical realism novels. There are even echoes of Simon Rich's New Yorker story, 'Sell Out,' about a time-travelling Orthodox Jewish immigrant, soon to be the major motion picture 'An American Pickle' starring, yes, Seth Rogen…..The novel's narrator, a kind of first-person collective, sounds both contemporary and folkloric, as if one of the great Yiddish writers had somehow survived, like Kreskol, to tell its story. 'The Lost Shtetl' stands on its own." — Jewish Week
"Gross is hilariously funny as he weaves this story....We laugh, but… do we? Yes. The miracle of this book is that it provokes theories about its intention and doesn't let you stop trying to figure them out." — Literary Hub
"Novelist Max Gross poses precisely this question in The Lost Shtetl. Gross' debut novel unfolds with a transfixing, howlingly funny and achingly sad tale of incompatible cultures colliding with the looping, shaggy dog humor of Jonas Jonasson, and delightful echoes of Washington Irving's Rip Van Winkle, Mark Twain's A Connecticut Yankee in King Arthur's Court, Michael Chabon's The Yiddish Policeman's Union, and Woody Allen's Sleeper." — New York Journal of Books
"Judging by The Lost Shtetl, his brilliant debut novel, author Max Gross is the metaphysical love child of Sholem Aleichem and J.K. Rowling." — Hadassah Magazine
'With warmth and charm, Gross spins a resonant and poignant tale of village life complete with gossip and matchmakers" — The National Book Review