The Darkest White: A Mountain Legend and the Avalanche That Took Him (Hardcover)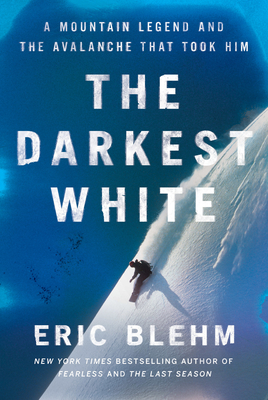 $32.00

Coming Soon - Available for Pre-Order Now
Description
---
"Eric Blehm offers an insightful perspective on how Craig Kelly became the effortless icon that we all revered as well as sobering details of how his heroic journey tragically ended. The Darkest White is a must read, not just for fans of snowboarding, but for anyone looking for inspiration from an unlikely hero."—Tony Hawk
From Eric Blehm, the bestselling author of The Last Season and Fearless, comes an extraordinary new book in the vein of Into the Wild, the story of the legendary snowboarder Craig Kelly and his death in the 2003 Durrand Glacier Avalanche—a devastating and controversial tragedy that claimed the lives of seven people.
On January 20, 2003, a thunderous crack rang out and a 100-foot-wide tide of snow barreled down the Northern Selkirk Mountains in British Columbia, Canada. More than a dozen skiers and snowboarders were thrust down the mountain, buried beneath several tons of rock-hard snow and ice in the Durrand Glacier Avalanche. A heroic search and rescue ensued. Among those buried was Craig Kelly—"the Michael Jordan of snowboarding"—a man who had propelled the sport into the mainstream before walking away from competitions, to rekindle his passion in the untamed alpine wilds of North America
The Darkest White is the story of Craig Kelly's life, a heartbreaking but extraordinary and inspiring odyssey of a latchkey kid whose athletic prowess and innovations would revolutionize winter sports, take him around the globe, and push him into ever more extreme environments that would ultimately take his life. It is also a definitive, immersive account of snowboarding and the cultural movement that exploded around it, growing the sport from minor Gen X cult hobby to Olympic centerpiece and a billion-dollar business full of feuds and rivalries. Finally, The Darkest White is a mesmerizing, cautionary portrait of the mountains, of the allure and the glory they offer, and of the avalanches they unleash with unforgiving fury.
"Eric Blehm took on this biography as I imagine Craig Kelly took on the halfpipe. He studied it, chose his line, and pulled everything off—even tough parts—with grace and style. It's not just a terrific story of an amazing life, not just the origin story of an entire sport, but a riveting disaster narrative that builds tension masterfully. The Darkest White grabbed me and didn't let go."—Jack Carr, #1 New York Times bestselling author of The Terminal List series
About the Author
---
Eric Blehm is the award-winning author of the New York Times bestsellers Fearless and The Only Thing Worth Dying For. His first book, The Last Season, was the winner of the National Outdoor Book Award and was named by Outside magazine as one of the "greatest adventure biographies ever written." He has dedicated his life to telling the stories of those who serve.
Praise For…
---
"Eric Blehm offers an insightful perspective on how Craig Kelly became the effortless icon that we all revered as well as sobering details of how his heroic journey tragically ended. The Darkest White is a must read, not just for fans of snowboarding, but for anyone looking for inspiration from an unlikely hero." — Tony Hawk
"When I started snowboarding, Craig was already a true legend in the sport. Growing up, I always looked up to him. He inspired me and so many other riders. I just wish I got to ride with him more." — Shaun White
"Eric Blehm took on this biography as I imagine Craig Kelly took on the halfpipe. He studied it, chose his line, and pulled everything off—even tough parts—with grace and style. It's not just a terrific story of an amazing life, not just the origin story of an entire sport, but a riveting disaster narrative that builds tension masterfully. The Darkest White grabbed me and didn't let go." — Jack Carr, #1 New York Times bestselling author of The Terminal List series
"Eric Blehm has written a gripping and heartfelt story of a bold, short life well-lived. The Darkest White is both a fine elegy to a majestic athlete and a perceptive study of the tantalizing call of wilderness and how the mountains seduce us." — Hampton Sides, New York Times bestselling author of In the Kingdom of Ice and Blood and Thunder 
"Impressive reporting offers new insight into [Craig] Kelly's final hours, and the author's empathetic portrayal of Kelly as a purist who 'turned his back on business deals, high-dollar sponsorship contracts, and . . . prize money' to return to the 'powdery backcountry that had first drawn him to his calling' will resonate even with those unfamiliar with his legacy. It's a stirring tribute to a talent gone too soon." — Publishers Weekly
"The Darkest White is a little like riding a magic carpet through a white out. I haven't read a winter saga this good since John Branch's Snowfall, which won the Pulitzer." — John Long, adventurer, climber and award-winning author of Gorilla Monsoon, Icarus Syndrome, and Granite Mariner

"Blehm recounts in gripping detail the terrifying disaster, the desperate rescue efforts, and the ensuing investigations into the cause. A stirring adventure narrative and sports bio." — Kirkus Reviews