The Word Is Murder: A Novel (A Hawthorne and Horowitz Mystery) (Hardcover)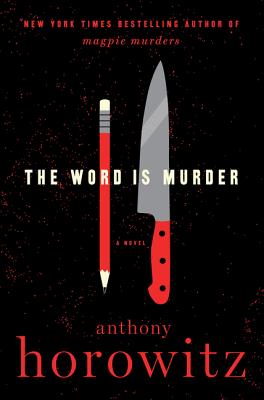 $27.99

NOT on our shelves - Usually Ships in 1-5 Days
June 2018 Indie Next List
---
"When a healthy 60-year-old woman is found strangled in her London home the very day she had organized and paid for her own funeral, former police detective—now consultant—Daniel Hawthorne convinces author Anthony Horowitz to shadow his investigation to eventually publish this very story. Imagine sitting in a darkened English pub listening to Horowitz bemoaning his involvement as he tells the story of the unlikeable but captivating Hawthorne. Readers will quickly join in playing detective as characters, plot twists, clues, and red herrings escalate while enjoying the old-fashioned feel of Agatha Christie and Sherlock Holmes in a modern setting. Delicious!"
— Jennifer Gwydir, Blue Willow Bookshop, Houston, TX
Description
---
SHE PLANNED HER OWN FUNERAL. BUT DID SHE ARRANGE HER OWN MURDER?
New York Times bestselling author of Magpie Murders and Moriarty, Anthony Horowitz has yet again brilliantly reinvented the classic crime novel, this time writing a fictional version of himself as the Watson to a modern-day Holmes.
One bright spring morning in London, Diana Cowper – the wealthy mother of a famous actor - enters a funeral parlor. She is there to plan her own service.

Six hours later she is found dead, strangled with a curtain cord in her own home.
Enter disgraced police detective Daniel Hawthorne, a brilliant, eccentric investigator who's as quick with an insult as he is to crack a case. Hawthorne needs a ghost writer to document his life; a Watson to his Holmes. He chooses Anthony Horowitz.
Drawn in against his will, Horowitz soon finds himself a the center of a story he cannot control. Hawthorne is brusque, temperamental and annoying but even so his latest case with its many twists and turns proves irresistible. The writer and the detective form an unusual partnership. At the same time, it soon becomes clear that Hawthorne is hiding some dark secrets of his own.
A masterful and tricky mystery that springs many surprises, The Word is Murder is Anthony Horowitz at his very best.
About the Author
---
ANTHONY HOROWITZ is the author of the US bestselling Magpie Murders and The Word is Murder, and one of the most prolific and successful writers in the English language; he may have committed more (fictional) murders than any other living author. His novel Trigger Mortis features original material from Ian Fleming. His most recent Sherlock Holmes novel, Moriarty, is a reader favorite; and his bestselling Alex Rider series for young adults has sold more than 19 million copies worldwide. As a TV screenwriter, he created both Midsomer Murders and the BAFTA-winning Foyle's War on PBS. Horowitz regularly contributes to a wide variety of national newspapers and magazines, and in January 2014 was awarded an OBE.
Praise For…
---
"Actually, the word is not murder, it's ingenious. . . . A masterful meta-mystery." — Booklist (starred review)
"Sharp-witted readers who think they've solved the puzzle early on can rest assured that they've opened only one of many dazzling Christmas packages Horowitz has left beautifully wrapped under the tree." — Kirkus Reviews (starred review)
"Deduction and wit are well-balanced, and fans of Peter Lovesey and other modern channelers of the spirit of the golden age of detection will clamor for more." — Publishers Weekly (starred review)
"Horowitz is undeniably brilliant." — Metro London
"The beguiling whodunit plot is dispatched with characteristic élan as Horowitz blurs the line between fiction and reality… there is no denying the sheer ingenuity of the central notion." — The Financial Times
"The Word Is Murder is an intriguing labyrinth of whodunnits and a true page-turner throughout ." — Real Crime Magazine
"An ingenious funhouse mirror of a novel sets a vintage 'cozy' mystery inside a modern frame." — Wall Street Journal
"Irresistible … What can't this supremely versatile writer do?" — USA Today
"Horowitz succeeds with The Word Is Murder by simultaneously adhering to and defying the rules of a traditional mystery." — Christian Science Monitor
"The Word Is Murder is full of surprises and suspense…hugely entertaining. It is a special treat for those who want to read crime mysteries." — Washington Post Book Review
"The Word Is Murder, with its dry tone and insider anecdotes about publishing and the movie business, is certainly one of the most entertaining mysteries of the year. It's also one of the most stimulating, as it ponders such questions as: Which is of greater interest to the reader, the crime or the detective? And: Is the pencil truly mightier than the butcher knife?" — Wall Street Journal