It Devours!: A Welcome to Night Vale Novel (Paperback)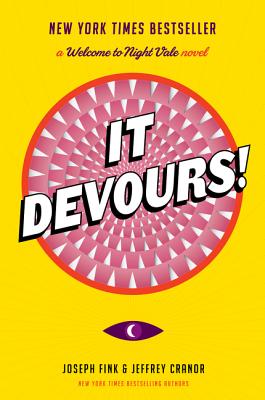 Staff Reviews
---
Longtime residents of Night Vale and newcomers alike will be drawn into the mysteries and conspiracy theories that are par for the course in this desert town. If you're a fan of the weird and the arcane, if you love Stranger Things and you want to be immersed in a town that's just as odd and upside down, filled with totally loveable characters, pick this book up. There's really nothing else like Night Vale.
— Julia
November 2017 Indie Next List
---
"Even if you've never heard of Night Vale, I truly believe you'll enjoy It Devours. It's a book about science and religion. It's a book about belonging and how sometimes to truly understand what is happening, you may need an outsider's perspective. It's also a book about a friendly desert town that finds its way into some of the strangest predicaments, and the people who live there. In other words, it's superbly written science fiction that deserves to be read more than once."
— Allison Skaggs (W), Lowry's Books, Three Rivers, MI
Description
---
New York Times Bestseller
A page-turning mystery exploring faith and science from the authors of the New York Times bestselling novel Welcome to Night Vale and the creators of the #1 international podcast of the same name.
"It Devours! is different from other mystery novels. It is as captivating and light as any mystery novel can be but explores one of the most complex issues: the conflict between science and reason on the one hand and, on the other hand, religion and cult."— Washington Book Review

Nilanjana Sikdar is an outsider to the town of Night Vale. Working for Carlos, the town's top scientist, she relies on fact and logic as her guiding principles. But all of that is put into question when Carlos gives her a special assignment investigating a mysterious rumbling in the desert wasteland outside of town. This investigation leads her to the Joyous Congregation of the Smiling God, and to Darryl, one of its most committed members. Caught between her beliefs in the ultimate power of science and her growing attraction to Darryl, she begins to suspect the Congregation is planning a ritual that could threaten the lives of everyone in town. Nilanjana and Darryl must search for common ground between their very different world views as they are faced with the Congregation's darkest and most terrible secret.

A page-turning mystery exploring the intersections of faith and science, the growing relationship between two young people who want desperately to trust each other, and the terrifying, toothy power of the Smiling God, It Devours! will entertain both fans of Welcome to Night Vale and those discovering its extraordinary world for the first time.
About the Author
---
Joseph Fink created the Welcome to Night Vale and Alice Isn't Dead podcasts. He lives in the Hudson Valley and Los Angeles. 
Jeffrey Cranor cowrites the Welcome to Night Vale and Within the Wires podcasts. He also cocreates theater and dance pieces with choreographer/wife Jillian Sweeney. They live in New York.
Praise For…
---
"[A] smart exploration of the divide—and overlap—of science and religion. . ..  a thrilling adventure and a fascinating argument that science and belief aren't necessarily mutually exclusive."
— Tor.com

"Very clever.... With a gripping mystery, a very smartly built world (a place similar to our own world but at the same time distinctly other), and a cast of offbeat characters, the novel is a welcome addition."
— Booklist

"Thought-provoking . . . The relationship between science and religion is satisfyingly explored with humor and insight. Readers need not be familiar with the podcast or the previous book to enjoy this work, but fans will appreciate the cameos from well-known Night Vale residents."
— Publishers Weekly

"It Devours! is a fun, fast-paced novel full of off-the-wall humor. The characters' struggles to find consensus in their opposing viewpoints keep the novel grounded amid the otherworldly antics."
— Yakima Herald

"If art exists to make the stone stony, Joseph Fink and Jeffrey Cranor exist to ask how the stone got there, and why is it shaped like a crocodile, and what strange and creeping threat will it eventually be used to smash."
— Patricia Lockwoood, author of Priestdaddy

"Everything Joseph Fink and Jeffrey Cranor touch turns to gold, which then turns to gold dust, which then finds its way into every corner of your heart and never leaves—no matter how much you may want it to."
— Jonny Sun, author of everyone's a aliebn when ur a aliebn too

"It Devours! is an extremely worthy addition to the saga of Night Vale. Witty and well-crafted, it perfectly captures the odd town and its wonderfully strange, sometimes unsettling inhabitants."
— Charles Soule, New York Times bestselling author of Death of Wolverine, She-Hulk, and The Oracle Year: A Novel

"Will be a delight for fans but also features a funny but nuanced story about the chasm between faith and science. . . A confident supernatural comedy from writers who can turn from laughter to tears on a dime."
— Kirkus Reviews (starred review)

"Fans will find it refreshing to see Night Vale from different perspectives . . . but knowledge of the podcast isn't required to follow the story. This unusual experiment in format-shifting works surprisingly well."
— Publishers Weekly

"It Devours! is different from other mystery novels. It is as captivating and light as any mystery novel can be but explores one of the most complex issues: the conflict between science and reason on the one hand and, on the other hand, religion and cult."
— Washington Book Review

"With a gripping mystery, a very smartly built world (a place similar to our own world but at the same time distinctly other), and a cast of offbeat characters, the novel is a welcome addition to any library's SF shelf."
— Booklist

"Will be a delight for fans but also features a funny but nuanced story about the chasm between faith and science. . . . A confident supernatural comedy from writers who can turn from laughter to tears on a dime."
— Kirkus Reviews (starred review)

"A lively romp in a bizarre world [and] a thoughtful, touching examination of how science and religion might coexist both in Night Vale and beyond."
— barnesandnoble.com

"A mysterious, must-read exploration of the Great Unknowns, with a touch of Carl Sagan and Agatha Christie." 
— No Source